Middle East revenue was up 25%. The AEC firm spent $200 million on acquisitions.
Privately held Bentley Systems today released selected figured from its 2012 operations. Overall corporate revenue was up 5% from 2011 results, for a total of $550 million in revenue.  Measured using constant currencies, Bentley revenue grew 8% in 2012.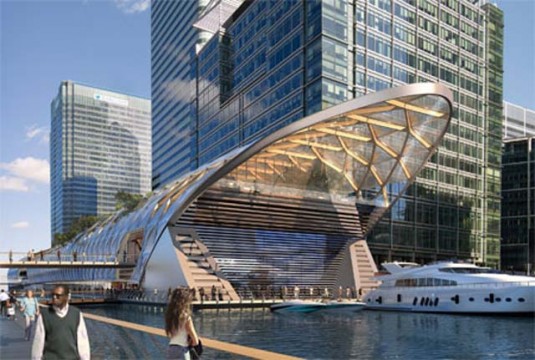 The Middle East was a strong growth region for Bentley, where revenue rose 25%; the company did not share the actual dollar contribution of the Middle East to corporate revenue, but did note that Europe, the Middle East and Africa accounted for 36% of total revenue in 2012.

Bentley first topped $500 million in revenue in 2008 ($501 million) but slid down in 2009 ($451 million) and 2010 ($476 million) before topping the $500 million line again in 2011 ($523 million).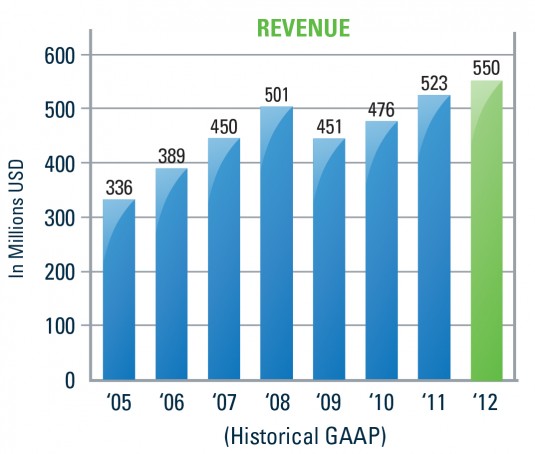 During 2012 Bentley made four significant acquisitions, spending nearly $200 million to acquire:
Ivara, a provider of "big data" asset performance data software;
InspectTech, a vendor of field inspection services for bridges and other transportation assets;
SpecWave, for software that organizes structured text in construction documentation, including engineering specifications;
EuResearch, maker of Microprotol software for the design and analysis of pressure vessels and heat exchangers.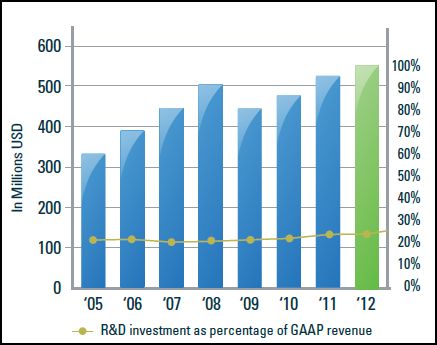 Today Bentley announced its first acquisition of 2013, the Brazil-based Char Pointer Tecnologia, maker of software for high-precision surveying for construction. Bentley sees this purchase as not only a technology pick-up but as a way to get more embedded in the rapidly growing Brazilian construction market. During a call with press and analysts to discuss Bentley 2012 results, CEO Greg Bentley noted that more than 80% of roads in Brazil are still unpaved, yet it is in final preparation to host the World Cup soccer (futbol) competition in 2014.
Bentley compares itself to the AEC division of Autodesk, its only larger competitor. Most years Bentley closes the gap just a bit; in 2012 Bentley's $567 million of inorganic revenue (counting revenue of acquisitions) lines up with Autodesk AEC revenue of $694 million.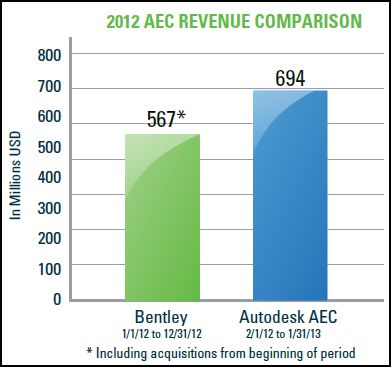 Bentley says its software is now in use by more than 1 million individuals in 165 countries; if their new mobile apps are counted, the number is closer to 2 million. Greg Bentley noted the value of consumer technology for industrial applications (primarily mobile) as a key driver for their R&D.
During the conference call Greg Bentley mentioned three strategic relationships established in 2012:
Siemens, for discrete manufacturing infrastructure. "They do product and process design, we do facilities design," Greg Bentley noted, and added that a new area of collaboration between Bentley and Siemens will be announced in two weeks.
Trimble, for intelligent positioning.
AASHTO, for bridge management and BIM for transportation.
Bentley's software is for larger companies in the construction and infrastructure space. It tracks its role in the ENR 500, the largest construction companies as reported by McGraw-Hill's Engineering News Record magazine. In 2012 214 of the ENR 500 uses Bentley ProjectWise, the company's integrated project management suite, and 81 used Bentley AssetWise, for post-construction infrastructure use management.  These numbers, Greg Bentley noted, show there is plenty of opportunity for further growth. Bentley's marketing approach has for years primarily focused on increasing revenue with existing customers, while spending much less than competitors on finding new customers.