A €2 million VR partnership and a new rendering engine for Revit confirms leadership status in AEC visualization.
The last couple of months have been busy ones for Chaos Group, the visualization specialist whose software is used by designers as well as ad agencies and visual effects experts. The company forged a major strategic alliance with a promising new virtual reality expert and released a major new tool for AEC design.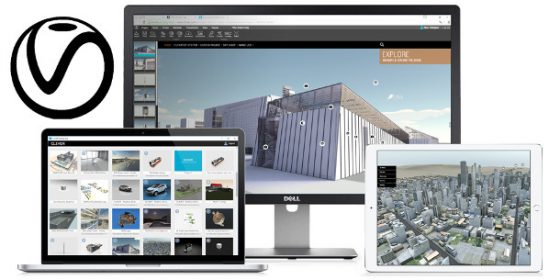 The new alliance is with CL3VER, a Barcelona start-up creating tools for real-time mobile, web, and VR use of design visualization. CL3VER cloud-based tools turn designs into interactive 3D presentations. Chaos Group and CL3VER will work together to create new 3D visualization tools for AEC and other design disciplines. As the bigger partner in the alliance, Sofia, Bulgaria-based Chaos Group has agreed to invest €2 million ($2.12 million) in CL3VER.
The two plan to ship their first jointly created products in the first quarter of 2017. The first goal will be to connect Chaos Group V-Ray to CL3VER's interactive presentation platform. Chaos Group says V-Ray has become the rendering software of choice at 92 of the world's top 100 architecture firms.
Presentations are a time-consuming part of the AEC project lifecycle. They are needed from the earliest conceptual design stage through to facility management. In most companies the workflow is based on a series of disconnected tools. Chaos Group and CL3VER see an opportunity to provide a unified platform for architectural visualization. "We're thrilled to be a part of the new era of AEC storytelling," says Viktor Nordstrom, founder and CEO of CL3VER. "Together, Chaos Group and CL3VER will introduce a platform that puts two essential tools in one place, so designs can be presented and shared in their best form, at any stage of the process."
V-Ray inside Revit
New to the Chaos Group line this season is a V-Ray plug-in for Autodesk Revit. An optimized version of its stand-alone V-Ray rendering technology, the Revit plug-in is optimized to work inside the design software, streamlining the process of creating visualization. Designs in Revit are often large by AEC standards; Chaos Group says its plug-in "preserves the integrity of the BIM database, allowing architects to add realistic lights, cameras, and materials using a non-destructive workflow."
Famed architecture firm Renzo Piano Building Workshop was an early users of V-Ray for Revit. "V-Ray for Revit gives us the ability to render great imagery and use it as part of our design process," said Daniel Hurtubise, BIM manager at Renzo Piano. "We can test out ideas, get feedback, and make decisions faster. It's a new level of freedom, and something we think most architects will be excited about."
What do we think?
Architects are all about the visuals, yet creating stunning images from designs has always been a time-consuming task. Putting V-Ray inside Revit offers a better workflow with a proven AEC visualization tool. The addition of VR and mobile coming with the CL3VER technology will be widely welcomed.
There are competing products offering pieces of the workflow that Chaos Group and CL3VER will be offering as one solution. It is likely others in the industry will be looking to form similar alliances in order to stay competitive.