There are also improvements to sketching, 2D drawing, 3D printing prep, and links with new partners.
Autodesk continues its rapid pace of innovation for Fusion 360, its cloud-based MCAD software. New this week are a variety of updates topped by new ability to have multiple designers working on a model at the same time.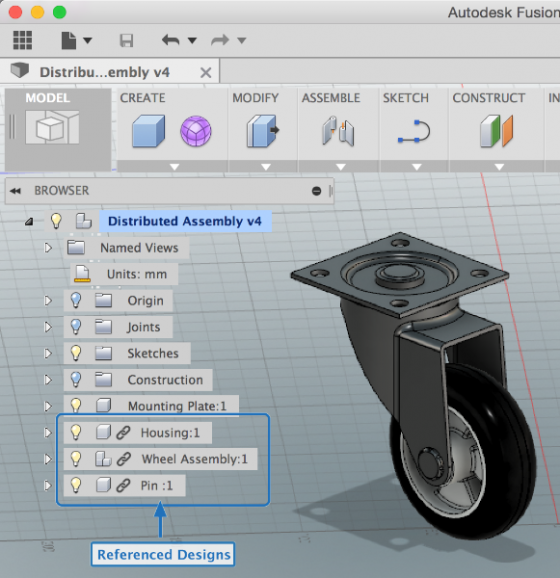 Autodesk positions Fusion 360 as software "for the future of making things." The latest iteration was introduced at the recent O'Reilly Solid conference in San Francisco, where Autodesk Research Fellow Mickey McMannus gave a keynote entitled "Primordial: When Things Wake Up" about three converging trends:
Connected devices, commonly known as the Internet of Things
Digital manufacturing, the merger of 3D printing with new materials and embedded Internet connectivity
Machine learning, when manufactured objects can react and change in response to external issues.
Autodesk's marketing plan for Fusion 360 is to align it with such futuristic thinking, to drive the conversation about the design tools needed in the coming years.
Among the new features now available in Fusion 360:
Distributed design: Two or more people can now work on the same project at the same time. Specifically, this update allows a user to insert referenced geometry from one part of a project to another. Team members can work on separate parts of a larger assembly while keeping tabs on each other's progress so the larger project stays in synch. As mentioned below, 2D drawing is also updated by these distributed design improvements.
It would be easy to think of this as a tweak that only affects editing, but the real work is the bookkeeping behind the scenes. As parts changes in a model or assembly, there are complicated relationships that must be constantly updated. In essence, the kind of PDM (product data management) accomplished externally with desktop-based CAD products must be done internally and on the fly in a cloud-based design tool. This initial ability to allow two or more to work in the same model will undoubtedly expand in the future.
Sketching: A variety of updates included improved visibility of sketch lines, access to sketch controls, and a new sketching preview feature to toggle sketching line coloring on/off when sketches are fully constrained.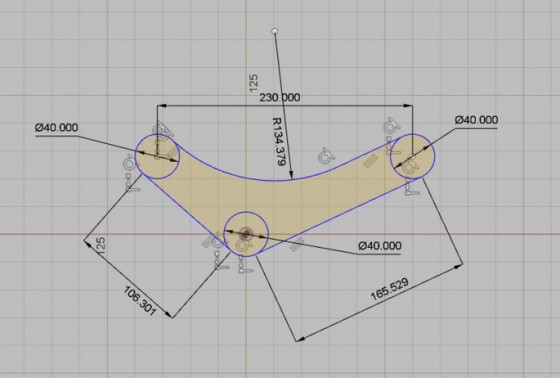 2D drawing: There are navigational improvements and new ability to add several dimensioning types to 2D drawing elements. 2D drawings in Fusion 360 are now associative with distributed designs, so users are automatically alerted when changes are made to an externally referenced part.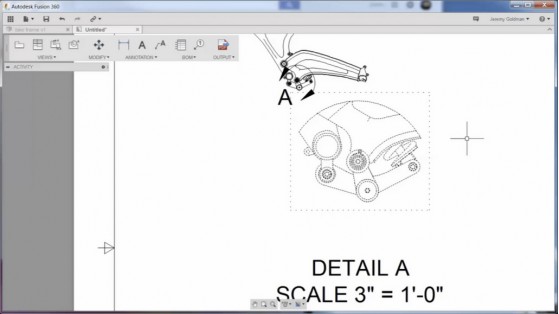 3D printing: Fusion 360 now includes a 3D printing utility based on the Autodesk Spark standard. There is direct support for the Autodesk Ember 3D printer, an open-source reference design Autodesk is also selling as a product. There is also support for 3D printers and subtractive manufacturing devices from Type A Machines, Dremel, Makerbot, and Ultimaker.
Partnerships: Autodesk became the company it is today because early on it invested in third-party relationships to extend the capabilities of AutoCAD. The first partnerships for Fusion 360 are with:
Cadenas Parts3CAD: Cadenas operates a leading online catalog of 3D models from over 400 manufacturers. Fusion 360 users can browse through parts and insert one into a new or existing design.
Britehub: A quote-for-manufacturing service that submits designs to multiple potential manufacturers.
Proto Labs: A service for getting quotes on rapid injection molding and CNC machining; quotes on 3D printing will be added in a later update. Quotes include design analysis to suggest changes for improved manufacturability.
What do we think?
The future of mainstream mechanical CAD is still a two-horse race. Fusion 360 and Onshape are in a class by themselves. Neither is a full service replacement for such industry stalwarts as SolidWorks, Inventor, or Solid Edge … yet. But the ability to update and immediately push changes to all users—a fundamental advantage of being cloud-based—puts Fusion 360 and its only real competition on the fast track.