Autodesk will add Scaleform to its catalog of middleware programs for game developers as the company looks for opportunities to fill out the development pipeline.
The spotlight is on the Mobile World Congress and Autodesk has just announced its intentions to get into the game, seriously. Autodesk has made an offer for Scaleform, a company specializing in game interfaces, for $36 million in cash. Scaleform is a young company founded in 2004 with customers in just about every area  game development  from game consoles to PCs and mobile. Its latest technology includes Scaleform GFx, hardware acceleration for Flash. The company's technology is used for user interfaces, HUDs and animated textures for games.
The GFx SDK includes a 3D interface rendering system and stereoscopic support, user interface components such as buttons, list boxes, menus, sliders and also templates for menus, HUDs, multi-player lobbies and other pre-built tools to enable developers to get the basics done quickly. The SDK also includes a profiler tool to analyze memory and flash performance in a game or 3D app while running on different platforms such as mobile or console. The profiling tool provides feedbackfor CPU usage, rendering, and memory. It also includes an ActionScript profiler.
Scaleform was at MWC showing off their 3Di, 3D interface technology, among other goodies. 3Di is a suite of 3D Flash features enabling artist to create 3D menus, heads-up displays, and in-game interfaces. Scaleform has stereoscopic tools that enable users to create menus that seem to float in front of the screen.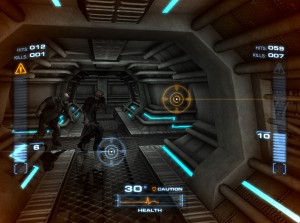 In addition to its GFx product, Scaleform also has tools for implementing video in Flash and also tools to implement Asian chat support via IME – input method editor.
Mark Stevens, Autodesk's VP of games in the Media and Entertainment group, says the acquisition will enable Autodesk to add more tools to its workflow to help developers more rapidly develop immersive 3D and casual game experiences. In addition, he says, the Scaleform team will bring with them valuable expertise in game development for PCs, consoles, and mobile devices. "We will finally realize our long standing vision of integrating 2D and 3D authoring technology while continuing our commitment to deliver leading-edge real-time graphics solutions to our customers."
Obviously, there is opportunity in casual games and games for mobile platforms but it's not just about "Angry Birds" or Zynga games — it's more about what comes next. Autodesk's chief of Media and Entertainment Marc Petit believes there is huge opportunity opening up in game development as the mobile platforms get more capable processors.  "Everything is up for grabs," he says, "as 3D comes to mobile platforms."
Scaleform's offices will remain in Greenbelt, Maryland and Brendan Iribe, CTO Michael Antonov, and COO Marc Bennett will take executive positions within Autodesk Media & Entertainment.
What do we think?
Game development is risky business these days and developers are coming to realize that they don't have to do everything the hard way and in fact, they can't afford to do everything the hard way. Autodesk, meanwhile, has increasingly been about the pipeline and its addition of middleware tools gives it more steps in the process. Scaleform hasn't been around a long time, but it has built  a long list of customers from just about every genre and on just about every platform.