Blue Ridge products are used in both products development and construction engineering. It has a sizable customer list of PTC users.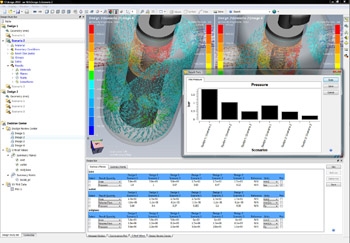 Today Autodesk signed a definitive agreement to acquire simulation software vendor Blue Ridge Numerics of Charlottesville, Virginia, for approximately $39 million in cash.
It is the second acquisition this week for Autodesk, and follows an Autodesk tradition of acquiring companies during the first month of its fiscal year. Autodesk this week also acquired game engine and middleware developer Scaleform Corporation for $36 million.
Blue Ridge Numerics' CFdesign software uses computational fluid dynamics (CFD) to test products or buildings during the design phase, focusing on flow and thermal simulation decision-making. Blue Ridge Numerics named customers include Parker Hannifin, Philips Medical, Top-Flite and Wolf Appliance, Inc.
Autodesk says it intends to integrate Blue Ridge Numerics into its Manufacturing Industry Group and to continue developing and selling Blue Ridge Numerics CFdesign products, supporting Blue Ridge Numerics customers and integrating them into the Autodesk customer community. Autodesk also says it is committed to continue developing the Blue Ridge Numerics products with a multi-CAD approach, allowing direct data exchange between CFdesign products and multiple computer aided design software offerings.
Autodesk says the deal will have minimal impact on earnings per share (less than 3 cents) during the current fiscal year, which started February 1, 2011.
What we think
Simulation is a growth area for Autodesk; it has strengthened its engineering product portfolio both organically and through acquisitions. Blue Ridge Numerics represents the latest simulation technology investment by the Autodesk Manufacturing Industry Group, following the acquisitions of Algor (2009) and Moldflow (2008).
For a small vendor, Blue Ridge has been on the forefront of modifying its software for high-performance computing and multi-core processing. When HP first introduced the quad-core Xeon CPUs, CFdesign was one of the first products capable of proving the dramatic speed increases possible.
We estimate Blue Ridge has more customers using PTC's Pro/Engineer than any Autodesk product, which means not only has Autodesk bought more power for its simulation portfolio, it has acquired a nice list of customers who may be willing to look around now that PTC is doing a shake-up of its CAD line.