Deferred revenue grew by 26% to account for the majority of revenue for the first time.
Autodesk (NASDAQ: ADSK) has been telling Wall Street for a while how the transition from selling software as piece goods (perpetual licenses) to software as a service (subscriptions) would be a long transition with up and down quarters. 2Q16 was one of those down quarters.
Revenue for the second quarter of fiscal 2016 (ended July 31, 2015) was $610 million, down 4% from 2Q15 and flat on a constant currency basis. But total revenue does not tell the whole story; total billings increased 7% and deferred revenue increased by 26% year-over-year. For the first time, deferred revenue accounted for more than 50% of a single quarter's revenue (55%). "This represents real progress on our business model transition," said Autodesk CEO Carl Bass, who added the company plans to accelerate the original transition schedule for the move from perpetual licenses to subscriptions.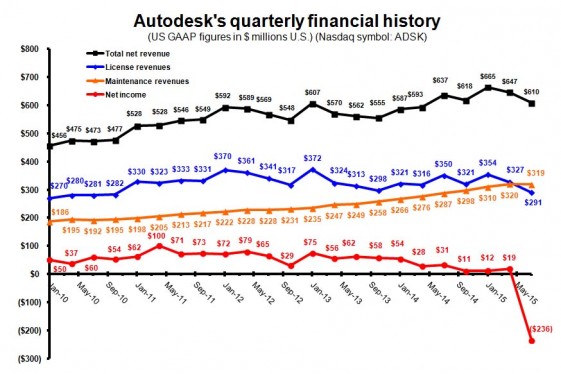 Autodesk posted a net loss for the quarter of $235.5 million, compared to net income of $31.3 million a year ago. Operating expenses were higher than a year ago, partially explaining the loss along with the higher deferred revenue. Autodesk also posted a tax-related charge of $214 million based on a review of accounting rules for deferred revenue.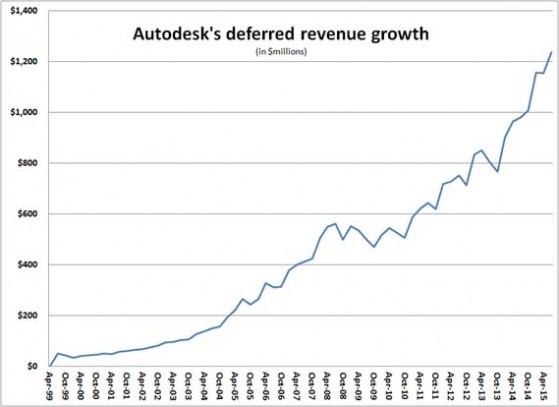 Autodesk stock was down 6% to 46.99 in early after-hours trading after the company reported results, coming close to its 52-week low price of 46.77.
The business model transition away from selling new perpetual licenses with optional maintenance contracts and toward subscriptions and flexible licensing means that billings, revenue, gross margin, operating margin, and other measurements of business will be impacted as more revenue is recognized over time instead of up-front.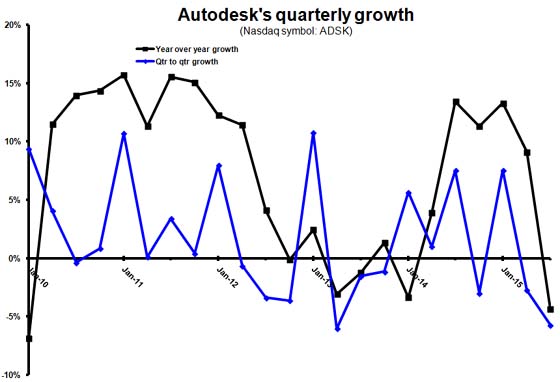 Closer look at revenue
Revenue by regions:
Americas revenue was $236 million, up 6% compared to the second quarter of FY2015;

EMEA revenue was $226 million, down 7% year-over-year and flat on a constant currency basis;

Revenue in Asia/Pacific was $148 million, down 13% from a year ago and down 9% on a constant currency basis;

Revenue from emerging economies was $92 million, down 7%, and down 5% on a constant currency basis. Revenue from emerging economies represented 15% of total revenue in the second quarter;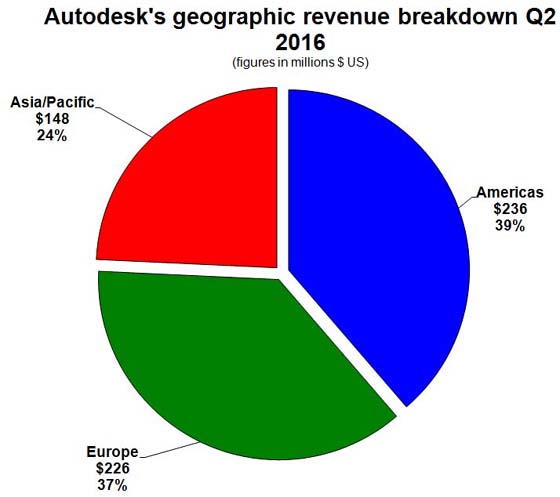 Revenue by business segments:
Architecture, Engineering and Construction revenue was $233 million, up 7% from 2Q15;

Platform Solutions and Emerging Business revenue was $164 million, down 21% from last year;

Manufacturing revenue was $171 million, up 2% compared to the second quarter last year;

Media and Entertainment revenue was $41 million, down 6%.
Revenue by sales model and product types:
License and other revenue was $291 million, down 17% from a year ago;

Subscription revenue was $319 million, up 11%. The company said growth in subscription revenue was related primarily to an increase in maintenance subscription revenue;

Flagship products revenue was $272 million, down 11% from 2Q15;
Suites revenue was $226 million, down 3% from last year;
New and Adjacent products revenue was $112 million, up 13%.
Autodesk said the impact of foreign currency exchange rates, including its hedging in currency markets, was $25 million unfavorable on revenue and $25 million favorable on cost of revenue and operating expenses during the quarter.
What do we think?
When Adobe moved from selling perpetual licenses of its software to subscriptions, it did it at a much faster pace than Autodesk. There was grumbling but overall satisfaction seems to be higher now. There is every indication Autodesk will follow the Adobe playbook and turn this race from a marathon to a sprint. Enterprise customers are already moving their money into subscriptions at an accelerated pace; it is the holders of 5-20 seats of product that seems to be the most reluctant to switch away from buying perpetual licenses. Autodesk will have to woo them by continuing to prove that its new model offers increased value as well as a step forward in technology and design efficiency. 
L. Stephen Wolfe, P.E., a contributing analyst for Jon Peddie Research, provided research and his usual legendary insights for this article.