Introduced at E3 the AMD Radeon R9 Nano graphics board is well worth the wait. JPR testing reveals the most FLOPS per buck per watt!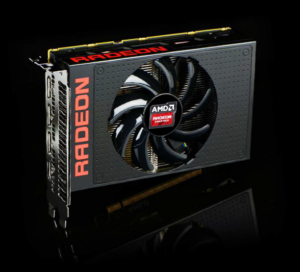 AMD has formally announced their Radeon Nano R9 graphics add-in board (AIB) as the latest and most anticipated member of its Fury X Series of GPUs. It's a marvel of technology improvements, operating at 175 watts and requiring only one 8-pin power plug, this killer board is targeted at 4K gaming and virtual reality. This is an enthusiast AIB, and is priced accordingly. Selling at $649 it will be available by the second week of September.
AMD says it's the fastest Mini ITX graphics card ever designed to enable 4K gaming in the living room through ultra-quiet, ultra-compact PC designs. The company previewed to gamers at the Electronic Entertainment Expo (E3) in June, and we've been waiting for the Nano ever since.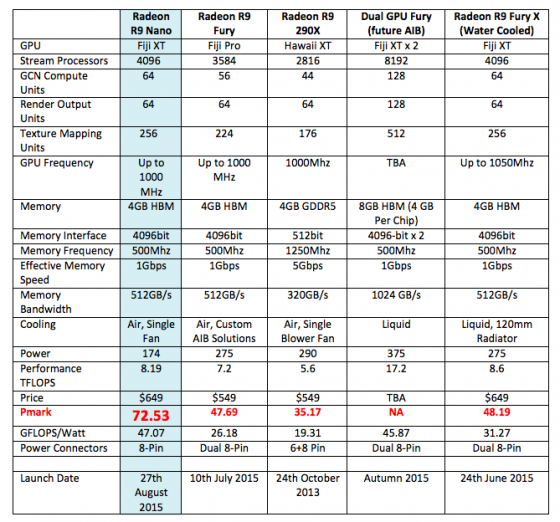 The R9 Nano graphics card is based on the graphics chip codenamed "Fiji", and is the third "Fiji"-based product to launch this summer alongside the AMD Radeon R9 Fury and R9 Fury X.
This will be the last GPU AMD offers based on the 28nm HPX process, and they've squeezed every ounce of performance out of the Fiji while reducing power; it sounds as if they've broken some laws of physics, but they did it.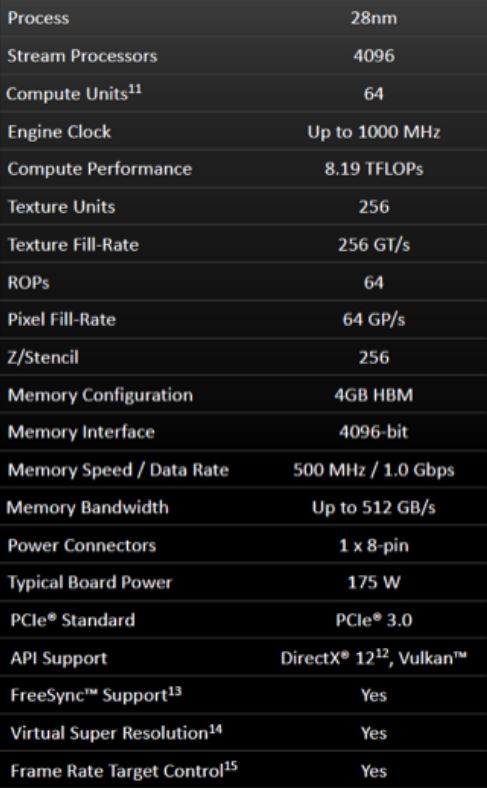 The Radeon R9 Nano features 64 compute units (CU) which have 64 stream processors per CU, which works out to a total of 4096 stream processors, the same as the flagship R9 Fury X. The AIB's GPU has 256 texture mapping units (TMUs) and 64 raster operation units (ROPS). Compared to the Radeon R9 Fury X with 8.6 TFlops and a 1050 MHz GPU clock, the Radeon R9 Nano hits 8.19 TFlops with a 1000 MHz engine clock. It accomplishes that partially by employing greater memory bandwidth over GDDR5 via a 4096-bit memory interface. Normally a wide bus width will cost you in power consumption, but AMD came up with some clever low power switches (which they are not talking about); AMD has always been clever and a little ahead of the curve when it comes to memory management.
The R9 Nano is the first GPU to deliver AMD's new 3D stacked 4 GB of HBM VRAM on the main die itself. They run it at 500 MHz (1.0 GHz effective) and that gives the GPU 512 GB/s bandwidth—a scorcher.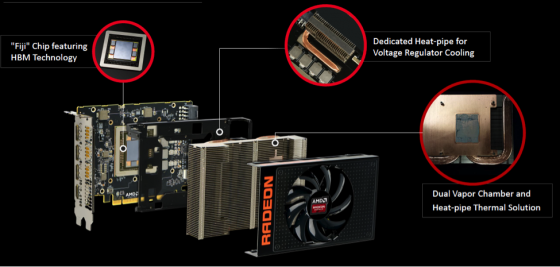 By stacking up the memory (on the GPU) lots of board space can be saved, and more efficient cooling can be realized. The net result is a smaller, cooler, less power consuming AIB that goes really fast. The AIB has a tiny heat sink (by GPU standards) and a single, 92mm, single axial fan.
Cooling is not the only part of the equation, the new Nano gets the best performance per watt and price—check the Pmark scores. (The Pmark is JPR's comparison of price, wattage, and performance to calculate a product's comparative value.)
AMD says the R9 Nano AIB is enabling 4K class gaming in your living room in an exceptionally quiet, ultra-small design.
What do we think?
With 30 percent more performance and 30 percent lower power than the previous generation Radeon R9 290X AIB, the 175W Radeon R9 Nano becomes the world's most power efficient Mini ITX enthusiast graphics card available—period. This sets a new bar on size and performance. Its price is going to challenge a few users, but in graphics you really do get what you pay for, so we think this is a good deal if you can afford it.