Through cloud computing, users can experience AutoCAD LT 2011 by downloading only a small player file, not the full program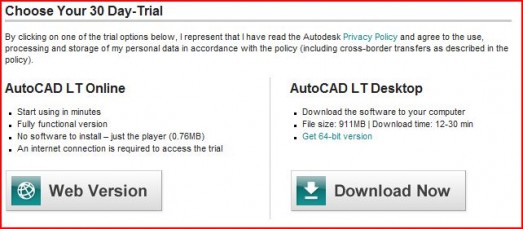 Autodesk is now offering the option of a web-based 30-day free trial for AutoCAD LT 2011. The new cloud-based trial is in addition to an existing downloadable trial version.
This new alternative to the full trial download requires only the installation of a small player (0.7mb) and gives users access to the full version of AutoCAD LT 2011, hosted completely online. Drawings created with the online version are saved to the user's local computer.
The new downloadable AutoCAD LT 2011 30-day free trial is now available at www.autodesk.com/autocadlt.