Changes include AS9102 form improvements and a redesigned interface for automated ballooning in both 2D and 3D.
There's a new version of InspectionXpert for Catia V5 out today from Extensible CAD Technologies. Topping the list of new features are improvements to the user interface and "greatly enhanced" support for AS9102.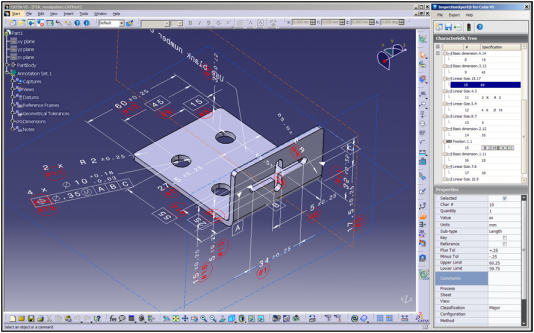 InspectionXpert for Catia automates the ballooning of both 2D drawings and 3D models in Catia and the automatic creation of quality inspection forms such as first-article inspection forms, in-process inspection forms, AS9102 Forms and PPAP forms for quality control inspections. The vendor says the enhancements "are critical to companies using Catia in the aerospace and automotive industries, and also to companies in industries such as defense, oil and gas, and contract manufacturing."
Specific new features include:
Single window integration

Inspection project data is saved for easy updates to inspection projects when drawing or model data changes

Better control over the order and placement of balloons in the Catia drawing or model

Treats dimensions that are entered as notes as dimensions and extracts them

Support for AS9102 Forms 1, 2 and 3

Publish directly to Net-Inspect

S

u

pport for mapping Catia User Parameters to inspection report forms

Support for CATIA V5 R18, R19 and R20
The InspectionXpert product line is designed to eliminate the manual ballooning of inspection drawings and manual creation of inspection sheets for first article and in-process inspections. Versions are also available for SolidWorks, Solid Edge, AutoCAD, and Pro/ENGINEER.
More information: www.inspectionxpert.com