Billings and revenue both exceeded expectations. Autodesk now has almost $1 billion in deferred revenue.
By Randall S. Newton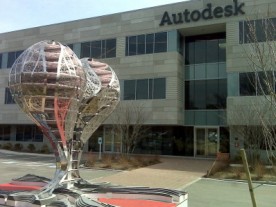 Autodesk (Nasdaq: ADSK) has reported record second quarter income, with healthy increases in billings and subscriptions. All geographic regions reported double-digits percentage growth year-over-year. Revenue for the second quarter of fiscal 2015 (ended July 31, 2014) was $637 million, up 13% compared to the second quarter of fiscal 2014.
Autodesk CEO Carl Bass pointed to stronger than expected growth in subscriptions, plus several major orders in both AEC and manufacturing, as primary contributors to the record quarter. Recent acquisition Delcam contributed almost $11 million in revenue to the quarter.  Last quarter Autodesk said Delcam's revenue contribution was "immaterial" and did not break it out specifically. "Immaterial" generally means less than 5% of income.
Autodesk is discontinuing its upgrade program for traditionally purchased software at the end of the fiscal year (January 31, 2015); the company notes many customers are taking advantage of a current upgrade discount in anticipation of the change. "We are experiencing a higher than average maintenance subscription attach rate," notes Bass.
Net income for the quarter was $31.3 million, down significantly from $61.7 million a year earlier.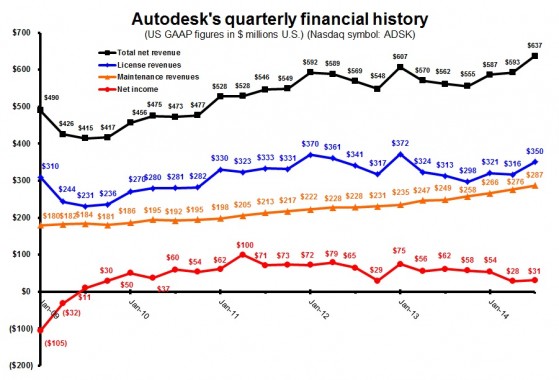 Revenue details
Digging into revenue:
License revenue: $350 million, up 12% from a year ago;
Maintenance revenue: $286.7 million, up 15% from a year ago;
By region:
Americas: $223 million, up 10% from a year ago;
EMEA: $244 million, up 21% from a year ago;
Asia/Pacific: $170 million, up 8% from a year ago.
Emerging Economies contributed 15% of revenue in the quarter. This percentage is the normal range.
Bass said only a few countries currently experiencing "geopolitical turmoil" reported lower revenue during the quarter.
By business segment:
AEC: $218 million, up 23% from a year ago;
Manufacturing: $168 million, up 17% from a year ago;
Media & Entertainment: $44 million, down 6% from a year ago;
Platform solutions and emerging business: $208 million, up 6% from a year ago.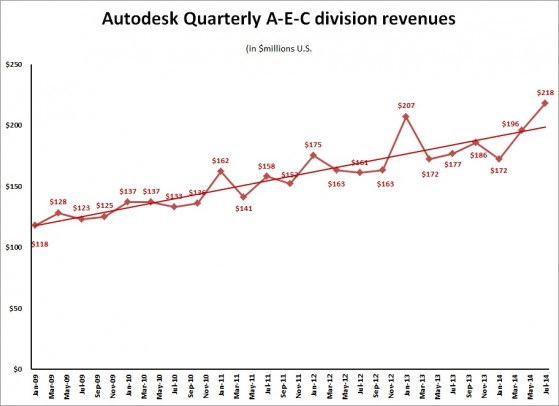 Sales of AutoCAD and related products (including AutoCAD LT) in the quarter totaled $184 million, up 6%. The AutoCAD family of products brought in 29% of quarterly revenue.
Flagship products (including AutoCAD, Revit, Inventor, and several others) represented 48% of revenue in the quarter. Revenue from suites contributed 36% of the quarterly revenue total.
With the change to relying more on subscriptions than sales, the amount of deferred revenue recorded is rising. A comparison of this quarter with the second quarter of 2011:
2Q15 deferred revenue: $980.8 million, 153% of net revenue; this is a company record for quarterly deferred revenue, and represents an increase of 22% from a year ago;
2Q11 deferred revenue: $526.1 million, 111% of net revenue.
In the quarter, billings increased 27% from a year ago; subscriptions increased by 74,000 from 1Q15.
"Strong demand on a global basis and expanding adoption of our suites solutions drove strong billings and record revenue results," said Bass during a conference call with Wall Street analysts. "We also made meaningful progress in the transition to a more recurring, subscription-based business, adding approximately 74,000 maintenance, desktop (rental), and cloud subscriptions."
During the quarter:
Chief Financial Officer Mark Hawkins resigned to become CFO of Salesforce.com. A search is currently underway for his replacement. Hawkins was CFO for five years.
Autodesk acquired Bitsquid, a developer of game engine technology, and Shotgun, maker of cloud-based production tracking for game and media projects.
Five more of our custom charts follow. For larger versions, visit our Facebook page.
L. Stephen Wolfe, P.E., a contributing analyst for Jon Peddie Research, provided research and his usual legendary insights for this article.