The fourth Autodesk app on Chrome runs on Windows and Mac but not yet Chromebook.
Autodesk's popular free mechanical engineering app ForceEffect is now available as a web-based application for desktop and notebook computers using the Chrome browser running either on Windows or OS X. The app joins Autodesk's Homestyler, 123D Catch, and 123D design as Chrome apps.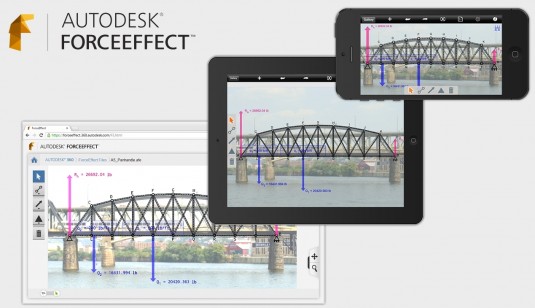 Despite running in the Chrome browser, the app does not yet run on the suddenly popular Chromebook. An Autodesk representative said the company is still studying how to add Chromebook support to the product.
Essentially, ForceEffect replaces the slide ruler, protractor and manual calculations that engineers have relied upon for years; Autodesk likes to say ForceEffect represents "the next evolution of engineering technology." So far the app has been downloaded over 100,000 times for iOS, and is also available for Android smartphones and tablets.
ForceEffect allows the user to simulate design concepts in the field or in the office. The app does all the simulation and engineering calculations right in the browser, enabling the user to simulate design options during the earliest concept phase to determine the viability of a design. Designs created and optimized in ForceEffect can be saved in .DWG format or sent via email for file sharing.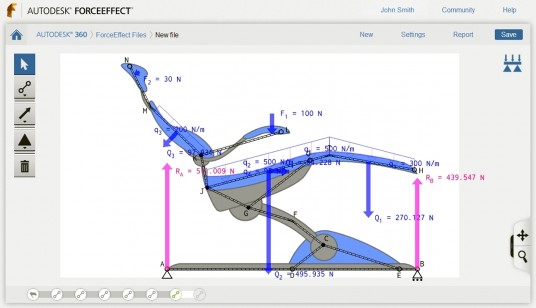 The Autodesk ForceEffect engineering app is designed for static systems analysis using free body diagrams. Features include:
• Freehand sketching of elements and construction lines with snaps, constraints, and inferencing
• Object dimensioning, global scaling, units, constraints
• Import image as background
• Create joints (welded, pinned)
• Break elements
• Create supports (fixed, grounded, sliding)
• Create loads (known, unknown, distributed) and moments
• Add weight to individual elements
• Compute reaction forces and moments for equilibrium and over-constrained systems
• Toggle forces to show force vector components
• Results reporting with picture, results, all equations
• Save and load files from Autodesk 360
• In app help
Related
Autodesk extends ForceEffect to Android
Autodesk adds force simulation to iPad lineup
Autodesk ForceEffect Motion extends mobile simulation