The Open Source API and toolkit will remain open. This deal is a natural extension for Autodesk.
Autodesk today said it is acquiring Shotgun Software, a developer of cloud-based production tracking for video and game studios. Terms were not disclosed. For a company as large as Autodesk, it takes a much bigger deal than this before they are legally required to provide purchase details.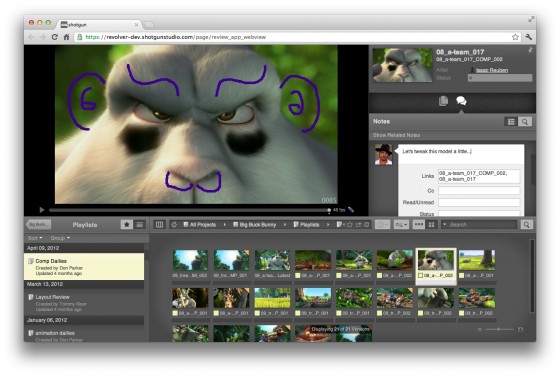 "Today we're strapping a rocket to our backs, nearly tripling the size of our engineering team," said CEO and co-founder Don Parker in a blog post on the Shotgun website. "We didn't set out to sell the company; we set out to scale our team so we can build tools for you faster." Parker said Shotgun will maintain its identity inside Autodesk as part of the agreement, including continuation of the existing website, user forums, and existing pricing.
Parker will head a new unit within the Autodesk Media & Entertainment group, Production Services. Autodesk says it will integrate its existing M&E software-as-a-service R&D team into the new group. The mandate will be to build production management tools and services for film, games, television, and commercials post-production. "The new team will be double the size of the previous Shotgun team with 3x the engineering resources," said Autodesk in a FAQ document for Shotgun users. Autodesk asks that the existing Shotgun focus on cross-industry support will remain. "… their focus on building an open platform that supports products from Adobe, The Foundry, Side Effects, and other companies will stay the same. This is working well today and is one of the reasons Autodesk was attracted to Shotgun."
Elements of Shotgun's asset management system, particularly its API, are open source and hosted at GitHub. Autodesk is an active participant in several open source projects, including the Pixar universal scene description language product; the plan is for all such open source projects to continue.
For now Autodesk will not integrate Shotgun sales and support into existing operations, but will continue to maintain it separately.
What do we think?
If Autodesk had a middle name it would be "commoditization." From the early days with one product—AutoCAD—to today, the go-to-market strategy for Autodesk has always been to turn expensive professional tools into commodity products. Asset and production management for video and games is just now moving out of the stage where each studio large enough has built its own system, just as in the early days of digitization when each studio had its own rendering technology. Shotgun now has over 500 customers, and has been used recently on some big-budget films including Hugo.
Autodesk's other divisions started with authoring tools, then moved into asset management; it is a natural progression to serve customers and get deeper into each pocket. Shotgun is already cloud-based, so there will be no technology transition necessary to match Autodesk's current agenda of fully embracing cloud technology.