While support continues, Autodesk has announced that future Ember development will be dependant on the 3D printing community.
Autodesk recently announced that it has halted production of its Ember line of 3D printers. The company, best known for its large library of engineering and design software, will continue to provide customer support to current owners.
In an online statement, the company said, "(…) our commitment to customer support and consumables for your printers will continue, and we encourage all Ember customers to continue pushing the boundaries of DLP printing using Ember's open-source platform."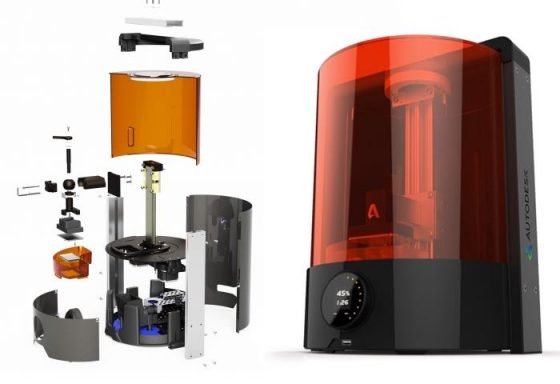 Sales of new resin, trays, and build heads for the 3D printer has been transferred to Colorado Photopolymer Solutions (CPS), an Autodesk partner that helped them develop new resins for the Ember. CPS will also be selling a new investment casting resin developed in partnership with Autodesk. According to Autodesk's Owen Smithyman, "this resin burns out very cleanly and produces excellent detail in printed parts." The new resin also reportedly has very gentle effects on PDMS (a popular compound used in 3D printing) materials, allowing for increased tray longevity.
While Autodesk itself won't be producing the 3D printer anymore, Ember owners and 3D printing enthusiasts technically still can. The device's firmware, all design files, and resin formulas are all open-source and available online, meaning you can make your own version of the Ember if you have the tools at hand.
"Our goal in launching the Ember printer was to demonstrate the power of an open and connected system with software, hardware, and materials all developed together in hopes of advancing the industry in a significant way," said Autodesk in a statement. They go on to affirm their continued involvement in 3D printing research, with the new Ember Research Hub serving as a community for 3D printing pioneers as well as a support platform for Ember owners.
Autodesk says that besides its Ember team and CPS being active on their online forums, users can also continue to make use of their official Ember support portal. The company also took the opportunity to announce that further development of Print Studio (Ember's print preparation software) has also stopped. It is being succeeded by the more advanced Netfabb printing and workflow software. Check out the video below to see the new Netfabb in action.
Tutorial showcasing the capabilities of Autodesk's Netfabb 2017.
Tech journalist Johan Keyter contributed to this article.