The new viewer allows 3D animations and related documentation to reach the shop floor on an iPod or iPhone.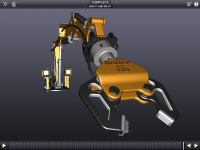 I've been playing with Autodesk Inventor Publisher Mobile Viewer, a free app iPhone and iPad that works with Inventor Publisher. Autodesk has come up with a slick way to go from 3D models in Inventor to 3D assembly instructions on the shop floor.
The key product is Inventor Publisher, not necessarily Inventor, Autodesk's 3D mechanical modeling software. Inventor Publisher can import 2D and 3D CAD data from a variety of formats, including Catia, Pro/Engineer, 3D DWG, DWF, STEP, IGES, and SAT, as well as native Inventor data. Once the data is imported, Inventor Publisher can be used to create exploded views, animations, detail views with annotation, BOM tables, and other necessary shop floor visual documentation. Those views can then be uploaded in the Mobile Viewer.
If the original data comes from Inventor, associative updates keep the 3D CAD data in any Inventor Publisher document current. Documentation created using other CAD data will need to be manually updated.
Autodesk Inventor Publisher Mobile Viewer for iPad, iPhone, and iPod Touch includes:
Zoom, pan, & rotate in 3D using Multi-Touch
Play or scrub through animated sequences of step-by-step instructions
Double Tap on individual components for detailed part information
View text descriptions and annotations that augment 3D graphics
Four sample instruction files
Store files on your device through iTunes File Sharing or Cloud Storage
Simple, intuitive user interface
A YouTube video demonstration, created by Autodesk, is below.
More information: http://www.autodesk.com/inventorpublisher
Images below courtesy Autodesk.