Cash flow and net profit were down; AEC remains strong.
By Randall S. Newton
Autodesk (NASDAQ: ADSK) reported a solid first quarter for fiscal 2016, despite lowered sales due to the strong US Dollar and the continued transition from perpetual licenses to subscriptions. Revenue was $647 million, up 9% compared to 1Q15, and 13% on a constant currency basis.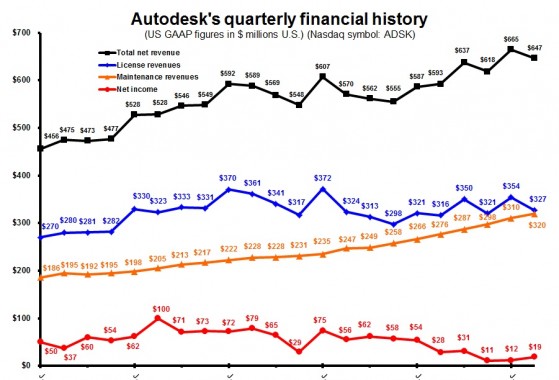 Total billings increased 3% from a year ago, and deferred revenue increased 20% to $1.15 billion. As the company moves from selling software to renting it under a subscription plan, billings and deferred revenue become a more important measure of how the company is doing over time.
Cash flow was way off when compared to the same quarter a year ago. In the current quarter cash flow from operating activities was $87 million, compared to $219 million in the first quarter last year. Autodesk attributed much of the drop in cash flow (over $100 million) to "higher payouts of variable employee compensation and billings linearity in the prior quarter, which resulted in more transactions being billed and collected in the prior quarter relative to our typical pattern."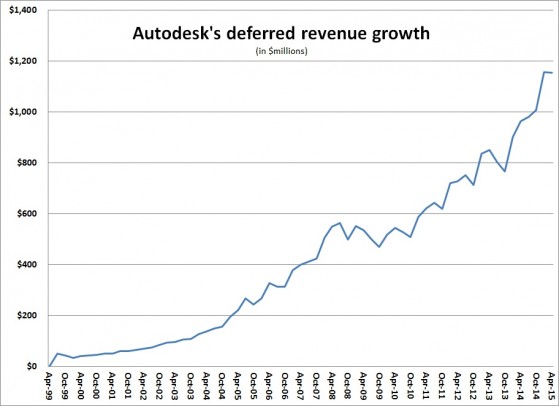 Net profit in the quarter (ending January 31, 2015) was $19 million, down 32% from $28.3 million a year ago. Autodesk says the strong US dollar impacted revenue by $22 million in the quarter.
Digging deeper into revenue:
Subscription revenue was $320 million, up 15.9% from a year ago
License and other revenue was $327 million, up 3.4% from a year ago.
Revenue by regions:
Americas revenue was $244 million, up 19% from 1Q15
EMEA revenue was $245 million, up 9% from a year ago and 15% on a constant currency basis
APAC revenue was $157 million, down 3% from last year and up 2% on a constant currency basis.
Emerging economies revenue was $93 million, up 17% from a year ago; up 19% on a constant currency basis.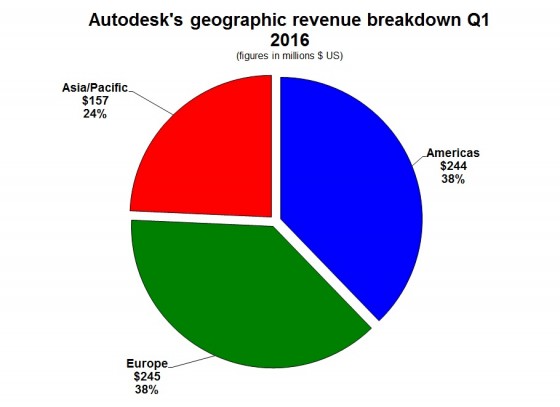 The US led Americas growth and Northern Europe led EMEA growth. Growth in most APAC countries was more than offset by a decline in Japan which the company related to economic conditions and a difficult comparison to a year ago. None of the individual BRIC countries currently represent more than 3 percent of total revenue. During the conference call with Wall Street analysts, Autodesk CEO said that his three worry points for the next quarter are the strong US Dollar, and sales from Russia and Japan. To adjust for the changing currency landscape, Autodesk has raised prices by five to seven percent (depending on the product and the country) in markets using the Euro and the Yen.
Revenue by product type:
Flagship product revenue was $299 million, essentially flat from a year ago
Suites revenue was $240 million, up 14% from a year ago. Autodesk says strong results from the AEC segment led the growth in suites revenue. Revenue from suites accounted for 37% of total revenue during the quarter.
New and Adjacent Products revenue was $108 million, up 30% from a year ago. Much of the increase came from the acquisition of Delcam.
Revenue by business segment:
AEC revenue was $237 million, up 21% from last year. Autodesk noted strong growth in sales of its Building Design Suite and Infrastructure Design Suite.
Platform Solutions and Emerging Business revenue was $185 million, down 15% from a year ago. The drop was largely driven by a 13% decline in sales of AutoCAD and AutoCAD LT. CEO Bass says revenue from AutoCAD LT is very "promotion driven" and there were no specific promotions for AutoCAD LT during the quarter.
Manufacturing revenue was $185 million, up 25% from a year ago. Much of the increase is attributed to the addition of Delcam to the Manufacturing group.
Media and Entertainment revenue was $40 million, up 6% from a year ago. The long-term trend to lower division revenue continues as Autodesk converts its pricing structure to match market trends away from high-priced, low-volume products for digital content creation.
Seven more of our custom charts follow. For larger versions, see our Facebook page.
L. Stephen Wolfe, P.E., a contributing analyst for Jon Peddie Research, provided research and his usual legendary insights for this article.