The new release of the Mac-only video editing tool adds 3D Tracker, updates Timeline FX.
Autodesk is introducing the 2015 edition of Smoke, its video editing and 3D effects software for Mac, this week at the National Association of Broadcasters meeting in Las Vegas. When Autodesk acquired Smoke in 1999 as part of the Discrete Logic acquisition, the software cost $250,000. Before the end of 2014 the updated Smoke will be available on desktop subscription for $195 per month (cheaper if paid annually), aimed at start-ups and freelancers. This year's edition includes a re-architected Timeline FX editor, a new 3D Tracker tool, and other features for adding 2D and 3D effects into video.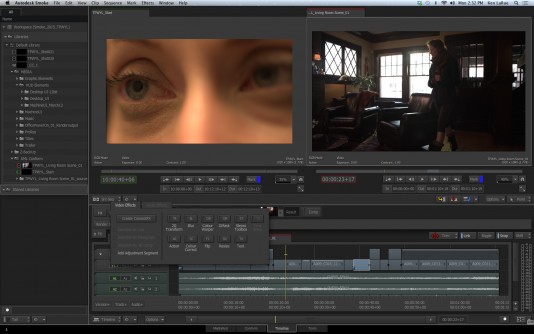 Key features include:
The re-architected Timeline FX offers new effects capabilities for editors including direct access to the Action 3D compositing environment as a segment-based effect;
New timeline-integrated 3D Tracker allows editors to match original camera movements in a clip in order to realistically add new elements such as video layers, text or 3D objects;
Improved support for Blackmagic DesignLink card and UltraStudio for Thunderbolt devices and extended video IO support for AJA Video Systems to offer dual stream stereoscopic output;
Improved integration with Apple Final Cut Pro X to support more timeline and effects metadata for faster high fidelity project transfer between the apps. In addition, Smoke sequences can be exported as XML with accompanying QuickTime media files.
Support for the new Apple Mac Pro running running OX S Mavericks.
"For us, Smoke is a fantastic tool. I love the one-place solution that Smoke offers; it saves hours of production time. We use Smoke as our main tool on music videos, tour visuals and motion graphics ? from Madonna to The Prodigy to MTV. I want Smoke on every desk in my studio," said Eugene Riecansky, creative director, Rockstar (UK).
Autodesk says it polled existing and potential Smoke users before coming up with its new desktop subscription plan: "68% responded that term-based software licensing is a great option." Desktop subscription as an option to license purchase will begin May 8, 2014 through the Autodesk eStore; prices are $195/month, $545/quarter, and $1,750/year (suggested retail).