It performs well when tested against a close rival. But having only one model of mobile workstation may work against it in the marketplace.
By Alex Herrera
Responsible for nearly 13% of worldwide shipments (units) last year, Lenovo reached number three in the workstation market thanks to a major headstart. In 2005, Lenovo acquired IBM's PC business, including the highly-regarded ThinkPad line. And with ThinkPads came IBM's market-leading mobile workstations. Since then, Lenovo has put more wood behind its workstation arrow, adding a host of deskside models to complement its ThinkPad W series mobile workstation line.
Still, while its deskside models have made substantial progress in sales, the mobile ThinkPad W-x line continues to stand out among Lenovo's workstation offerings. Its most recent model is the ThinkPad W540, released in the fall of 2013, subsequent to Intel's refresh of its mobile Shark Bay platform, centered on the Haswell processor.
The meat of the mobile workstation market
With a starting at price of $1,399, the W540 is configurable across a range of build options, supporting a range of Intel Core-brand Haswell SKUs, Nvidia Quadro mobile GPUs, and up to 32 GB of memory and 2 TB of storage, including SSD options.
| | |
| --- | --- |
| | ThinkPad W540 specifications |
| Display | 15.5″  (up to) 2,880 x 1,620 resolution LED-backlit In-Plane Switched (IPS) display with 95% color gamut and integrated color calibrator |
| CPU | Up to Intel Core i7-4000 class (Haswell) |
| Graphics | Nvidia Quadro options |
| Memory | Up to 32 GB DDR3-1600 |
| Storage | Up to 2 TB |
| Thickness | 27 mm (around 1.05 inches) |
| Weight | 5.45 pounds |
| MSRP | Starting at $1,399 |
ThinkPad W540 mobile workstation specifications. (Source: Lenovo)
Lenovo boasts superior ergonomics with the new W540: 5 mm thinner, 0.45 lbs lighter and accompanied by a 30% smaller power adapter than its predecessor. Now, it is certainly no high-end corporate "thin 'n light" notebook or Ultrabook, but compared to so many mobile workstations we've reviewed, we definitely appreciate its relatively svelte package. The backlit keyboard is also a nice touch, a feature anyone would appreciate.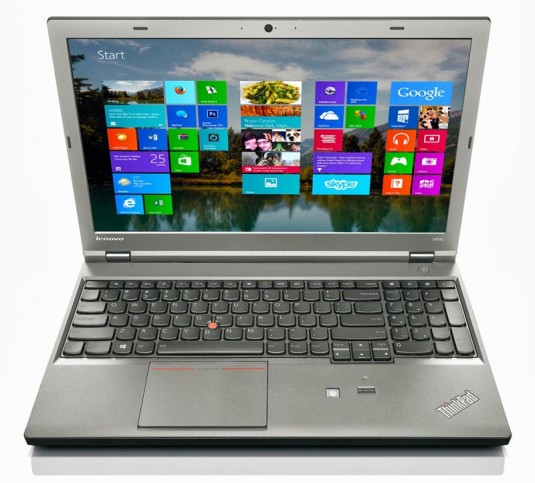 Professional quality display
The one thing that tends to strike me more than any other when reviewing a mobile workstation is the display. After all, from the outside, the mobile workstation looks like any other laptop … and more often than not, a less attractive, more bulky version of the laptop. For the most part, it's what's inside that is compelling and sets the mobile workstation apart from corporate or consumer class notebooks.
The exception to all that is usually the display, and in the case of the W540, especially so. The resolution of 2880×1620 in a 15″ display is essentially equivalent in dot pitch to Apple's celebrated Retina display. With In-Plane Switched (IPS) technology, the viewing angle is superb, extra valuable for a workstation, which is more likely to be focus of collaboration among several viewers at once. Beyond being a feast for my eyes, the W540's premium display delivers 95% gamut coverage with color-calibrated accuracy (via sensor when lid closed). No doubt, this machine's display (albeit the non-standard, top-end option) is professional grade all the way.
Thunderbolt enabled
With one exception, the W540's I/O offerings follow right along the lines of what one would expect of a machine of this class: two USB 2.0, two USB 3.0, Gigabit Ethernet, one mini DisplayPort (to go along with legacy VGA connector), mic/headphone, and a Smart Card slot and 4-in-1 card reader. The exception? Thunderbolt version 2.0. While the inclusion of Thunderbolt isn't shocking—HP made the same addition with a subset of its new Haswell-based mobile workstation models—as a Lenovo workstation first, it's still noteworthy.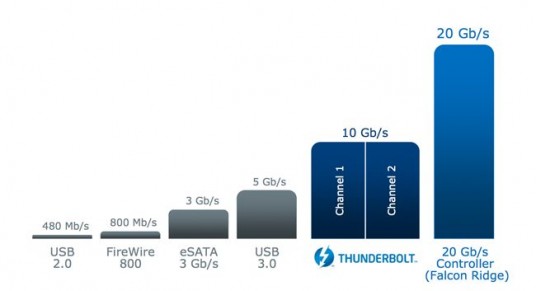 In its 2.0 version, Thunderbolt boasts an impressive 20 Gb/sec of serial bandwidth, or as HP described during its Thunderbolt launch, essentially "exports PCI Express" performance outside the box. That's a big jump over USB 2.0 or even USB 3.0, the latter of which at 5.0 Gb/sec can only achieve a quarter of what Thunderbolt (though it's worth nothing USB 3.1 is in the offing at an expected 10 Gb/sec). And it is daisy-chainable (to 6 devices), something USB can't match.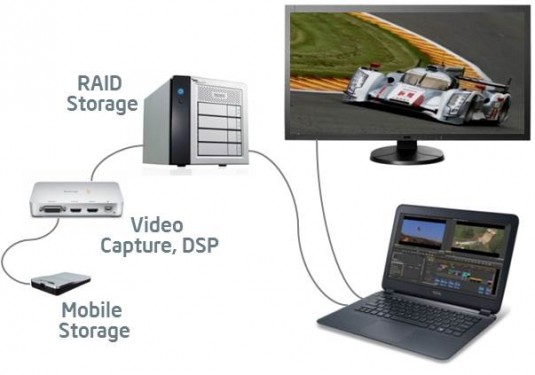 Despite its advantages, Thunderbolt hasn't had the easiest time catching on, as scant few applications or devices have materialized to give the standard any kind of broad-based demand. Because while 4X is a nice bump in throughput, it turns out USB 3.0's 5 Gb/sec is pretty darn fast for most I/O needs. There aren't many applications that really had to have more, or at least needed it enough to push an unproven, proprietary standard. Ultimately, if it weren't for Apple's fondness for being different, Thunderbolt may not have made it at all.
But that doesn't mean it is not a technology that won't appeal to some, and it turns out the workstation space is where we are seeing most of the demand for higher-speed I/O. Take a look at the current showcase devices for Thunderbolt and you'll see a lot of storage devices, appealing for use as expansion storage for big datasets to collect or manipulate in the field or on the road. Given such usage, it makes perfect sense that the first notable appearance of Thunderbolt on a Wintel class machine came on a workstation.
The one and only
Lenovo's 2012 launch of the W530, the W540's predecessor, was noteworthy in its decision to drop the 15″ model's long-time 17″ mobile workstation sibling, the W700 series. The decision leaves the W540 as the company's only mobile workstation available today, a position that stands in stark contrast to that of market leaders HP and Dell. The former markets three mobile models: a 14″, a 15″ and a 17″, while the latter adds a fourth (Dell's "sub-entry" Precision M2800).
SPEC's recently introduced workstation-specific test suite, SPECwpc, has become a staple in our benchmarking toolbox.  SPECwpc's whole-system testing gives a clearer idea of how the fully configured system will perform, considering the entire workload, including application, graphics, memory, OS, I/O, etc.
SPECwpc was designed to cover the breadth of professional computing spaces, and as such, is comprised of six separate suites, one per each of six verticals, including Media and Entertainment, Product Development, Energy, Life Sciences, Financial Services, and General Operations. Each suite includes anywhere from five to nine workloads, relevant to those specific spaces.
As luck would have it, a machine very comparable to the ThinkPad W540 passed through JPR's labs a few weeks prior: Dell Precision M3800 mobile workstation. Both 15″ mobile workstations have similar base prices and offer similar build options.
Lenovo ThinkPad W540

Dell Precision M3800

CPU SKU

Intel Core i7-4800MQ

Intel Core i7-4702HQ ("Haswell") @ 2.2 GHz (3.2 GHz Turbo)

# CPU cores (physical/logical)

4/8

4/8

Memory

8 GB DDR3-1600

16 GB DDR3-1600

Disk(primary)

256 GB SSD

512 GB SSD on mini-card

Graphics

Quadro K2100M with 2 GB

Quadro
K1100M with 2 GB

Display

15.6″ IPS (2880×1620)

15.6″ IGZO QHD+ (3200×1800) with touch

OS

Windows 8.1

Windows 7 Professional (64-bit)

MSRP

$2,346

$2,554
 Configuration specifications the Lenovo ThinkPad W540 and the Dell Precision M3800 (Source: Jon Peddie Research)
Charting the two mobile machines' key component metrics, we see a lot of commonality in the Haswell generation CPUs. The ThinkPad W540's build includes a slightly-faster Core i7 than does the Precision M3800. Other notable differences in the specs of the two comparable machines include the GPU and memory size. The Precision M3800 build includes an Nvidia Quadro K1100M, while the ThinkPad W540 takes one step up to the Quadro K2100M. The latter offers a bit more raw throughput (looking at max FLOPS) and memory bandwidth, though both are matched up with the same 2 GB of GPU memory. The biggest difference is in system memory, where the Precision M3800 populates 16 GB of DDR3-1600 memory, compared to the W540's 8 GB.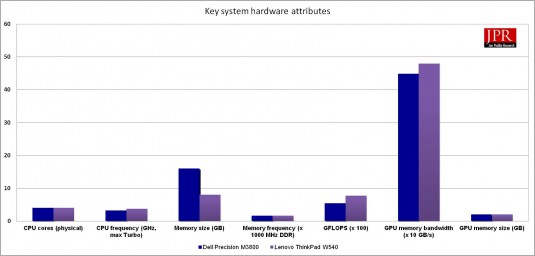 The differences in build are almost a wash when adding up the price. The price premium for W540's modestly more expensive CPU and GPU are more than matched by the extra dollars spent on the M3800's 2X system memory. The price for our ThinkPad W540 undercut the Precision M3800 by a nudge, $2,346 versus $2,554. It's worth noting for both models, the premium displays incurred added cost.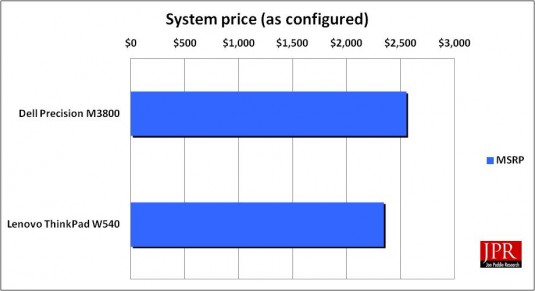 How did the similarly priced, similarly positioned mobile workstations fare on SPECwpc? The new benchmark reports a composite score, aggregating sub-test results, for each of the six application suites. We report scores, as well as scores per dollar, for both.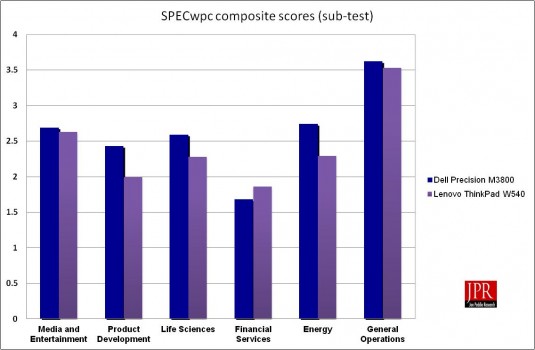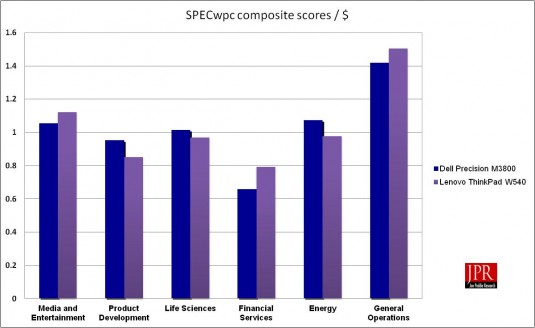 It is pretty much a tie. Overall scores were not far off from each other, and in the fairer match-up, scores per dollar, each nudged the other in half of the tests. The results confirm a couple of things. First and foremost, based on similar components from similar IHVs (primarily Intel and Nvidia) at similar price points, two leaders in workstations are going to build competitively matched machines.
Secondly, the modest differences in build shows how the mix of components can impact performance, depending on the application. In this case, we know the SPECwpc application will favor dollars spent in some areas over another. In particular, past testing has shown how valuable an SSD is to benchmark scores as compared to a hard disk drive. In fact, SSD performance (particularly its low read latency, we assume) can even mitigate the negative effect of a smaller system memory footprint. That is something we also see here, where the Precision M3800's 2X memory doesn't seem to have any differentiating advantage in SPECwpc performance (it certainly would, however, offer benefits in other applications).
In this round of testing, we see that the W540's modestly faster CPU and GPU give it the performance edge in some sub-tests, while the M3800's faster SSD (for reasons that were not clear, its IOMeter tests results consistently outpaced the W540's) gave it the edge in others.
What do we think?
With solid all-around performance, and excellent "sweet spot" price-performance and form factor, the Lenovo 15″ ThinkPad W540 should suffice for the bulk of prospective mobile workstation buyers: those who don't necessarily want the biggest screen and need optimal price-performance, but not maximum performance at any cost. It represents a good compromise capability and ergonomics—this one is moderate in size and weight—while retaining the value of what a workstation is.
While the W540 is a competitive, compelling model from Lenovo, we still don't think it should be the company's only model. Why would HP continue to market three SKUs—and Dell now four—while its peer Lenovo has seen fit to drop from two to one? Well, we highly doubt HP's experience with its three form factors would tell a much different story than Lenovo's. We imagine its 14″ model sells relatively few compared to the 15″ … it is more HP's vehicle for tempting would-be workstation buyers with low entry prices. Most professional users with any kind of serious visual or computing demand would opt for the 15″ or 17″.  Similarly, we expect HP's 15″ models to outsell the 17 inchers by a multiple similar to Lenovo's, a figure the company won't divulge but we estimate to be in the 2:1 to 3:1 range.
But herein reveals the double-edged sword that being a broad supplier entails (with an emphasis on broad). It is tempting to look at each product's financial merits stand-alone. And if I were to do it, I might also conclude the lower volume mobile models don't pass muster. But a broad supplier sometimes needs to support models for strategic purposes, to support the overarching business. For example, a customer that wants to outfit an enterprise may not want many 17″ mobile workstations, but the fact Lenovo doesn't offer one—and HP and Dell do—might sway the purchase decision toward its competitors. While it might be able to get away with two lines versus the three or four of its peers, we do think Lenovo will need to at least compliment the 15″ line with a 17″ at some point.
Alex Herrera is a senior analyst for Jon Peddie Research.