The free app uses technology from various Autodesk simulation products to provide real-time solving.

Autodesk has released ForceEffect, a new mobile simulation app for iPad. The free app allows engineers to quickly simulate design options during conceptual design.
"Autodesk ForceEffect brings engineering to the point of the problem," said Robert "Buzz" Kross, senior vice president, Manufacturing Industry Group at Autodesk. The company sees ForceEffect as a replacement for the traditional approach of using paper, pencil, and a calculator to develop equations for design options; Autodesk ForceEffect does all simulation and engineering calculations on iPad.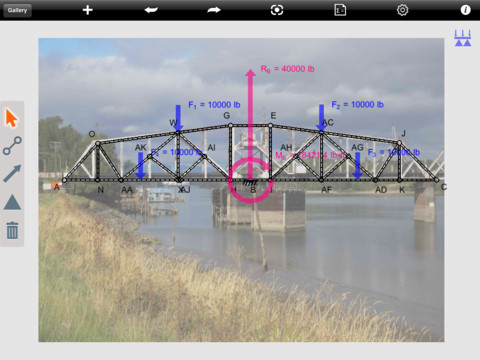 ForceEffect solves static systems analysis using free-body diagrams. Users create diagrams by leveraging existing design images or create new systems from scratch. A free body diagram is a pictorial representation used to show the relative magnitude and direction of all forces acting upon an object. Static systems analysis captures the calculation of forces used to predict the performance of objects that do not move or change states, such as buildings, bridges, furniture, or machines.
Using the scaled static image, users can create joints, supports and loads, and compute reaction forces. User can then manipulate the geometry to iterate on the design and calculate new reaction forces to optimize the design. Autodesk ForceEffect generates a results report that can be printed, emailed or viewed using any Web browser. In addition, export capabilities enable continuing the work in any CAD design application.
The Autodesk ForceEffect App is available for free from the App Store on iPad or at iTunes App Store. Videos are also available on the Autodesk YouTube Channel.