The hands-on displays give Siggraph attendees a chance to explore cutting-edge technology research on the show floor. Other projects include virtual tennis and wiring a potted plant to be a computer interface.
Attendees at Siggraph 2012 will have the chance to get hands-on with 26 novel research projects at the Emerging Technologies Preview on the Siggraph show floor. The annual display—one of Siggraph's most popular activities—offers an exclusive hands-on opportunity to interact with developments in multiple fields including 3D displays, robotics, interactive input devices, and more. This year's Siggraph will be August 5-9, 2012 in Los Angeles.
The 26 projects were selected by a jury of industry experts from 99 submissions. Countries represented include Japan, U.S., Hungary, Canada, Singapore, South Korea, and China. Each one has an interactive component that is best experienced in person and involves either new technology or a novel use of existing technology, says Preston Smith, SIGGRAPH 2012 Emerging Technologies Chair from Laureate Institute for Brain Research. "In many cases, these technologies won't be seen by the general public for another three to five years and are right out of a research lab."
Here is a sample of what to expect from this year's Emerging Technologies Preview, with comments from Smith. 
Telesar V (TELExistence Surrogate Anthropomorphic Robot): Telesar V enables a user to bind with a dexterous robot and experience what that robot can feel with its fingertips when manipulating and touching objects remotely.
Preston Smith: "Historically, robots have always been a popular Emerging Technologies attraction. This trend continues with the intriguing robotic presence of Telesar V, a fifth generation robot that gives the user both the control of the robot and the experience that the robot is going through. Imagine being able to remotely perform some task, but also being able to feel the task that is being performed. The future applications are endless in the entertainment, science, or medical fields."
Telesar V researchers: Charith Lasantha Fernando, Masahiro Furukawa, Tadatoshi Kurogi, Kyo Hirota, Katsunari Sato, Kouta Minamizawa, and Susumu Tachi, Keio University, Graduate School of Media Design; Sho Kamuro, The University of Tokyo.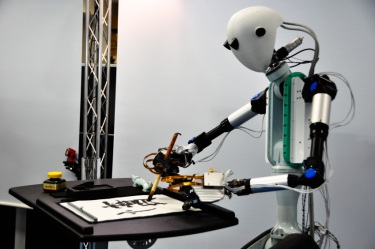 3D capture using multi-camera rigs, real-time depth estimation, and depth-based content creation for multi-view and light-field auto-stereoscopic displays: This futuristic system captures live HD footage with a wide-baseline multi-camera rig and estimates the depth map of the captured video streams based on which content is generated and presented on auto-stereoscopic 3D displays.
Preston Smith: "Prepare to see something big this year at Emerging Technologies. We have a two-fold exhibit with an innovative camera rig for 3D capture, along with the largest (to date) auto-stereoscopic light-field 3D display. The presentation of this new rigging system is exciting enough, but you have to be able to experience this technology to fully appreciate it. Then witness the display of this amazing output on the impressive 140″ (diagonal screen) glasses-free multi-view and light-field auto-stereoscopic 3D display. That is something you really have to experience in person!"
Researchers: Peter Tamas Kovacs, Holografika Kft.; Ferederik Zilly, Fraunhofer Heinrich-Hertz Institut.
Tensor displays (3D without glasses): This new light-field-display technology system uses stacks of time-multiplexed, attenuating layers illuminated by uniform or directional backlighting optimized with non-negative tensor factorization. Tensor displays achieve greater depths of field, wider fields of view, and thinner enclosures compared to prior auto-multiscopic displays.
Preston Smith: "'Auto-multiscopic displays' is certainly a mouthful. But saying '3D without glasses' is well understood by all. Tensor displays are an exciting display technology and is the next logical step in our ever-growing home theater experiences. It allows the user to have a 3D experience via the display but without the assistance of glasses or other such wearable devices."
Researchers: Matthew Hirsch, Douglas Lanman, Gordon Wetzstein, and Ramesh Raskar, MIT Media Lab.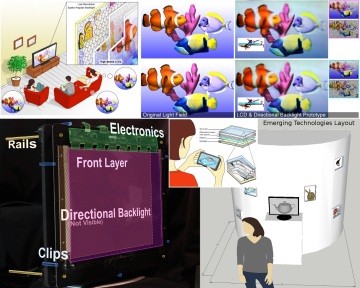 Gosen—a handwritten notation interface for musical performance and learning music: Since the 1960s, Optical Music Recognition (OMR) has matured for printed scores, but research on handwritten notation and interactive OMR has been limited. By combining notation with performance, Gosen makes music more intuitive and accessible.
Preston Smith: "Music is something that everyone enjoys and is a universal language. Yet one aspect that is less understood is the technical perspective of writing and reading music scores. This is an innovative device that can read any handwritten score and play that music. It can even follow written instruction as far as what instrument is to be played. This will change the way children and adults learn, create, and interact with music."
Researchers: Tetsuaki Baba, Tokyo Metropolitan University; Yuya Kikukawa, Toshiki Yoshiike, Tatsuhiko Suzuki, Rika Shoji, and Kumiko Kushiyama, Graduate School of Design, Tokyo Metropolitan University.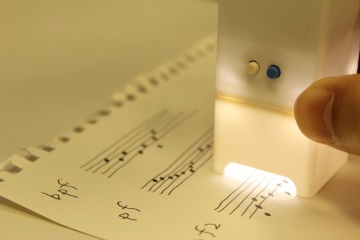 Botanicus Interacticus—interactive plants technology: Botanicus Interacticus is a technology for designing highly expressive interactive plants, both living and artificial. With a single wire placed anywhere in the soil, it transforms plants into multi-touch, gesture-sensitive, and proximity-sensitive controllers that can track a broad range of human interactions seamlessly, unobtrusively, and precisely.
Preston Smith: "It is not a far stretch to imagine a computer being used to time the watering of plants. But how about using the plant as the actual interface to the computer? Imagine being able to use a plant on your coffee table to fast forward a movie. Lost the remote? Go ahead and use the plant. This is a novel application of a haptic device in a new and inventive way to manipulate technology. Future applications could be in the home or entertainment industry."
Researchers: Ivan Poupyrev, Disney Research, Pittsburgh; Philipp Schoessler, University of Arts Berlin.

Ungrounded haptic rendering device for torque simulation in virtual tennis: This interactive virtual tennis system utilizes an ungrounded haptic device to render the ball impact accelerations and torques experienced in real tennis. Novel features include the A-shaped vibrating element with high-power actuators. The application utilizes racket mass distribution and high-amplitude bending for torque generation and haptic rendering.
Preston Smith: "Many of our current electronic gameplay devices have done away with controllers. However, being able to receive certain feedback in gameplay is helpful for learning and also enhances the entertainment value. Learning tennis could be difficult if you expected to get a similar experience of playing a digital game with no controller and then made the transition to playing the real sport outside with a racket. This clever advancement provides the torque and impact of a real tennis match."
Researchers: Wee Teck Fong, Ching Ling Chin, Farzam Farbiz, and Zhiyong Huang, Institute for Infocomm Research