The CAE vendor sees 'continued confidence issues' among customers; many are just waiting for R13. A reorganization in Japan will impact income in the next couple of quarters.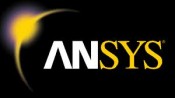 Ansys (NASDAQ: ANSS), has announced third quarter 2010 results showing revenue up 9% from the same period a year ago. The company says "pockets of customer confidence issues regarding the macro-environment" are still affecting performance.
Revenue in the quarter (ending September 30, 2010) was $139.8 million, up from $128.2 million for 3Q09. For the three quarters of this year, revenue is $413.7 million, as compared to $366.5 million in the first nine months of 2009.
By regions, Asia kept Ansys moving; revenue there was up 26% from last year. Revenue from North America was up 2%; revenue from Europe was only up 1%. Ansys CEO Jim Cashman pointed out during the analyst call that regional revenue is reported on a 'where used' basis, not 'where bought.' Cashman says if the company broke out revenue on a 'where bought' basis North America would show revenue growth in line with historic norms. Many US-based customers are obviously buying analysis software for use in Asia.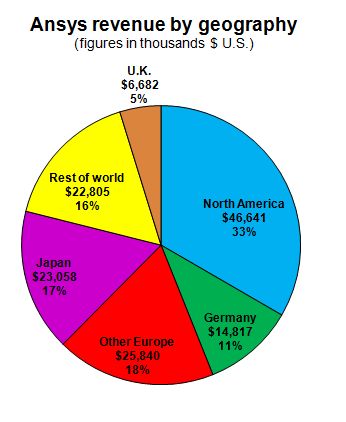 Revenue by category, with results compared to the year-ago period:
Software revenue up 8% to $82.6 million
Maintenance revenue up 10% to $53.2 million
Services down 1% to $4 million.
The company did well with large deals, closing six deals worth more than $1 million during 3Q10, compared with two such deals in 3Q09.
Japanese consolidation
To improve the effectiveness of operations in Japan, Ansys completed the merger of its Japan subsidiaries during the quarter. The income tax impact of this merger transaction is expected to have a significant impact on net income, diluted earnings per share and cash flows in future periods. During the third quarter of 2010, the Company's operating cash flow was increased by approximately $11 million related to a reduction in income taxes paid; the transaction did not impact net income or diluted earnings per share in the third quarter of 2010.
Ansys expects the merger transaction to impact its cash flows, net income and earnings per share as follows:
4Q10 Cash Flow: Negative impact of $58 to $63 million
4Q10 Net Income: Positive impact of $1.9 – $2.0 million
4Q10 Diluted EPS: Positive impact of $0.02
2011 Cash Flow: Positive impact of $38 to $42 million
2011 Net Income: Positive impact of $7 to $8 million
2011 Diluted EPS: Positive impact of $0.07 to $0.08
Ansys is forecasting 4Q10 revenue in the range of $157 million to $163 million, and full-year 2010 revenue of between $570.7 million and $576.7 million. Ansys has also provides a forecast for fiscal year 2011 (ending December 31, 2011), projecting revenue of between $635 million and $660 million.
What we think
Ansys appears to be breathing harder than we have seen in a while. Year-to-year revenue growth slowed for the second quarter in a row. Operating income fell in the third quarter compared with the second despite and increase in sales. Deferred revenue fell sequentially. Accounts receivable fell sequentially. These drops are not consistent with rising sales, even though sales appear to be rising.
Some of the week demand in the current quarter is from customers waiting for the next big release. Ansys 13 will ship before the end of the year with many new features users will want immediately, including GPU compatibility. (See our article, "Power and Potential: GPUs for Engineering Simulation.") Whether it will be available in time to impact 4Q10 revenues remains to be seen.
Until the recent recession, Ansys was on an acquisition binge. It was using revenue from the new companies to keep revenue growth above 10% annually. It seems premature to assume the shopping will resume, but we can't imaging that Ansys is happy with single digit growth. The problem is, who is out there to buy? Their next acquisition may well be a technology tuck-in instead of a growth generator.
Cash on hand (cash plus short term investments) is now $495 million, for a cash per share on September 30, 2010 of $5.46. This is up significantly from $4.59 on June 30, 2010, and $4.34 on March 30, 2010.
Four charts follow.
Jon Peddie Research Contributing Analyst L. Stephen Wolfe, PE supplied research for this article.