This year's all-star panel will discuss how the real and the virtual are becoming one in computer graphics.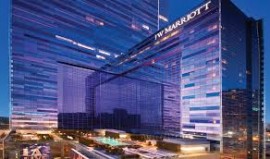 It was just about 20 years when movies changed forever. We were introduced to re-incarnated dinosaurs in Jurassic Park (1993) with combined digital creatures and live action. Then there was Jim Carrey transforming into a real-life cartoon character in The Mask in 1994, and Toy Story in 1995, the first totally CG movie made with 3D tools. Since that time the use of matte painting, miniatures, sculpted creatures, etc. has all but disappeared, replaced by digital models and art. Today's media and entertainment content is awash in new creation technology built to better combine real world content with digital content. Reality is the new frontier.
The panel for this year's annual Jon Peddie Research Siggraph Press Luncheon will speak to how studios and creative professionals are adjusting to the new normal of real world data and created data being equals in the content workflow.
Panelists for this year's luncheon in Los Angeles August 12:

SANJAY DAS
Chief Operating Officer, Tippett Studio
Sanjay Das shepherds operations and technology at Tippett Studio. Under his management, the studio has delivered breathtaking visual effects and animation for blockbuster hollywood movies like Ted, Ted 2, Ninja Turtles, the Twilight series and others. Currently, Das is leading the studio into mobile content creation and breaking ground into orchestrating content for virtual reality (VR), augmented reality (AR) and 360 degree storytelling. Das collaborated with NBC Universal Digital Marketing and delivered creative marketing solutions for the mega blockbuster film Jurassic World, on-track to become one of the biggest movies of all time. Before Tippett, Das was a senior technology executive at DreamWorks Animation where he oversaw tool development and technical needs for popular movies like Shrek 2, Shrek the Third, and Madagascar. Das worked at HP for nine years in various capacities innovating and creating solutions for HP's marquee customers.

JAMES KNIGHT
Performance Capture, BluStreak Media
James Knight is a British-born, LA-based virtual production manager, specializing in motion capture. Additionally he has managed motion capture for films including Avatar, I Am Legend, Hulk, and Prince Caspian and various video games including, Scene It, Star Wars: The Old Republic, and Gotham Racing. Knight, along with colleagues from Avatar, started BluStreak Media based at Universal Studios, California. He is a member of the Visual Effects Society (VES), on the Board of Directors at the British Academy's Los Angeles chapter (BAFTA-LA), and a member of the Scientific and Technical Achievement Committee at The Academy (AMPAS).

GRANT ANDERSON
Head of Studio, Jaunt Studios
Jaunt VR is developing hardware and software to enable a new generation of filmmakers working in VR. Anderson has extensive experience in the film and television studio system; at Jaunt he is focused on melding imaginative stories with the latest advances in technology. Jaunt's stated mission is to evolve the language of cinematic VR. Before coming to Jaunt VR, Anderson co-founded and was chief creative officer at Creative Monster Productions. He was executive director and stereoscopic supervisor at Sony Pictures where he worked with creative professionals and helped train them in the use of 3D. He was CG supervisor for Sony Pictures Imageworks; a senior producer at Stan Lee Media, and technical director at Walt Disney Animation Studios. Throughout his career, Anderson has been able to combine his understanding of the filmmakers' art with technical expertise to design efficient workflows and expand the audience's experience.
Members of the press attending the JPR Siggraph Luncheon will have one-on-one time with the panelists after the presentation. They will also be entered in a drawing generously donated great prizes from event sponsors including Dell, Nvidia, and AMD. Members of the press may register for the luncheon at:  http://jonpeddie.com/events/details/2015-jpr-siggraph-luncheon1