Test virtual prototypes of seats in aeronautics and ground transportation industries for safety and comfort.
ESI has been helping industrial manufacturers in creating and testing their products virtually. The company recently announced the release of ESI Virtual Seat Solution 2017 (VSS), a seat design software for creating virtual prototypes of the seats in the aeronautics and ground transportation industries.
Certification and comfort of aircraft seat
Aeronautic version of VSS offers a guided head injury criteria (HIC) process. HIC is a measure of odds of having a head injury caused by an impact. A seat must protect the passenger in an aircraft while bracing for impact. HIC process helps in pre-certification tests. This version has ability to position Hybrid II dummy accurately, define harness, thus simplifying dynamic testing set-up and analysis. Engineers can carry out virtual design iterations.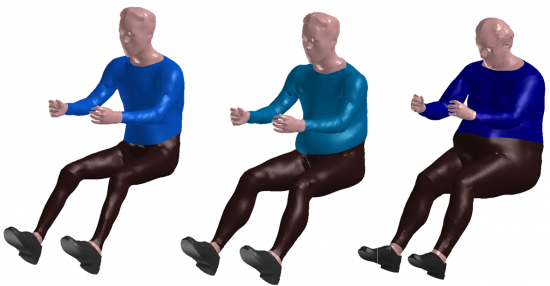 VSS is offering new digital human models of disabled, older, and overweight individuals. This feature will help engineers asses seat design for comfort of a broader category of passengers. ESI presented these new models and their application on a virtual prototype of Zodiac Seat Z301 at the Digital Human Modeling Symposium last June in Bonn, Germany.
Thermal comfort and H-point optimization for automotive seats
The carmakers now offer heated and cooled seats into cars designed for mid-range market. Although H-point prediction, design, and optimization to increase thermal comfort of a seat are difficult, VSS claims that foam material optimization tools make this process easier. Each of the interactions between the occupant, the seat cover, the cushion foam, and the heating system has to be taken into account. Human models embedded in VSS include human thermal modeling and thermal comfort criteria, which are needed to evaluate the effect of a heated seat on the comfort of its occupant. This version also incorporates dedicated functionalities for the heating pad and thermostat design of the seat.

For more information on Virtual Seat Solution, visit: www.esi-group.com/virtual-seat.