Kindle Fire sold out; new models expected shortly in a market it now co-owns with Apple. It's all about the ecosystem.
Today Amazon announced Kindle Fire is sold out. On the surface, this means the master of inventory management doesn't have to worry about what to do with remaining inventory when a replacement model is introduced shortly. Beyond that, the announcement signals more drama coming in a market it now co-owns with Apple.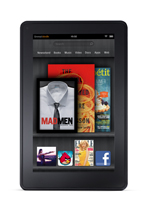 There was considerable speculation when Amazon launched its first color and graphics-capable tablet last November. Analysts worried that its specialized version of Android would not be supported by developers, consumers wondered if it would be an acceptable alternative to the iPad. By most measures, Kindle Fire was a success, especially after an early operating system upgrade that increased its speed considerably. Amazon claims Kindle Fire snagged 22% of the tablet market during its 11-month run, but isn't providing specific unit or revenue figures.
Amazon has a press conference scheduled for next week, and will undoubtedly be announcing the replacement for Kindle Fire and possibly other Kindle models. Leaks are starting to appear around the web offering glimpses of what the Fire's replacement will look like. Some are suggesting there will be a larger model, to go head-to-head with Apple's iPad.
Industry watchers are also in full-bore gossip mode over Apple's next move. Kindle Fire was the first real competition for iPad, and some are suggesting a new 7" mini-iPad to match Kindle and other Android tablets, including the new Google Nexus 7 built by Asus that is doing well.
It's the ecosystem, stupid
Each of the three leading tablet vendors—Apple, Amazon, and Google—are selling more than a hardware device. They are selling an ecosystem. Apple was the first master of the walled garden, capitalizing on its 20-year head start with Macs. One of the key selling points for Kindle Fire was the free access to a Netflix-like library of video content and a lending library, in addition to all the books it sells in Kindle Digital Format. Google touts Nexus 7 as the uber-Android device, a hub for its expanding Google Play ecosystem, filled with apps, books and music. Others who want to cash in on tablets will either have to rely on Windows compatibility or Android ubiquity to compete.
In the world of professional graphics we cover here at GraphicSpeak, iPad is still the leader by a wide margin. Nobody releases a mobile version of a professional-class graphics application for Android first—if at all. Of the three, only iPad is finding a home in the enterprise—at first primarily because of employee demand, but now because of apps from popular enterprise vendors.
Related
Tablet Wars: Oh, this is going to be good