Discover and manufacture with Autodesk Generative Design, formerly Project Dreamcatcher.
Nature's evolutionary approach to design forms the basis of generative design concept. Generative design mimics the way organisms evolve in the natural world, producing the most lightweight structures possible. Generative design takes computer-aided designing to another level where computer is not acting as a mere documentation device.
A designer collaborates with a computer using artificial intelligence algorithms, unlimited cloud-computing power, and generative design tool like Autodesk Generative Design to create hundreds of smart design options. The technique becomes a game changer when a designer gets many options to design the product, instead of limited design option produced by a traditional method.
Now Autodesk has added generative design capabilities to its comprehensive additive manufacturing solution, Netfabb 2018. This will boost confidence of users in their ability to manufacture.

How does it work?
Generative design technology asks designer or engineer for specific design objectives, e.g., size, weight, strength, style, materials, cost, and any number of other criteria. The system then uses cloud computing to create a massive number of design solutions. The user is presented with resulting design alternatives, among which best suited solution can be opted. The user can evaluate generated solution in real time. Once a design gets finalized, user can send it for manufacturing.
Netfabb 2018 has the ability to predict and alter a 3D design to recoup for distortion introduced during the 3D printing process. This simplifies the process and assures user about the quality of the part.
Autodesk Generative Design comes to mainstream customers with the intention of being a true partner in product design process while reducing cost, development time, material consumption, and product weight.
Recently Stanley Black & Decker used generative design technology to create a light-weight attachment to a hydraulic crimper, an electrical line worker's tool, reducing its weight by 60%.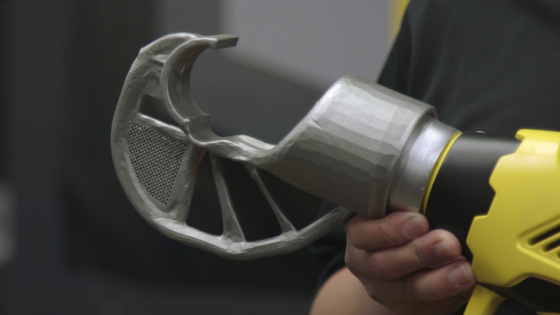 What do we think?
Project Dreamcatcher has come out of Autodesk Labs and started its journey as a formal product. With technologies like generative design and IoT, Autodesk is managing to be in competition in manufacturing market.
Although other MCAD vendors also have generative design tools, Autodesk emerges as better option as it gives opportunity to customers to design and manufacture parts from a single application.