Spring refresh means plently of iPad wannabes are coming to market.
By Jon Peddie and Kathleen Maher
Tablets are all about portability and that's where the similarities end. The expected entry of tablets into the market to counter Apple's iPad have been delayed as companies wisely took stock of the market and the demand and figured out where they wanted to play. As we head into summer, it's clear; the waiting is over. The great tablet wars are set to begin.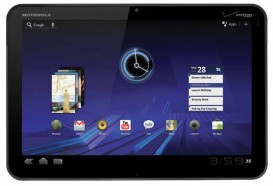 The first tablets out include tablets built on Windows, Android, iOS, QNX Neutrino (for the RIM), and WebOS. We can assume those will remain the major choices with WebOS facing a steep climb against the competition. Ironically, when Steve Ballmer held up a Windows tablet from HP over one year ago, it seemed as if Windows-based tablets would present the greatest threat to Apple's iPad. But just as there are several hardware providers and different sizes for the new tablets, there is more choice in operating systems. At one time it appeared that seamless interoperability between tablets and PCs would be the killer capability, but Google and Apple have taught us that syncing isn't necessarily what we need to do. In fact, Apple is teaching us that syncing is liable to be a terrible thing to do given the attitude iOS has about what it will and what it will not sync. Google, meanwhile, is building castles in the clouds for all of us.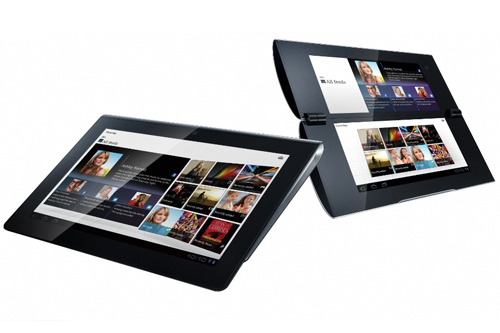 Honeycomb makes a market
Google's Android based Honeycomb operating system (Android 3.0) has been designed for tablets. It supports the larger screens and has a specially designed interface that attempts to anticipate tablet-type apps. Honeycomb represents a big open door to a new market for Nvidia. The company has been optimizing its Tegra IP for Android and Nvidia is crowing about four powerful contenders just arriving to market.
Asus is now shipping the Eee Pad Transformer. The Transformer's base price comes in under $400. It's called a Transformer because it can be used with an optional docking station which provides a keyboard and makes it function much more like a notebook, albeit a notebook with an Android interface. Unlike the previous concepts of docking, the Transformer is still mobile and the dock extends the battery life up to 16 hours.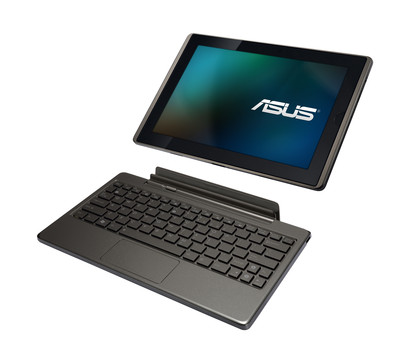 The Eee Pad Transformer has a 10.1-inch screen, a front 1.2 MP camera and rear 5 MP digital camera, built-in SRS sound, and Amino-HDMI output port for HDTV.
Acer has introduced the Acer Iconia Tab A500 tablet. The Iconia is also based on a 10.1 inch multi-touch screen. For Acer there is a strong focus on games for tablets. The A500 has a gyrometer control for playing HD arcade games and online 3D games. Acer also has a lower cost device just entering the market in the Iconia Tab A100 7-inch tablet which has been introduced in the U.K. with a price tag of £299 (maybe $400 when it makes its way to the U.S.).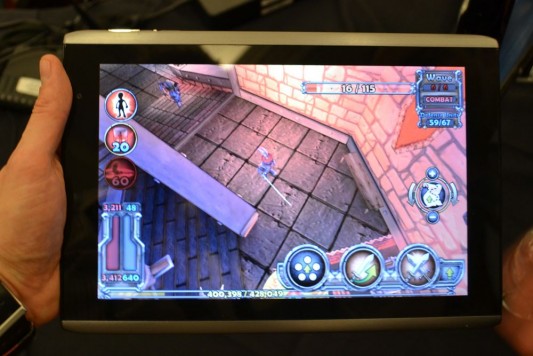 A new Xoom has arrived from Motorola. The latest is a WiFi-only 32 GB version for $599. The fourth Honeycomb-based, Tegra-powered device that Nvidia wants you to know about is the T-Mobile G-Slate that starts at $529.99.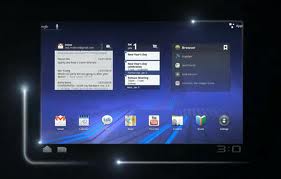 Nvidia says they've optimized their processors for the Android 2.3 (AKA Gingerbread) interface and as a result the devices feature fast web browsing, Flash support, and "true" multitasking. If there is one other thing all these device have in common it's a desire to exploit the cracks in Apple's very formidable armor. Flash support is a big one and so is multi-tasking though, candidly, multi-tasking is a nut not truly cracked.
What seems significant about the tablet market right now is the breadth of products that are finally coming with a variety of processors, and also that someone can actually buy the things.
Windows tablets from Japan
Two new tablets have arrived from Japan's Onkyo and they're based on Windows 7 Professional, a new twist on the tablet format … or, is it an old twist? The TW317A7PH is an 11.6 inch LCD tablet with a resolution of 1366 x 768 and the TW117A6PH is a 10.1 inch LCD tablet with 1024 x 600 resolution. The tablets are designed for business applications and are built on Intel's Atom N450 (1.66GHz) CPU with 2 GB of RAM. The larger TW317A7PH has a 32GB SSD drive and is priced at $980. The TW117A6PH has a 160GB HDD and is priced at $736.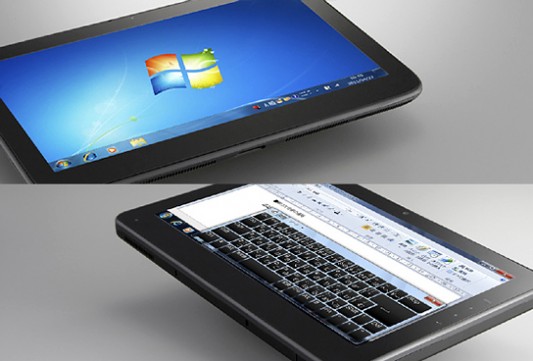 The tablets feature SD slots and two USB 2.0 ports. They have 1.3 MP webcams. Communications are supplied by 802.11 b/g/n WiFi and Bluetooth 2.1+EDR. The tablets will hit the market in Japan in June.
Acer adjusts its strategy
Tablets are impacting the netbook market as customers are showing a preference for lightweight pads. Taiwan-based Acer has had a good run with low cost notebooks and netbooks and the company has never been afraid of leaping into new markets, but the lag between the introduction of viable new tablet products and the erosion of netbook and notebook sales due to the popularity of the iPad has set the company back. Earlier in April, Acer CEO Gianfranco Lanci resigned. The official explanation from Acer was that Lanci and the board had a basic disagreement about the product mix.
At the start of the year, the company said it planned to ship 6 million tablets. It's backing off that boast. The company says it has the capability of building 7 million tablets, it's just not so sure about the time frame in which those tables will sell. The new chief at Acer JT Wang, recently held a conference for analysts and investors to restore confidence in the company after major restructuring. The company hopes to see sales improve in June. It says the decline in the PC market has bottomed out and sales are on the way back up and they're seeing a turnaround coming from Europe.
Acer CFO, Che-min Tu, told investors the company is seeing 15-17% growth as PC sales rebound. However, the company's first quarter was a shocker. Acer reported a 64% fall in first quarter net profit. As a result, it's expected the company will stay in the red for the coming quarter.
Corning sees good times ahead
Corning Chairman and CEO Wendell Weeks told investors that the company sees continued growth ahead thanks to their position in LCDs for smartphones, tablets and TVs. The company reported sales of $6.6 billion in 2010 and Weeks predicted the company will see sales of $10 billion by 2014. Weeks said Corning will maintain production levels at its LCD glass factories in Japan in spite of the news that one of its largest customers, Sharp, is reducing its production output. Corning is confident it can use the extra supply of glass to build inventory and sell to other companies.
Corning has a sweetheart position in the industry thanks to its Gorilla Glass used in newer devices. So far Corning's Gorilla Glass is used in more than 200 devices on the market. Corning is also pitching Gorilla Glass as the best choice for customers building 3D TVs since it enables a brighter viewing experience. If the orders keep coming for Corning, then it's logical there are still plenty of people building tablets.
FAST FACTS:
• According to Motorola, over 250,000 Motorola Xooms shipped in the first quarter of 2011.
• In the third quarter of 2010 almost all tablet sales went to Apple. According to research firm ABI, 4.5 million tablets shipped in 3Q, '10 and 4.2 million were iPads.
• Strategy Analytics claims Google Android-based tablets have obtained 22% of the tablet market of 2010 (quite a feat considering how few Android-based tablets were actually shipping at that time).