Lyon-based startup Nukeygara delivers free Beta of its rigging and animation tool, Akeytsu.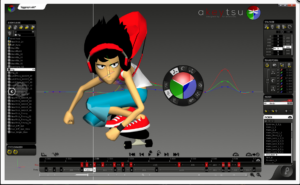 Brand new startup Nukeygara made its debut last year at Siggraph 2014. Founded by animator Aurélien Charrier and CTO Yannick Rousseau in Lyon, France, the company showed off their first product Akeytsu. Charrier says he created Akeytsu because it's just the sort of product he wanted as he went through the tedious steps of animating a model during his years as an animator in the game  industry (Charrier's credits include TDU 2, Alone in the Dark, and Kya: Dark Lineage for Eden Games).  He says the rigging and animation functions have not changed much in the leading modeling animation suites.
This is a purpose-built product. The software puts all the tools right in front of the animator, and because there are a just a few straightforward controls, the product is easy to use. It uses the broadly supported FBX transfer format for output, animations can be transferred to game engines like Unity, Unreal Engine, Cryengine, or other products for further work. The immediate response from animators at Siggraph was encouraging but they said they're waiting to see what really materializes from Nukeygara.
Now the company is ready to make their case directly to animators. Akeytsu is now available as a free beta on the company's web site and it's supported with a manual and of slate of easy to follow web tutorials. Nukeygara will return to Siggraph 2015 in Los Angeles.
Akeytsu will be available in three license models: Indie, Pro, and Learn. The choice of model is determined by the size of the company. Companies making less than $200 a year are eligible for the Indie license and charged $149. The Pro license is for companies making more than $200 a year and is available for $559. The Learn license is available to students and schools for $79. These licenses are perpetual; customers can load them on as many machines as they want, but they can't use more than copy one at the same time. The company is offering an early access deal for customers who are willing to put their money down now. Indie is available for $79; Pro for $279; and Learn is $49.