Robic has four fully programmable arms that move cameras over 100 miles per hour for shots at 2,500 frames per second.
Usually when an advertising agency promotes their business, they do things like show off work for other clients or display the creative power of their staff artists. But Triptent has found a way to use technology to claim competitive advantage, with a new custom robotic camera system that will only be available to clients.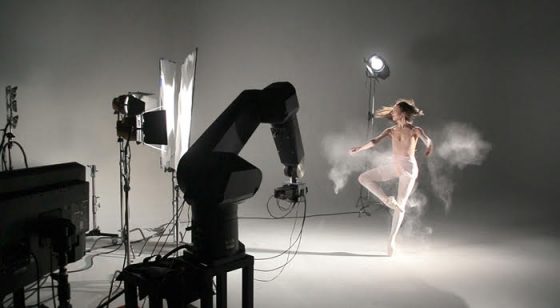 Robic is designed for high-speed cinematography. It has four fully programmable,  synchronized motion-control arms which move at up to 105 miles per hour, and catch a photo with millimeter accuracy at 2,500 frames per second. Robic is compatible with a variety of professional-class cameras, including Phantom HD, Flex 4K, Red Epic, and the ARRI Alexa Mini.
Joe Masi, founder of Triptent, says the idea was to "create shots that we've never before been able to capture before in-camera. We can truly follow the action in real-time as it happens." Masi suggests such moving targets as a ballerina on pointe, a glass about to shatter on the floor, or a baseball flying off a bat are perfect subjects for Robic.
Robotics company Staubli built Robic from a design by long-time Triptent consultant, director and inventor Fernando Kocking, who also wrote the controlling software specifically to support high-speed cinematography. Robic is portable, allowing it to be used on-site as well as in a studio. "We can produce motion control shots that don't require CGI, layering, or effects because everything is captured precisely in live action," says Kocking.
A video demonstrating Robic is available on the Triptent website.