Imaging and management software for photo enthusiasts and professionals is hot. There are several strong new products coming to market including Corel's new AfterShot Pro, and
Adobe Lightroom 4 is now available as a free beta download.

Adobe's professional photo management tool, Lightroom, is one of the best available. It was introduced in the market very close to the same time that Apple introduced Aperture, another very good product. Lightroom takes the features photographers use most frequently in photo editing products including Photoshop and adds a content management feature that enables easy sorting, tagging, etc.
The company introduced the latest version at CES this year. The biggest changes are in the area of creating books, working with video, and sharing. Adobe has also beefed up the imaging tools included in Lightroom.
It would be a mistake to think of Lightroom as a cut-down version of Photoshop with an integrated data management tool even though that's the easiest way to describe it. Lightroom has been developed to be part of a photographer's workflow and the Lightroom developers have worked on specific features to help photographers.
It has improved the ability to work with lighting to get more detail in shadows and highlights. A white balance brush can be used to adjust specific areas. And, the latest Lightroom has local editing controls. For instance you can adjust noise reduction and remove moiré patterns in just some areas of photos.
At CES Adobe highlighted the new photo book feature and it really looks good. Photo books can be  time consuming but the new product has an automatic feature with different options for creating a book and it has templates to make the task easier. After having spent months trying to whip out little books for friends, this is something that is high on my list to try out and I'll let you know what I think.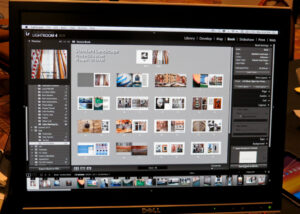 Other new features include support for video. Lightroom now enables simple video editing, you can trim a clip and combine it with photos to package as a video or interactive PDF.  And, on the sharing side, in addition to making it easy to share content, Adobe has added a preview feature so you can see how that people you're about to send will look in the smaller format required by email.
You can also take advantage of the GPS data that's attached to photos taken with mobile phones and cameras with GPS support. You can organize photos by location.
Try it out. The free beta will expire March 31, 2012.