Subscription plans are in place, the cloud is growing, and new software is in the pipeline. Adobe is set to use a strong 2011 as a foundation for a stronger 2012.
By Kathleen Maher
At the close of 2011 Adobe (NASDAQ: ADBE) turned in its strongest year ever. CEO Shantanu Narayen has been steadily re-defining and reorganizing the company to expand its reach. The company now has two broad areas of interest: digital media and digital marketing. Adobe sells tools and services for marketing and publishing, and it sells creation software.
Adobe has continued to develop and approve its core product base for content creators even as it has built a strong services business and the beauty of it all is that there is overlap between the two areas that Adobe intends to exploit. For instance, it can offer publishers tools to create content for its marketing and digital publishing ecosystem. Flash can be used to build interactive ads. The opportunities go deep.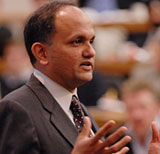 It's pretty obvious that Narayen took a hard look at the company's business and recognized that pushing boxes of mature products is not the way to grow the company. Adobe has built an online publishing empire on the rubble of old publishing models. Its digital publishing tools take advantage of Adobe's established products for content creation including Photoshop, Illustrator, InDesign, Flash, Premiere, and Acrobat, then adds a services side that enables distribution, advertising sales and tracking, and digital publishing.
Most recently, the company has started transitioning its product line from selling products on a one-time basis to a subscription model. The company believes it can increase its revenues significantly if it can convert its base of users to the subscription model and it can attract new customers. The subscription model offers customers a less expensive yearly cost for products when compared to regularly upgrading software. But, since most people don't regularly upgrade their software, Adobe nets more revenue overall through the continuous payments.
Large companies love the predictability of subscription payments. Adobe ran the numbers and found that Creative Suite customers who upgrade regularly provide about $30 a month to Adobe. Creative Cloud customers are expected to average out to $40 a month.
For the quarter ending December 2, 2011, Adobe announced revenues of $1.1 billion a 14% increase year over year. For the full year, Adobe chalked up a record $4.2 billion. Narayen told investors on its financial call that the company achieved annual growth of 11% in 2011.
The company has also had an eventful year. It released CS5.5, which includes digital publishing tools. In addition, it has introduced new applications Edge and Muse. Muse is a WSIWYG web creation tool and Edge is a tool for creating HTML5 content including web motion and interactive elements.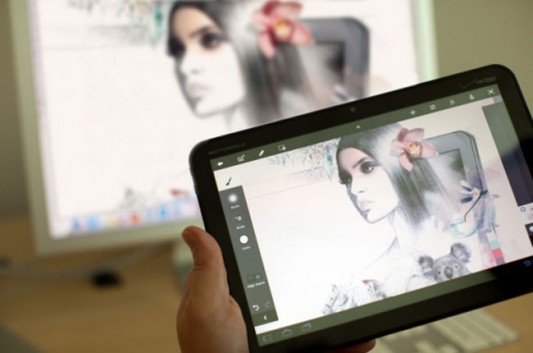 Adobe kicked off its Creative Cloud introduction with new Touch Apps developed for tablets and it surprised its base by introducing the products for the Android operating system first. The company said it wanted to get the products out as soon as possible and the Apple approval system imposes a delay. The new Touch Apps complement products in Adobe's Creative Suite lines and it comes with an introductory Creative Cloud account.
New acquisitions by Adobe includes Nitobi, which makes PhoneGap for interactive content on mobile devices, and the only type publisher, Typekit—this too is a subscription service for online fonts. Fonts are inexpensive but you have to pay monthly to keep them for your site. Adobe has managed to scoop the cream from digital publishing. The large publishers have adopted the Adobe system, and the company is now delivering over 1,200 titles. It will support small publishers with a single edition tool for that's available for $300 per issue.
That's just a high level look at the company's activities over the year. There are plenty more acquisitions and product launches that enable media monetization. Adobe says it is planning for 4%-6% revenue growth in 2012. Obviously, this is a conservative estimate if Adobe can deliver on its ambitions for publishing and the Creative Cloud subscriptions. Adobe likes that nice round $1 billion a quarter. The company says it is targeting revenue of $1.025 billion for the first quarter of fiscal 2012.
Doing well
Adobe is not a flashy company and investors are cautious about software companies in general but Adobe, along with Autodesk is in the forefront of redefining the way software is packaged and sold. Will customers like subscriptions? A lot of people are already griping quite a bit but Adobe isn't really worried about a lot of people. The company is targeting professionals and believes that the companies and individuals who rely on Adobe software for their businesses are going to appreciate the predictability of subscription pricing and regular upgrades. In fact, the burden will be on Adobe to provide regular, useful upgrades.
Adobe is also reaching out to consumers with its Touch app and Cloud services but we're not so sure about the reception on that end. Adobe's monthly rate isn't bad but customers are going to be asked to sign up to quite a few subscriptions for online storage, gaming, photo management, file management, contact management over the next 18 months. It's going to add up and people are going to make choices or they may say no to the whole subscription deal, preferring to keep their software on their machines.