At times quirky and complicated, Photoshop Elements is also remarkably powerful and handy.
By Kathleen Maher
Adobe Photoshop Elements is one of the leaders in the consumer photo editing market. Sharing a name with the leading professional photo editing tool in the graphics industry probably doesn't hurt, but Photoshop Elements earns its name. The product makes advanced capabilities available to mainstream users at a competitive price. At the moment, Adobe is on release 10 and in some ways the product is showing its age. It is also a dramatic demonstration of the power of modern imaging tools.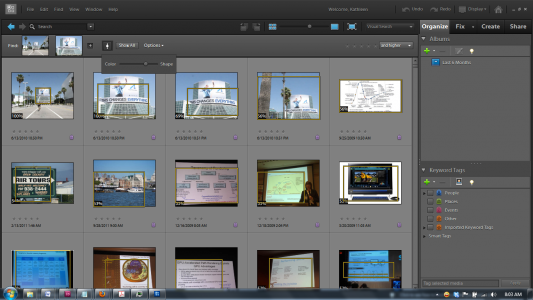 Photoshop Elements has had high dynamic range tools, content aware editing, layer masking, and other advanced tools for several releases but Adobe has made them easier to use and access. Release 9 was a major upgrade as far as advanced editing features. With Photoshop Elements 10, Adobe enhanced the data management tools and it smoothed out some rough spots in the product. Designed to make everything as easy as possible for users, sometimes it seems that Adobe has gone out of its way to complicate tasks that could be accomplished with simple sliders. Just as an example, color adjustment is just plain confounding. I found this out after shooting a bunch of pictures with the wrong white balance. I had it set on tungsten when shooting outside. No big deal, I'll just change the white balance digitally … not with Photoshop Elements I won't, or not quickly. Trial and error, and trial and error, using several tools, the automatic fix tools, Remove Color Cast, Adjust Hue/Saturation all left me frustrated and blue—literally. Photoshop Elements asks users to remove color cast by choosing a part of the image that should be gray or black and it promises to adjust the image accordingly. The trouble is, it doesn't correct enough. This is a problem of being spoiled by other products but Adobe Lightroom has a considerably better automatic color correction tool, Apple Aperture's approach is straightforward. It let's you choose what white balance the image should have been. The new Paint Shop Pro from Corel lets me choose Tungsten and it removed the blue cast (yes, not totally intuitive, but once you figure it out it makes sense and it does work). Heck, Photoshop has a snappy automatic tool that works very well. It would seem that those consumers opting for the entry level product have the right to an easier tool.
Nonetheless, Photoshop Elements is a remarkably powerful product for mainstream users. It enables users to accomplish quite a few of the same advanced tasks in Photoshop Elements as they can in Photoshop, but in general Photoshop Elements limits the ways in which you can accomplish tasks all in the name of making life easier for the user. In fact, as the features list in Photoshop Elements grows, it has gotten more difficult for users to figure out how to use the tools. To help users find their way to the right answers, Adobe has added a Guided Editing mode and this is a huge plus for the program. Now, when confronted with something you know exists in the product but you can't figure out how to do, you can go to Guided Edit. What's even better, it's a great way to find things you didn't know about. Sometimes, though the guides are not always easy to follow.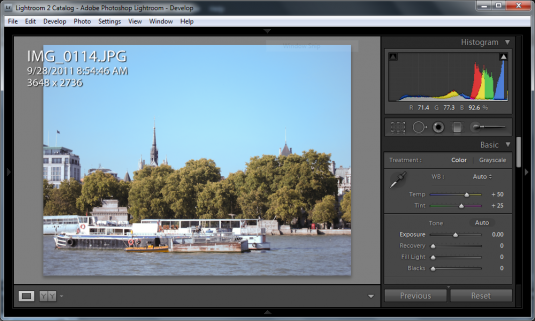 Also, while I liked the selection tools that you can use to create masks, I found the canned effects I was given too limiting. I couldn't find ways to adjust the strength of the effect and most seemed too subtle for what I was trying to do. For instance, I kept trying to create a depth of field effect by selecting a foreground image and blurring the background. I couldn't get the blur the way I wanted it. As it turns out, I found out there actually is a depth of field feature—sometimes it really helps to read the reviewers' guide—and it's very simple. Simply blur the image the way you want it and then select the gradient tool and exclude the area you want to be in focus. I would never have figured that out on my own.
In general, it seemed that Photoshop Elements tends to be conservative when applying an effect or a feature. That's not an inherently bad thing, but I frequently had a "is-this-thing-on?" feeling.
Elements is designed to make life easy, and maybe even fun for the user. It isn't necessarily a time saver.
Working with groups of images
Fast digital cameras let photographers fire off a lot of images one after the other and to bracket exposure and other aspects. One of the great advances in imaging is the ability to work with groups of photos to take the best elements of each and put them together to make a better whole. There are several variations on this in Photoshop Elements including the ability to combine exposures to get a better exposure (HDR) and the ability to combine group shots to find the best faces in each shot. In the case of working with groups of photos, Photoshop Elements usually has a couple of approaches, the ability to erase one on one layer to reveal underlying images or its own photo merging capabilities. When using groups of photos it is necessary they be perfectly aligned. If you're not using a tripod, it is easy for the camera to move even slightly which is going to complicate effects like HDR and working with faces. Luckily, Photoshop Elements' Align capabilities are very powerful. Note, however, that when dealing with reality, friends in group photos have a tendency to move around and make horrible faces far beyond the easily fixable examples you find in the demos. I found fixing faces in group photos to be difficult and something I generally wouldn't bother with very often, and this goes for all products with this feature. Unless you're working with a tripod and people don't move, the photos probably won't line up well for this kind of editing.  If my friends don't have sense enough to stand up straight and look attractive in front of a camera, it's their own damn fault.
Photoshop Elements has added content aware editing. In the guided edit, it shows you how to change the aspect ratio of an image without squishing the objects and it lets you pick the areas in the image where it can remove information to come up with the shape you're asking for. It can't work miracles but it comes close. It's best in images with lots of empty sky or grass. If you're like me, you have a lot of those pictures and the situation does some up that you need images in different shapes, say for scrap books, invitations, picture frames, etc.
Content management
Most of the new features in Photoshop Elements 10 come with the Organizer side of the program. You can set watched folders in Photoshop Elements but the software doesn't automatically assume you want the images in your catalog. This is a situation that might vary for different users, but I found it disconcerting at first. I kept thinking my images were lost. If you have watched folders, it will notify you that there are new images; should they be brought in?
Adobe's new content management tools include the ability to search files for similar images. The example always used is sunsets. Photoshop Elements lets you tell the software to put more emphasis on the colors in an image or the shapes. So, you can set it to look for semi-circles or images with lots of orange. Also you can refine the search by adding images to help the software understand what you're looking for—orange zinnias for instance. It works reasonably well and it's a boon to people like me who aren't excessively organized. There's also a tool to find image duplicates.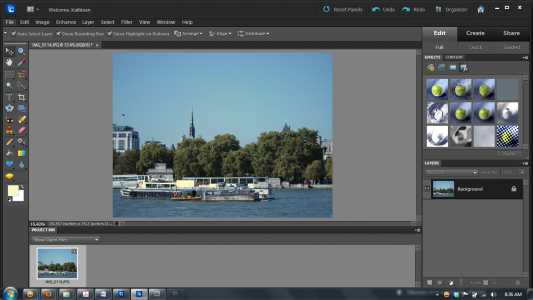 I have some complaints about the auto-analyzer tool in Photoshop Elements but there are features to like as well. It goes through your images and identifies which ones are in focus. Like other programs it's willing to hunt down people and help you identify them. And like most tools, this still isn't something you want to do unless you have a few days to kill—a task to save for the week after the apocalypse. I did notice that Analyzer was kind of generous about what photos it deemed high quality. That's because it's mostly checking for focus and especially if there are people (or people-like shapes) in focus. Fine with me. There's only so much one should ask of software and judging one's artistic ability does not even come close to a job suitable for a computer.
I like the organizer but I wonder why Adobe has so many. Lightroom is a grand organizer for professionals and it isn't that expensive. The Bridge helps you find and categorize anything on your computer so that you can find content easily from within Autodesk's Suite products. And then there's Organizer. It's basic, it does the job but aren't you already using something? Maybe not. I find Picasa to be a very capable tool. Others might use the software that comes with cameras. On the Mac side, Adobe has enabled Photoshop Elements to work seamlessly with iPhoto if that's what Mac users want to do. And, for the most part that is what Mac users want to do. I guess what you're reading are complaints from someone who thinks that if you're using more than one tool to organize your work, you can't claim to be very organized.
Problems
PLEASE NOTE: The following section has been updated. After working with Adobe, I have discovered that other programs have actually caused the problems I was experiencing in Photoshop Elements. It's one of the pitfalls of testing software. There were stray codecs lodged in my computer, they had associated registry problems, and they caused Photoshop Elements to hang and crash. I'll note in italics where there is new information.
Photoshop Elements can be slow and it crashes. Worse, sometimes when it crashes, it doesn't crash all the way. As a result, you might have trouble starting the program back up again without rebooting or going into Task Manager and stopping all Photoshop Elements related processes. How's that for eliminating complexity?
The above was caused by stray codecs which in turn conjured up a so-called utility, Haali. A registry clean up solved the problem.
When you're first getting started the organizer tool, Photoshop Elements offers to analyze all the images in the background. It's a resource pig, and seems to take forever if you have a large library, and face it, we all have large libraries. It's annoying when you first get started in Photoshop Elements as it goes through all your images. There is a switch in Preferences that enables users to manage the analysis process but it seems to be turned on by default and when it's on Analyzer runs all the time, even when you're not using Photoshop Elements. Now, this can make sense when you first want to get all the stuff indexed and analyzed, but there isn't much justification for it to continue. I also found when originally organizing all my images that it would hang. It turns out Google Sync and my anti-virus software were interfering with the process.
I guess I should be thankful though, after trying to track down what all was slowing down my system, and getting all sorts of background processes turned off throughout my system, it's running much better now.
There is some complaint out on the web that Elements is not a 64-bit program and some people complain they can't get some features to work as a result. I haven't run into that problem. One wonders if Adobe is holding back on the performance elements because it is certainly not holding back on features. There is no benefit to be gained from the GPU in Photoshop Elements, though Adobe has added GPU support to some features in Premiere Elements, another subject entirely.
What do we think?
There is much to like in Photoshop Elements and in truth, there is a whole lot more exploring I need to do to find all the tools and what they do. I've been watching a lot of tutorials on the web. If you want to get the most out of Photoshop Elements, I suggest you check out the training tutorials available from Adobe, Lynda, and YouTube. There are context sensitive hints inside Photoshop Elements that direct you to relevant tutorials, a really valuable feature. My advice, don't hesitate. When in doubt, go to the tutorial. One thing I found that's a little tacky is that sometimes you're told there's a swell new feature you can get if you upgrade to the more expensive version of Photoshop Elements. Don't fall for it. You'll have your hands full figuring out everything the basic product can do and you'll be learning a lot about photo editing in the process.