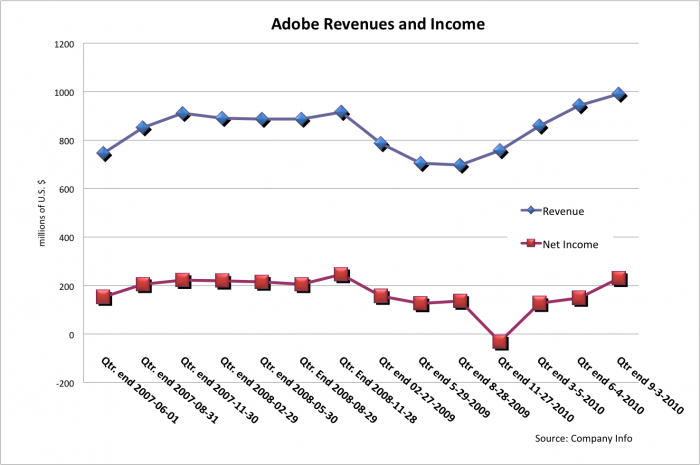 Adobe announced a revenue boost for the third quarter of 2010 as a result of the company's successful release of Creative Suite 5, and also new revenue from its Enterprise products. For the third quarter of 2010, Adobe reported revenues of $990.3 million, a 42% improvement over last year when Adobe reported $697.5 million. Adobe reported its Q3 income at $230.1 million, a 70% increase over the same period last year when the company reported $136.0 million. Adobe made $148.6 million in the last quarter.
The company told investors that it is forecasting revenue of $950 million to $1 billion for the fourth quarter—essentially flat or a slight decline because of a decline in revenues from Japan and the education market. Investors had forecasted higher. Investors promptly punished the stock, and Adobe saw its share price drop 20% the day after its announcement.
What Do We Think?
The stock market has been pretty emotional lately—this entire year—so there's no sense in trying to ascribe too many reasons to the drop for Adobe. In reality, the picture looks pretty good. In addition to good sales for the Creative Suite 5 products,  this month Apple announced a new licensing deal for developers creating apps for the iOS. It has relented on its previous ban and will allow developers to use high level tools and that includes Adobe's Flash development tools. Specifically, the company said: "we are relaxing all restrictions on the development tools used to create iOS apps, as long as the resulting apps do not download any code." People have not commented on this much, but Adobe built in some especially nice features to its Flash development tools for people creating products for the iPad and iPhone products. We think this is likely to spur some more upgrades.