The myriad details of construction are organized into dashboards charts that update in real time.
Bentley's most recent acquisition is a cloud-based approach to construction management. EADOC, based in Oakland, California, provides software to systematically track construction project documentation including design clarifications, inspectors' daily reports, special inspections, memos, action items, deficiency items, and schedules.
The terms of the deal were not disclosed; both Bentley Systems and EADOC, LLC., are privately held companies.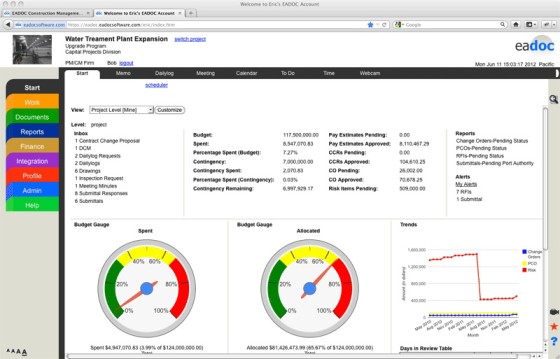 EADOC also uniquely integrates project cost controls, including budget, funding sources, contracts, schedule of values, pay estimates, change requests, and change orders, with this project information.
EADOC was founded by Eric Law in 2006. Law says the idea for a cloud-based construction management solution came from his experience working for a large contractor on commercial and industrial projects as a project engineer. Current users of EADOC include both engineering and construction firms and facility owners:
E/C firms: Brown & Caldwell, Carollo Engineers, CH2M HILL, HDR, HNTB, Jacobs Engineering, MWH Constructors, and Arcadis
Owners: East Bay Municipal Utility District; City of Bend, Oregon; Lee County, Florida; Central Utah Water Conservancy District; and West Valley Mission Community College District.
Commenting on EADOC, Ron Perkins, construction services manager, HDR, said, "The more I know of the risks coming up ahead of time, the more I can mitigate them. EADOC allows you to take the output from those risk registers, with probability and cost, and incorporate them into the cost module. You can identify the risk, identify the probability, identify the potential cost, and that allows you to track those costs – so that your client or the owner understands and knows what the risks are and the potential costs."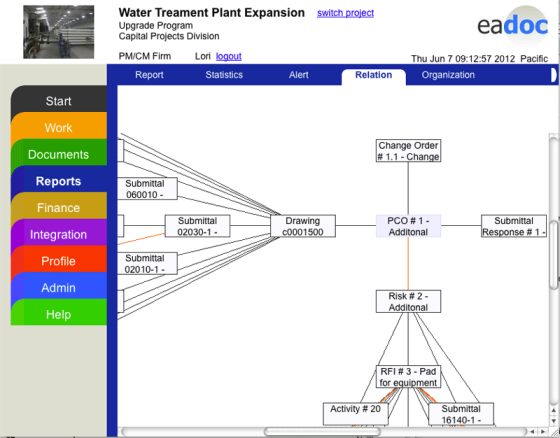 The cloud-based nature of EADOC makes it immediately accessible to the project team anywhere there is an Internet connection. At the same time, it incorporates security features to make sure the right people have access to the right information.
Bentley says it will incorporate EADOC technology into its ProjectWise product management suite, and into various mobile apps including Navigator Mobile and ProjectWise Worksite.