Having solved interoperability with AutoCAD files, ODA now aims to extend the value of the .dwg format.
By Randall S. Newton
What does a non-profit software development firm do when it succeeds beyond expectations? That question forms the background for this year's Open Design Alliance Developers Conference, which concludes today in Prague.
In his opening statement yesterday to the 125 developers in attendance, ODA president Neil Peterson reviewed the history of the organization and set new goals. Founded as the OpenDWG Alliance in 1998, the ODA has made it possible for millions of software users to continue to use the .dwg file format popularized by Autodesk AutoCAD without relying on a sole vendor for products and support. Having essentially solved interoperability issues regarding the world's most popular engineering file format, the ODA now sees new challenges ahead in keeping .dwg relevant and useful for its client members — and through them to millions of CAD users around the globe.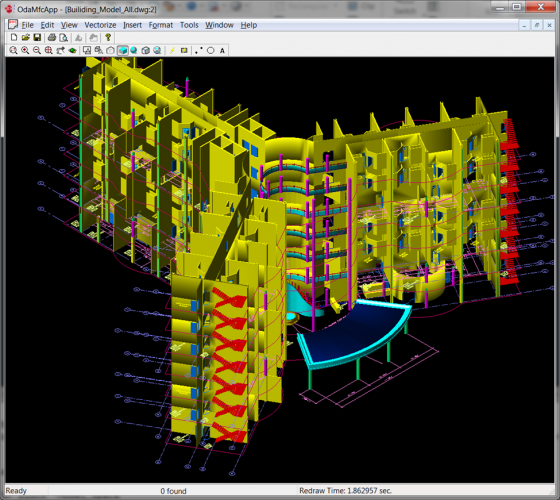 The primary product of the ODA is now the Teigha development platform. It can be used as the foundation to create a complete CAD program. In recent years, the ODA has added read-write support for Autodesk Revit, support for 3D PDF, rendering technology, and more.
Peterson says the time is right to take .dwg into new directions. "DWG is the most heavily used engineering file format… it is well architected." Yesterday ODA demonstrated the addition of version control, allowing CAD vendors a path to adding multi-user features and revision management—two key features totally lacking in the Autodesk version of .dwg. These changes "make .dwg a solid foundation for the future," says Peterson.
The next generation of Teigha
This year ODA previewed three new development extensions: Teigha Cloud, Teigha Visualize, and Teigha Publish. Details:
Teigha Cloud is a framework for developing CAD applications that run in the cloud and can be used in a browser. Originally conceived as a viewing tool, Teigha Cloud will be expanding in the coming months with various types of editing tools and support for client-server applications.
Teigha Visualize is a software development kit (SDK) for creating high-performance rendering applications suitable for CAD and related technical graphics. Some extensions of Teigha require a separate license, but Teigha Visualize comes as part of the standard member license agreement. By separating out rendering from the core Teigha technology, vendors can use the SDK to create new applications to process all kinds of engineering visual data, such as 2D and 3D simulation and analysis data. By the end of the year Teigha Visualize will support multi-threaded metafile processing, making it suitable for fast GPU rendering.
Teigha Publish extends the existing 3D PDF capabilities of the core Teigha platform with the ability to create interactive 3D PDF documents that can contain product data, predefined views, and customized functions. It supports .dwg, .dxf, .dgn, and the file types used by Revit.
Where to next?
More than 1,200 software vendors, CAD-using companies, and educational institutions are ODA members. Peterson says the membership is growing, as former members who left for one reason or another are coming back. "We haven't raised our prices in years," Peterson says. "We offer more technology and more value than ever before, for the same price to our members."
The ODA is owned by its members, and does not give out specifics regarding revenue or expenses. But Peterson shared that increasing revenue from technology licensing fees and memberships has allows the ODA to expand to 75 full-time programmers and to take on new challenges.
Peterson discussed the growth of the ODA in the context of recent CAD industry trends. The "strong talk" of CAD in the Cloud has "tempered" in the past year or so, Peterson says. "The desktop is not going away." Autodesk is slowing its development of AutoCAD; Peterson says recent changes to the .dwg format in 2012 and 2017 "were not significant. … We wonder about the future of .dwg at Autodesk; we don't know for sure, but factors are casting doubts."
Interoperability was the original goal of the ODA, but now the goal is to keep .dwg relevant for the long term. The ODA recently converted its entire Teigha platform from C++ to Javascript as an exploratory exercise. Peterson says the result is a software product too large to be used as-is, but the exercise was an eye-opener. "We found many dependencies, so we are working to make the code more modular for possible browser use in the future." The goal is to keep .dwg relevant for the next 20-30 years.