The first update since acquiring the 3D CAD tool earlier this year, the new version features speed improvements and several enhanced commands, but nothing specific to 3D printing.
Today 3D Systems released Alibre Design 2012, the 3D design software it acquired in a surprise move earlier this year. (See also the GraphicSpeak article, "Direct print: 3D Systems acquires Alibre.")
Despite being acquired by a manufacturer of 3D printers, there are no new features in this update that are specific to 3D printing.
Key enhancements in Alibre Design 2012:
User interface changes: There are all new icons, a new ribbon interface, and graphic tool tips to display how a command created a shape.
Faster sketching: A new pop-up bar redefines the sketching process, greatly reducing the need for using the ribbon or separate toolbars.
Project sketch to sketch: Set up a "master sketch" and use components of it to drive multiple features; editing the master sketch updates all the associated features later on.
Copy/paste surfaces from MOL or Rhino: Surfaces from Moment of Inspiration or Rhino 3D  can now be imported using copy/paste between programs, eliminating the need to export/import surface files.
New surfacing toolset: Split Surface, Trim Surface, Stitch, Convert Solid to Surface, Create Surface from Face, and Delete Face.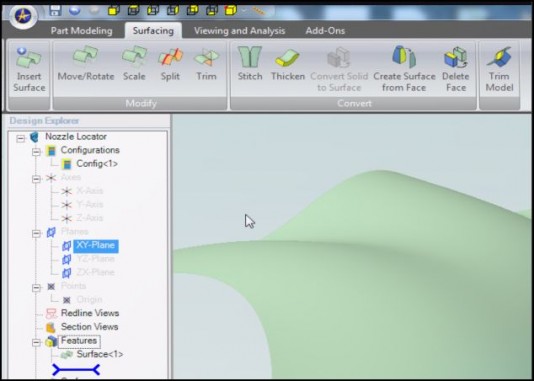 Multiple leader lines for annotation: In 2D drawings all annotations now have the ability to point to multiple items. Leader lines update automatically when an annotation is moved or changed and re-projected.
Arbitrary hatches: "No more faking it from section views," says the description. Create hatches from projected edges or from any closed sketch.
Cut sheet metal as if it were a part: Create a sketch and choose to go To Depth, Through All, or MidPlane. Cut across complex flanges, lofted parts, or make simple cuts. No more flattening, cutting, rebending, or repeating.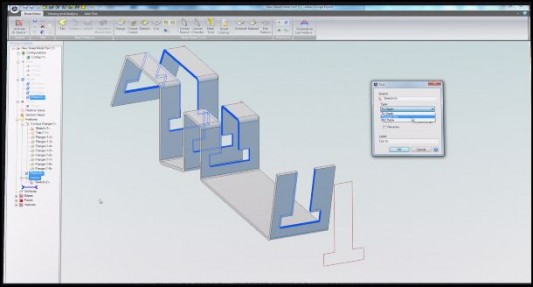 Select multiple components to pattern
Sheet metal conversion on-screen callouts: Bend radii are highlighted and can be modified on-screen.
Copy/Paste with dimensions and constraints: any item that originally had dimensions and constraints will have them if pasted, eliminating re-dimensioning and re-constraining sketch figures.
Gyroscope tool: A new feature to simplify the animation of a model.
Triad tool: An on-screen 3D guide to help moving and rotating of parts in an assembly.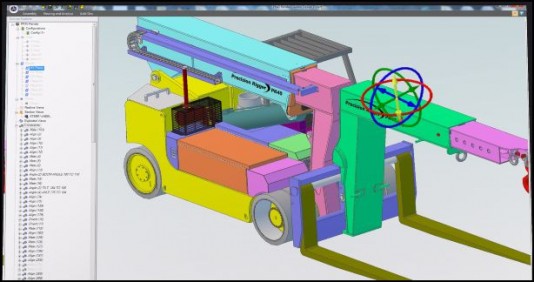 Multi-flange creation: Now more than one edge can be selected in sheet metal parts when creating a flange. The selected flanges can be edited simultaneously or individually.
Sketch-free flange editing: Creating offsets for flanges may now be done from the flange dialog, instead of having to manually add them to a sketch. Drawing or editing them manually is still an option.
Selective view re-projection: In 2D it is now possible to select which views to re-project when changes are made, allowing the user to re-project only outdated views instead of all views on a sheet.
Design dimension editing prompt: Alibre Design 2012 will warn when a design dimension from an imported part is about to be changed.
Set section hatches in part workspaces: The default section view hatch style may now be set in the part workspace. A hatch is suggested based on the selected material, a selection which may be overwritten.
More information on the 3D Systems Alibre Design website.