An international team of experts in 3D scanning, five-axis milling, and archaeological reconstruction worked together to recreate a giant bust. An article from the CADCAMNET archives.
CADCAMNET, February 7, 2008—When antiquities experts decided that an ancient bust of Roman emperor Constantine was too heavy and delicate to ship from Rome to an exhibition in Trier, Germany, the tools and technologies of 3D Conversion were put to work to create a full size duplicate.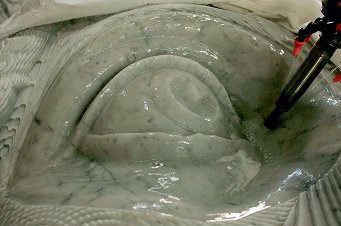 Constantine the Great commissioned the statue in the year 312 AD following his victory at the Battle of Milvian Bridge. The 12m high sculpture was erected between the Forum Romanum and the Colosseum in the new basilica built by his opponent, Maxentius. With this statue, Constantine publicly and visibly declared his overthrow of the vanquished adversary.
Fragments of the statue were discovered in Rome in 1486 and weigh many tons. They have been in the courtyard of the Capitoline Museum for more than 400 years and it was not possible to loan them to the exhibition in Trier. The fragile marble surface was also not suited to the usual method of making reproductions using silicone casts. Instead, surveying specialists from ArcTron 3D documented the statue elements at their location in Rome using non-contact 3D laser scanners and structured light scanning, which records objects in three dimensions with accuracies in the range of one tenth of a millimetre. This procedure was partly carried out at night as structured light projection is impaired by ambient light.
The captured data was converted to the stereolitographic (SLT) format. Due to the size and complexity of the file, it was processed using Delcam PowerMILL, one of few software products able to machine from STL files.
The 25-ton marble material for the duplicate Constantine was a problem. "Marble was completely new territory for us," Delcam's Sales Manager, Ferdi Hoischen said. "We had absolutely no data milling tools, cutting values or suitable processing strategies for this material. Following intensive research on the tools and after comprehensive tests of various machining strategies in co-operation with EEW Maschinenbau GmbH in Kiel, we were finally able to start the programming of the Emperor's bust."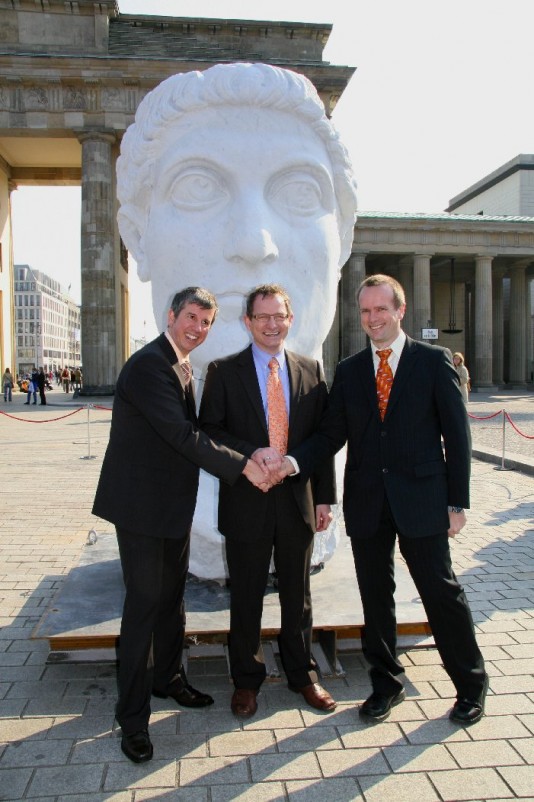 CAM specialist Ingo Busse was unable to be present at EEW during the full NC programming. "I had to undertake much of the programming using geometry based on the residual material model in PowerMill," Busse said. "I had to be able to rely completely on the accuracy of the roughing programs created by PowerMill when programming the finishing toolpaths." Difficulty increased with the use of five-axis machining for parts of the bust.
"Only with an expert team of top-quality software and the latest milling machine technology can such challenges as the bust of Emperor Constantine be mastered," Hoischen said. "Without efficient and innovative CAM software, every milling machine will soon be what Emperor Constantine is today—history."