"Blisks" produced with PowerMill can be created in half the time at 45% less cost.
Computer aided milling software maker Delcam will soon give the first demonstration of a new method for machining "blisks" (bladed disks) which the company says offers substantial savings in both cycle time and cost.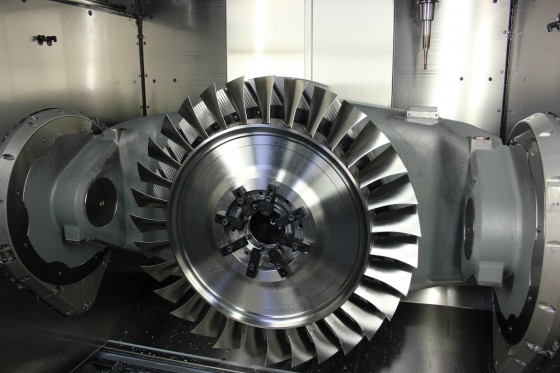 The new method, developed by Delcam Professional Services in association with tooling supplier Technicut, covers the machining on a Hermle machining center of the blisk from start to finish. The method combines new tooling concepts from Technicut with advanced machining strategies in Delcam PowerMill software for the rough, semi-finish and finish machining of integrally bladed rotors.
In the example to be shown at the Hermle Open House (Gosheim, Germany, April 20-23), the cycle time was reduced to 35 hours, which Delcam says is less than half the time needed using conventional methods. Delcam also says the costs for milling were reduced by 45%. In the example to be presented, the initial billet was 804 mm diameter Ti6-4 titanium. The completed blisk has 31 blades, each 84mm in length with a root radius of 4mm and scallop height of 10µm.
Blisks are used increasingly in place of a series of individual blades fixed into a central hub. They offer advantages in weight, efficiency and through-life servicing but are challenging to manufacture because of their highly complex shapes and the hardness of the materials used, usually titanium or nickel alloys.