In detailed plans that read more like an internal memo than a press release, SAP announced a four-year road map in 2007 for its PLM suite. But can a software company that speaks Operations appeal to buyers who speak Engineering? Originally published August 2007 in Engineering Automation Report, acquired in 2010 by Jon Peddie Research.
By Randall S. Newton
Engineering Automation Report, August 2007—Business software giant SAP (NYSE: SAP) has unveiled a road map for its PLM product line. In a lengthy announcement that reads like a cross between a press release and an internal memorandum, SAP outlined its plans for improving its PLM offering—thereby, it hopes, also increasing its market share. Our analysis of the plan leaves us wondering: is this the map of a new high-speed rail link for the "single source of truth" or a head-on train wreck between engineering and operations?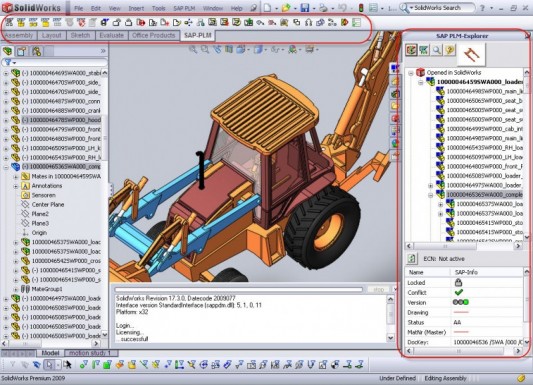 CIMdata currently rates SAP as fourth of five PLM thought leaders, behind Dassault Systèmes, Siemens PLM (nee UGS), and PTC and ahead of Agile, which is in the process of being acquired by Oracle. By total revenue, however, SAP dwarfs all other PLM players with the obvious exception of Oracle. Among these top players, all the others make engineering and product design as the home base from which to manage "the single source of truth" for product definition; SAP comes from the other side of the house, operations. To gain PLM market share it will have to either convince engineering of the inherent value of SAP or arm the accountants to help ram SAP PLM down engineering's throat.
New releases of SAP PLM will be based on SAP ERP and take advantage of enterprise service-oriented architecture (enterprise SOA). Year by year, SAP says the application will evolve through enhancements to core PLM capabilities, with an emphasis on quick deployment.
Dominant Business Trends
SAP cites two dominant business trends that it believes require a PLM-based "end-to-end solution." The first is the accelerated speed of change; the second, the need to differentiate through innovation within a business network. SAP says that over the next three years, it will revitalize SAP PLM to address these trends.
To drive home its points, SAP quotes Gartner research director Marc Halpern, who has followed PLM for years. "PLM has evolved from a technology used mainly by engineers to one that enterprise heads know they need to adopt across their manufacturing operations to remain competitive," says Halpern. "A growing number of manufacturers are adopting PLM to help them to drive business through greater product and process innovation and improved execution, driving new products to market successfully in an environment of shortening product life cycles and small windows of high margin."
To SAP, greater operational efficiency in all manufacturing segments depends on a deep integration of product development and product delivery, using—of course—lots and lots of SAP products: "Customers benefit from the deep integration between all applications of the SAP Business Suite, enabling seamless data and process flow between SAP PLM and other applications such as SAP ERP, SAP Customer Relationship Management, SAP Supplier Relationship Management and SAP Supply Chain Management. SAP PLM will be designed to support product lifecycle management processes across industries, including the engineering-driven discrete industry as well as the consumer products and process industries that focus more strongly on product and portfolio management."
The Road Ahead for SAP PLM
Enhancements to SAP PLM start in late 2007 with new processes for portfolio planning. Capabilities such as idea and portfolio management, and resource and project management will be released.
In 2008, SAP plans to introduce a new, simplified user interface to SAP PLM, with an "intelligent role-based offering of information." The goal is to help users more quickly become comfortable using the product, and to reduce the number of steps required for various tasks. SAP also plans to improve the product's ability to collaborate worldwide "amongst all stakeholders and help organizations strategically align their networks of talent."
The 2009 update will focus on business acceleration by integrating all relevant processes into product development. New capabilities will allow the management of all product-specific information such as ideas, design, requirements, variant configuration and maintenance structure in one integrated system. SAP says it will pay close attention to consistency and process flow as data moves from design and engineering departments to manufacturing, sales and service.
In the final year revealed by the road map, in 2010 SAP "will allow the assimilation of real-world information." SAP says this will enable the design, simulation and tracking of digital design and manufacturing processes, supported through the integration with digital manufacturing tools. Worldwide product information can then be linked via radio frequency identification (RFID) tags, bar codes or sensors with data from the product development process "to enable greater visibility, accountability and accuracy in areas such as regulatory compliance and manufacturing."
SAP PLM: High-Speed Rail Link or a Head-On Train Wreck?
SAP didn't become a $9 billion company selling second-rate software and services. Yet everyone has heard of disastrous PLM implementations implemented by SAP and its rivals. Siemens/UGS exploits the anecdotal evidence with a slogan: "Never let a customer fail." In many circles, PLM still means (depending on the horror stories they've heard) Possible Lost Market share or Proprietary Lifecycle Management.
Reading between the lines in the SAP announcement, we can't help but believe that SAP will be in an uphill battle to extend its market share beyond existing clients. Of course manufacturers can benefit from streamlining and optimizing all processes, and in minimizing the various costs associated with the transactions that define the entire manufacturing process from ideation to sale. But there is a fundamental conflict between manufacturing-based PLM and operations-based PLM; the first expects the language of the "single source of truth" to be the language of design, the second speaks of the "single source of truth" in the language of accounting.
SAP's plans for 2009 are the key. The company said the update to SAP PLM in 2009 will integrate "all relevant processes into product development." If they can do that, and do it with a slick interface that has some real muscle behind it, they just might be able to win a few competitive deals against CAD-based PLM vendors. We'll check back later and see how things shape up.