This agreement in 2007 set the stage for the 2009 acquisition of IBM PLM by Dassault. From the archives of Engineering Automation Report, acquired in 2010 by Jon Peddie Research.
By Randall S. Newton
Engineering Automation Report, March 2007—IBM and Dassault Systèmes today announced a redefinition of their 25-year sales partnership. IBM will sell an expanded portfolio of Dassault products to existing accounts, while Dassault assumes management of the PLM indirect sales channel.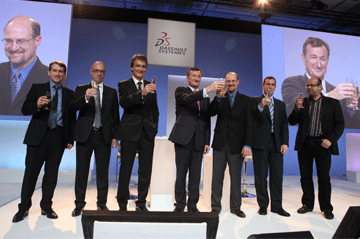 IBM will now be able to sell ENOVIA MatrixOne and DELMIA, in addition to CATIA, ENOVIA VPLM and ENOVIA SmarTeam. The idea is that IBM can go back to existing customers and sell deeper into each account by offering these additional products.
The agreement also calls for Dassault to increase the scope of its management of the PLM indirect sales channels. In effect, IBM gains the right to go deeper into its existing large accounts, but loses the ability to sell Dassault solutions to the hot small-medium business (SMB) market. This isn't as bad as it sounds for IBM, since earlier this month IBM and UGS signed a deal with allows IBM to sell UGS Teamcenter Express collaborative PDM products to SMB accounts globally. We do not expect the merger announcement between UGS and Siemens to change this deal.
The transition to Dassault running the indirect channel comes in two phases. First Dassault continues to expand its role as channel management provider on behalf of IBM, and then Dassault will assume direct responsibility for it as a value added reseller channel. The transition will be implemented on a country by country basis and is expected to be completed by early 2008. Countries currently being transitioned include Korea, the UK and the USA.
According to sources familiar with the deal, IBM will be losing customers and will only benefit by selling deeper into their CATIA-oriented customers. "It's not kiss-and-make-up," said one source familiar with the inner working of the relationship. "It's IBM making the best of a bad lot."
The other big PLM news of the day—the $3.5 billion acquisition of UGS by Siemens AG, could work in IBM's favor. A stronger UGS will be a serious threat to Dassault's Delmia business in automotive factory layout. These are IBM's accounts for the most part, and they will be aggressive to thwart any UGS/Siemens bids for their turf.