The company is building new business and has announced a parallel track for the latest acquisition Onshape.
PTC issued an optimistic release for the fiscal first quarter 2020. The company came through a rough 2019 with problems in its channel and problems converting customers to the subscription at the expected rate. The company said it knew about the problem and that they've pulled the right levers to fix it.  They seem to be right. The company had a very good last quarter for fiscal 2019 and to celebrate they bought CAD SaaS pioneers Onshape.
For this latest quarter, PTC's first quarter 2020 ending at the end of December 2019, revenue met analyst expectations, ARR grew, sales in Europe and China have returned to the form; the company feels comfortable enough to raise its forecast for 2020, which is a good way to warm the cold heats of investors.
PTC's ARR came at $1.16 billion for the quarter, which represents 11% growth compared to the previous quarter and the company says they're happy with overall ARR performance. The company's Growth products, which include IoT and AR products, are clocking much higher growth rates than the company's Core and Focused Solutions Group (FSG). For 2019, Growth products saw growth in the range of 30-40% and CEO Jim Heppelmann says PTC can sustain that growth rate for 2020. In addition, the Core products, PTC's Creo and Windchill, for instance, are growing as the company leverages the opportunities from IoT, AR, and its direct analysis capabilities the company has built with Ansys called Creo Simulation Live (CSL).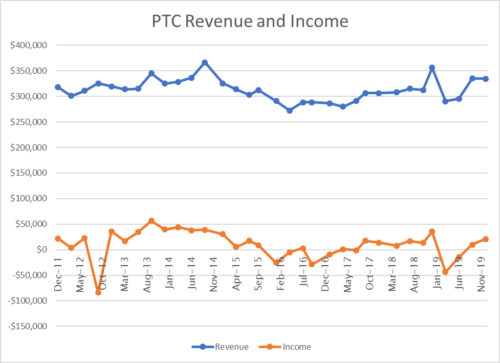 "PTC continued to see solid demand for our product development and digital transformation technologies across all major geographies. Sales execution was strong in the quarter, and our partner ecosystem continued to expand our global reach," said James Heppelmann, President and CEO, PTC.
The big news for PTC is its acquisition of Onshape in 2019. The company acquired the SaaS CAD company for $470 million. Onshape is a company widely admired for its technology and they have been adding on capabilities rapidly to give Onshape all the features and functions it needs to compete in the systems-oriented CAD market. As a matter of fact, Hepplemann has revealed that PTC's 2018 acquisition of Frustrum was inspired by Onshape's interest in the electronics design company to add on electrical design tools. As we've mentioned, electrical design is becoming must have for the large MCAD products.
The CAD providers are in an add-on phase bringing in more capabilities in order to be the most full-featured CAD provider. PTC believes they stand out with CAD, PLM, IoT, AI, and AR tools in their portfolio. They're not the only company to have all these tools, but they have been nurturing the IoT and AR segments of their business longer and their products are well established in the market.
The growth market products are key to PTC's and Heppelmann's strategy, which he describes as land and expand. The growth products help PTC gain entree into companies where PTCs might not be in use or widely used, and the company can hope their new customers will further engage with PTC products. A hope, says Heppelmann, that is based on the complex realities of IoT and AR. A design configuration is necessary for all these new technologies to work effectively, says PTC; PTC has been building its design and lifecycle management tools to complement design configuration.
 Enter Onshape
The acquisition of Onshape adds a modest number of customers, around 5,000 at last count, and around $10 million in revenue. But, the acquisition of Onshape also gives PTC a future. Onshape is a pure SaaS product that lets users design and collaborate on the same models and documents. Onshape's IP is a structure that supports active collaboration in the design process.
In the company's press release for the first quarter results, Jim Heppelmann says, "the addition of Onshape brings the industry's only multi-tenant SaaS platform into our portfolio, providing significant new opportunities for companies who want to reap the benefits of developing products in a fully cloud-based environment."
In an "Open Letter" describing PTC's plans for going forward with Creo and Onshape, Heppelmann pledges to give both product lines space to grow. In fact, he says, he believes Onshape represents the future of design and PLM and so there will be no attempt to privilege Creo over Onshape. And, he says, they won't try to artificially create differentiation between the product lines because they're inherently differentiated by nature of their differentiation. People who want cloud-based tools will go to Onshape. People who want traditional client-based tools will have Creo.  As it is now, there is also a natural differentiation between the product lines because Onshape users tend to be young companies and smaller companies compared to the more traditional large and midsize base the Creo serves.
Fiscal 2020 outlook
PTC's CFO Kristian Talvitie told investors on the company's financial call that the performance of Q1 has given the company the confidence to raise guidance ranges for ARR, Adjusted Free Cash Flow, Revenue, and EPS. The company's guidance looks like this:

What do we think?
Humans seem to be naturally optimistic. At the start of every year, we wish each other good luck and predict a happy future for at least the next 12 months but we're only a month into 2020, by all auguries an auspicious seeming year, and dark clouds seem to be gathering. The world is holding its break because it doesn't want to catch the coronavirus. And, all the forces that caused wise people to fear a slow down at the end of 2019 are still hanging around including political uncertainty in Europe and the US.
PTC builds hedges. It always has, and it now has a pretty good network of options that can come in handy in uncertain times.
Read more…