The new M8 comes in four color choices.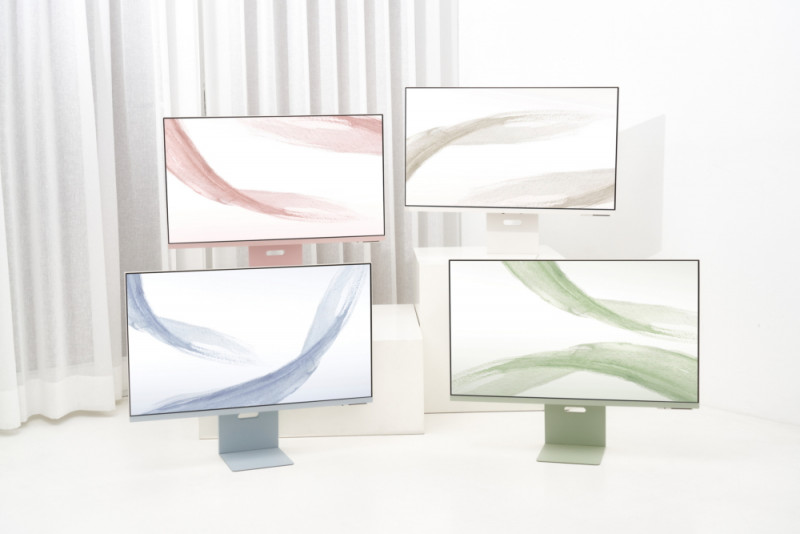 Samsung Electronics got colorful with its latest Smart Monitor series, the M8, which features an upgraded, stylish design. The versatile new M8 has Samsung's iconic slim design (though about three-quarters slimmer than the previous models) and comes in four new colors—warm white, sunset pink, daylight blue, and spring green—and are available in 32-inches with UHD resolution and a SlimFit Cam.
First launched in November 2020, Samsung's Smart Monitor series is pitched as a modern-day multipurpose device for use as a traditional monitor, but also for a variety of OTT services, including Netflix, Amazon Prime Video, Disney+, and Apple TV via Wi-Fi without having to connect to a PC or TV.
"We aspired to create a product capable of matching the lifestyles of all kinds of people and preferences," said Kyounghoon Kim, executive vice president and head of design team, Visual Display Business, Samsung Electronics.
The M8 provides a home office environment without using a PC by connecting to various IT devices through the upgraded Smart Hub. The Workspace User Interface offers all the services needed to work on one screen, helping users wirelessly connect to a Windows or Mac PC and use an extensive range of features, including Samsung DeX, Apple AirPlay 2, and Microsoft 365 cloud service, as well as mirroring content from smartphone to the M8.
On top of that, the Smart Monitor M8 has a magnetic and removable SlimFit Cam that can attach to the monitor while keeping desk space neat without any unsightly wires. The SlimFit Cam also features face tracking and auto zoom functions, swiftly identifying a person's face when on screen and automatically focusing on the subject.
The Smart Monitor M8 also has an IoT hub called SmartThings Hub, where users can connect all their IoT devices wirelessly.
The Samsung Smart Monitor M8 is available for pre-order.