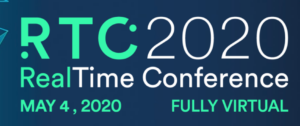 The RealTime Conference is coming back around for its second wave of talks on May 4th. The event, originally planned as a two day transatlantic extravaganza with continuous talks across time zones. When Coronavirus imposed a change of plans organizers pivoted to an all-digital format. They managed to maintain the RealTime aspect with talks going on in Paris while New York slept and in New York while Paris had dinner giving participants content to watch around the clock.
The first program was presented in early April with group talks built around advances in manufacture, architecture, design, media and entertainment, education,and whatever popped up in the cracks. A lot popped up in the cracks as it turned out.
The RealTime Conference explored the advances that are coming as digitalization changes processes that were once linear, hierarchical, step-based, sometimes secretive, and usually siloed. Digitalization enables linear processes to be dynamic and collaborative and we're seeing the changes in art, commerce, science, and production.
The May 4th conference is just about upon us. Registration is free and the program suggests there's more synergy on the menu.