Collaboration sees Tobii's EyeCore technologies make their way to mobile devices.
Eye tracking specialists Tobii recently announced that it will collaborate with Qualcomm to bring some of its signature eye tracking technologies to mobile VR/AR headsets powered by the Qualcomm Snapdragon 845 Mobile VR platform.
While eye tracking capabilities heading to mainline or high performance VR/AR platforms is nothing new, it's an interesting addition to the emerging mobile market which the Snapdragon 845 platform serves.
It also requires mention that while the Snapdragon 845 is a mobile platform and thus faces much more stringent size, heat, and power consumption restrictions, it still packs quite a punch for its form factor. According to Qualcomm, the eight Kryo 385 cores that power the Snapdragon 845 can help it reach clock speeds of up to 2.8 Ghz. While this sounds promising, time will tell how well it handles high fidelity VR/AR content.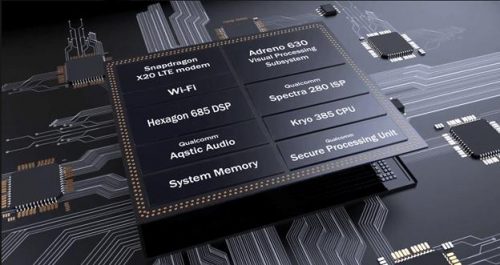 As part of the collaboration, the two companies are releasing a customized development kit for the Snapdragon 845 which includes Tobii's EyeCore eye tracking algorithms as well as hardware design. Tobii will also be licensing its eye tracking technologies to HMD (head-mounted display) manufacturers partnered with Qualcomm.
Commenting on the partnership, Tobii Technologies President, Oscar Werner stated, "Increased interest in the untethered, mobile VR segment, in conjunction with Qualcomm's innovation and technology leadership in this space, further strengthens our excitement about the potential of this market opportunity for Tobii eye tracking. At its core, eye tracking fundamentally enables hardware manufacturers to build smarter and more capable devices with greater mobility, that in turn deliver truly immersive and natural experiences to delight users."
Some of the capabilities which Tobii's eye tracking technology can bring to VR/AR experiences includes foveated rendering, allowing the device to direct graphical processing power to wherever the user is looking. This allows for more efficient rendering and longer battery life since the entire 360 degree spectrum isn't constantly being refreshed. The interpupillary distance of users can also be determined and images are then automatically realigned to fit a particular user's pupils, helping to increase the immersion and visual quality of the system.
Of course it's not all about performance, Tobii's eye tracking technologies brings a lot of previously untapped feature possibilities to the table. Thanks to the system being aware of where your eyes are, more natural hand-eye coordination in VR/AR can take place since certain interactions can be handled simply by looking at them (as compared to pressing a button on a handheld controller). This new level of interactive eye contact can help unlock a myriad of new interactive VR/AR experiences, increasing immersion as well as opening the door to better social interactions in VR.
Director of Product Management, XR Technologies at Qualcomm, Hiren Bhinde stated, "Qualcomm is focused on transforming the way that people use mobile technologies for entertainment and productivity. We added support for Tobii's eye tracking solution to our new Snapdragon 845 VR development kits to help developers create new experiences using a higher quality of gaze interaction that we think will ultimately provide consumers with more intuitive, visually immersive experiences."
An introductory video explaining the Qualcomm–Tobii collaboration and what it could mean for the future of mobile VR/AR. (Source: Tobii)