Ongoing development work from synchronous to convergent expands Siemens' concept of model-based definition.
Siemens has achieved some milestones with their latest release of NX. The company has gone to a continuous release in which changes are rolled out regularly. The company expects a cadence of every 6 months or so. The company is taking more advantage of AI/ML with every release and says it has further defined its interpretation of the model-based definition. It has expanded the universe for its modeling tools, with new flexibility for synchronous modeling, and processes that we'd call additive aware.
Among advances introduced by Siemens Digital Industry Software group is the introduction of Xcelerator, a comprehensive and integrated portfolio of software and services that includes NX, as well as Mentor, Siemens' fairly-recently-acquired semiconductor design tool. The incorporation of Mentor to the Siemens Digital Industries family is as important a directional step for Siemens as is Dassault's commitment to health care and pharmaceutical development and testing in its Medidata product. Another example is MindSphere, the company's tools for IoT development. Xcelerator is designed to make it easier for Siemens customers to take advantage of the advanced capabilities the company is introducing.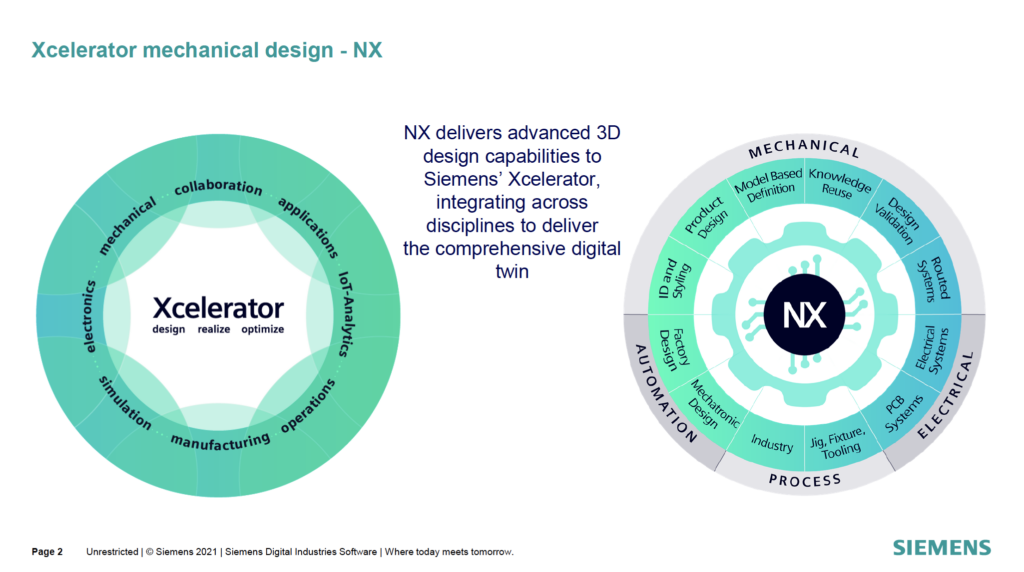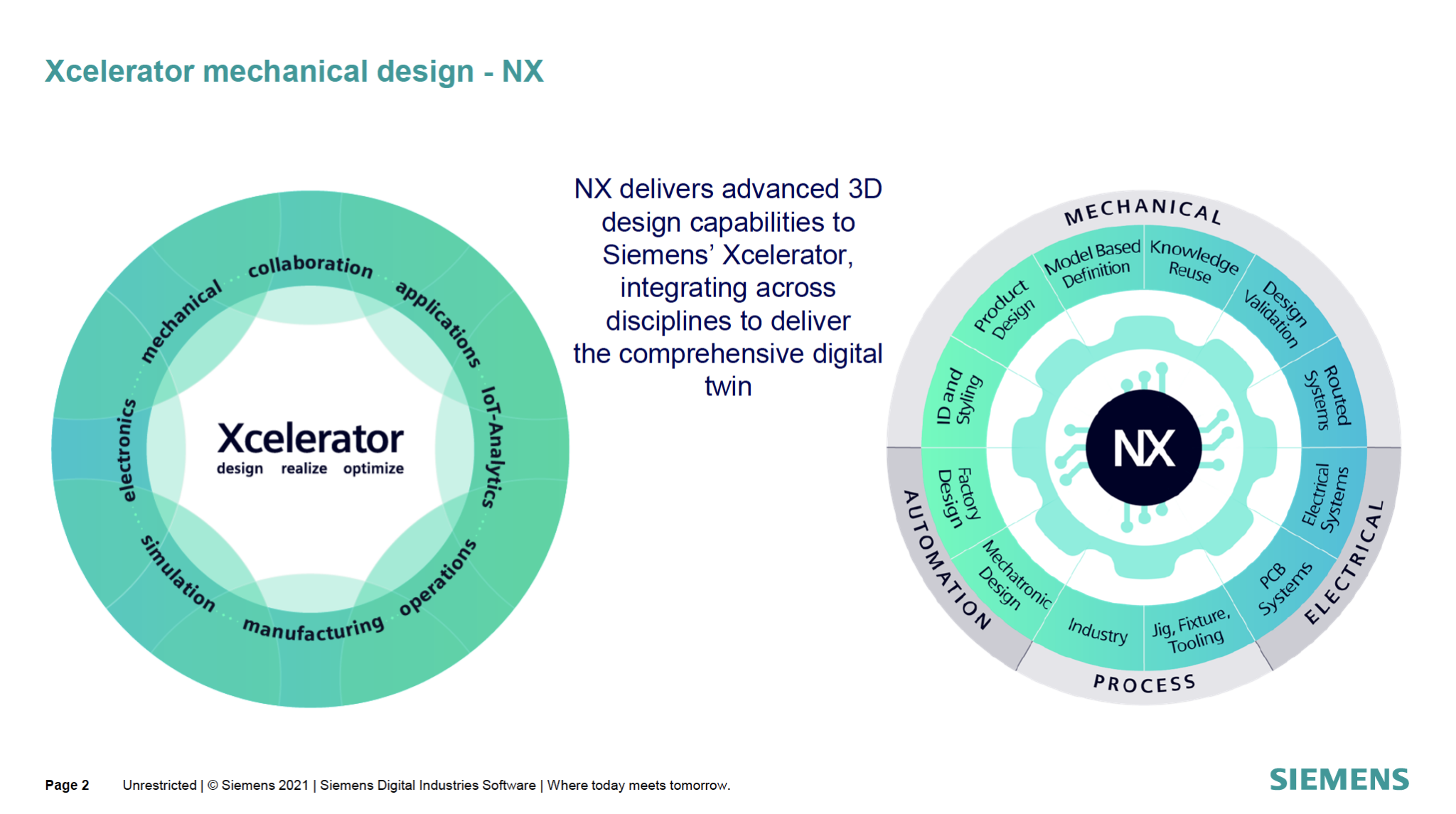 The latest update of Siemens NX has been developed for use within Xcelerator. This is part of a long transition and similar to the adaptation all companies are having to do as they deal with changes being wrought by digitization. Increasingly, individual software programs for design and engineering do not stand alone as they are parts of larger systems.
Sketch
As mentioned, Siemens has upgraded its AI capabilities. It shows up throughout the release. AI is used as an aid in one of NX's most basic tools, the Sketch tool, which most designers use to start a project. Sketch is basic but it's not simple in a parametric modeler; the Sketch establishes constraints, first dimensions, relationships, etc. Siemens says in the past users could use up a great deal of time getting sketches just right. NX's adaptive user interface learns as customers work with it. In addition, the Sketch solver can define relationships and add constraints for the user. Siemens says they have the first Sketch tool with the solver built-in. And, that the Sketcher reduces sketch time up to 30%. By not having to define and dimension as much, designers are free to work more iteratively.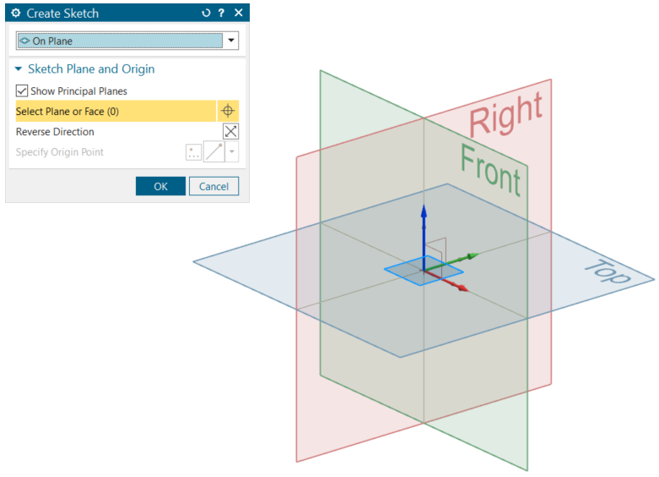 Convergent modeling
For their latest release, Siemens seemed most interested in communicating the continuing return coming from the company's commitment to Synchronous technology over a decade ago. Synchronous technology arrived as CAD modelers battled over the advantages of parametric modeling versus direct modeling. As you know, and as I'll over-simplify, parametric modeling is constraint-driven and feature based. It produces solid models with an ordered feature tree describing the components and processes (sketch, extrude, fillet, shell, etc.) that can be edited by changing dimension values which updates the parts geometry and all associated component including assemblies and drawings. Parametric modeling insures that as the model is edited and refined it maintains the original design intent and maintains relati onships between interrelated parts. But, a parametric model can also be a house of cards because there may be lots of dependencies that not everyone on a project may understand from just looking at the model. Direct modeling is an easier process but there are no guardrails built-in to prevent "breaking" a model so it no longer works. A model can be created that is difficult or impossible to manufacture. Through the years parametric design approaches have improved to help designers through dependency mine fields and many have incorporated approaches that combine direct modeling and feature-based design.
Siemens' Synchronous technology introduced in 2007 enabled the two paradigms to exist within the same model and if necessary direct models could be brought in and constraints added as necessary. Siemens has continued to update the technology and has found even more value in it as companies turn to analysis, reverse engineering, generative design, and additive manufacture.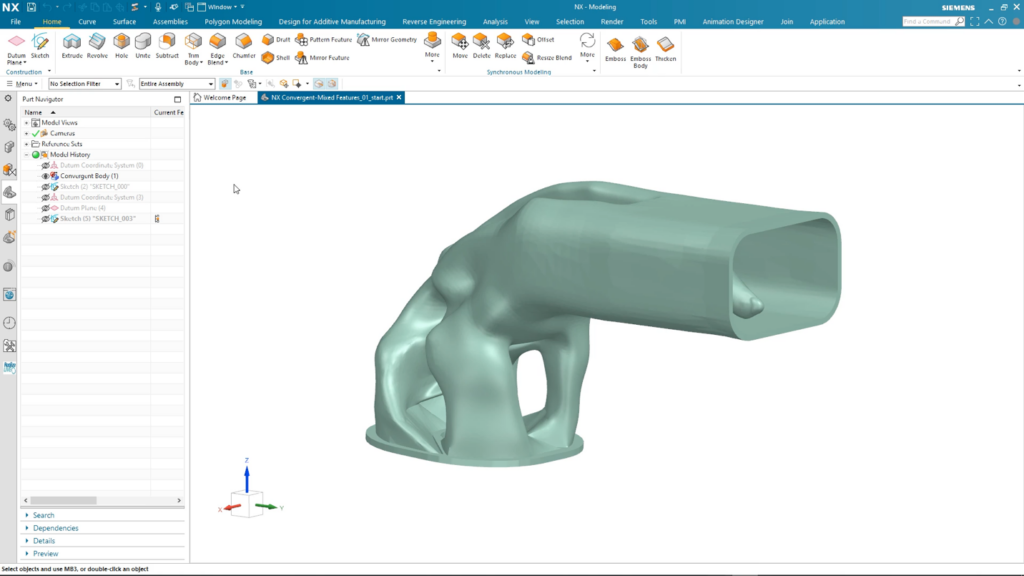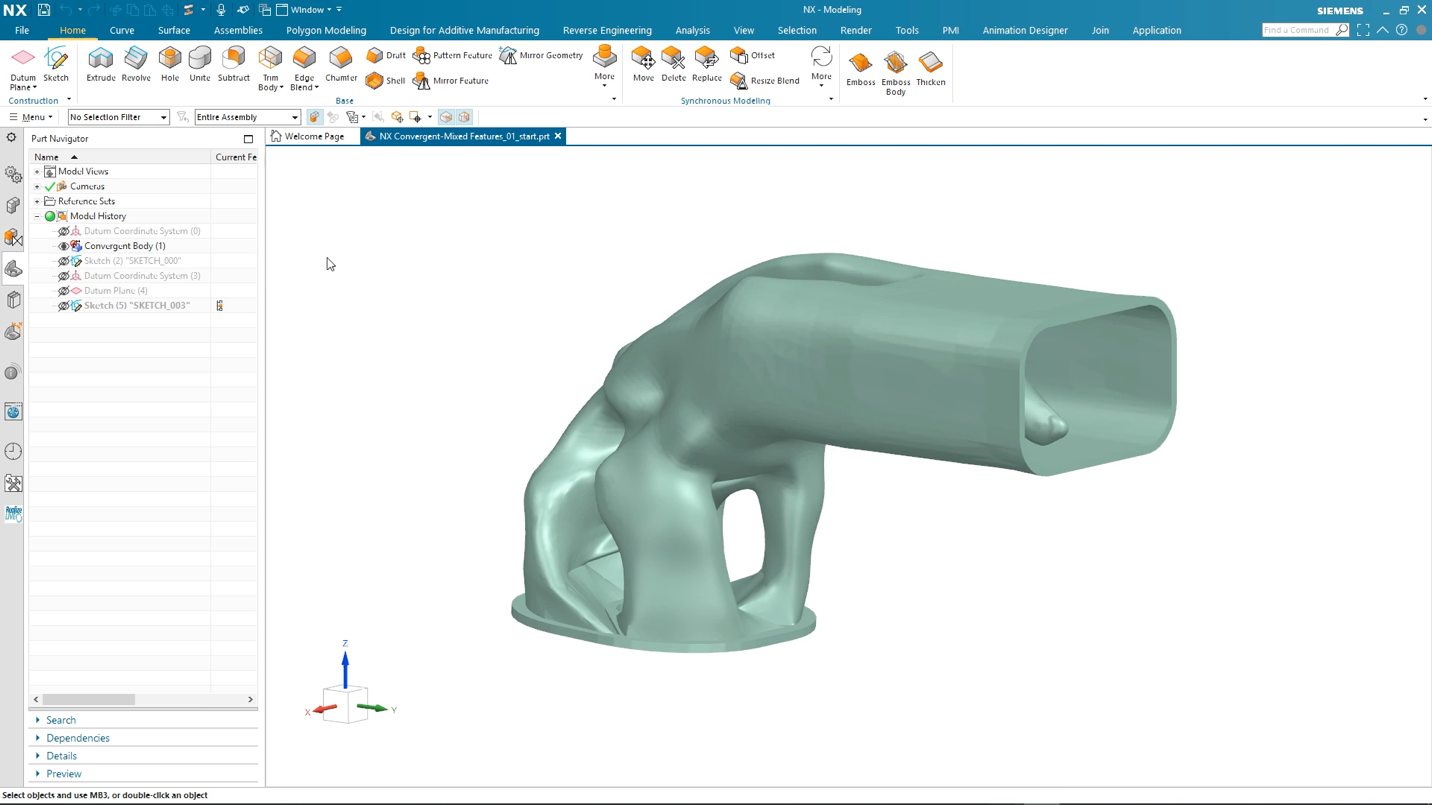 Siemens has continued to develop technologies within NX to adapt to different types of models and has defined convergent body modeling as an evolution of Synchronous technology that will allow designers to work with facets, surfaces, and solids without conversion and users can create new topologies on the convergent body, which usually comes into NX as one face. For example, this capability enables scanned data to feed back into a design.
The new capabilities enable users to replace a mesh with analytical bodies, can connect parts, and they can add constraints, product manufacturing (PMI) data, documentation, and intelligence. Siemens Senior Marketing Director Paul Brown notes that users can use capabilities that have been built into NX for years through their work on Synchronous Technology. As the synchronous model is adapted for use within the NX model, the software adds new features to the assembly tree and the convergent model is assimilated as much as necessary to fit within the design.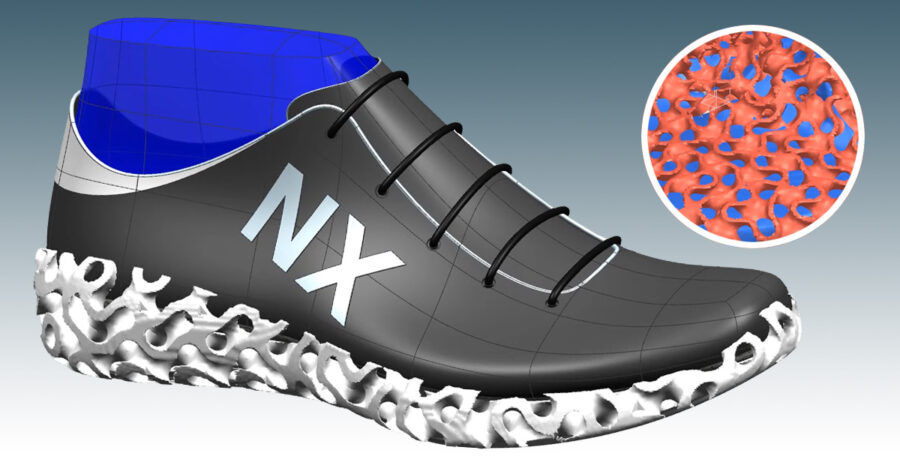 Algorithmic modeling
As we've been commenting lately, design tools in all industries have been adopting sophisticated capabilities for their users including Algorithmic modeling, implicit modeling, visual programming methods, generative design, and more to come.
Siemens' Algorithmic modeling incorporates visual programming node graphs to make the process easier to use and to communicate to users who may come behind. The visual programming approach is increasingly popular and is showing up widely in both manufacturing and AEC industries. Algorithmic modeling, says Siemens, is used to create complex designs pre-accomplished through programming using an intuitive and logic drive graphical interface.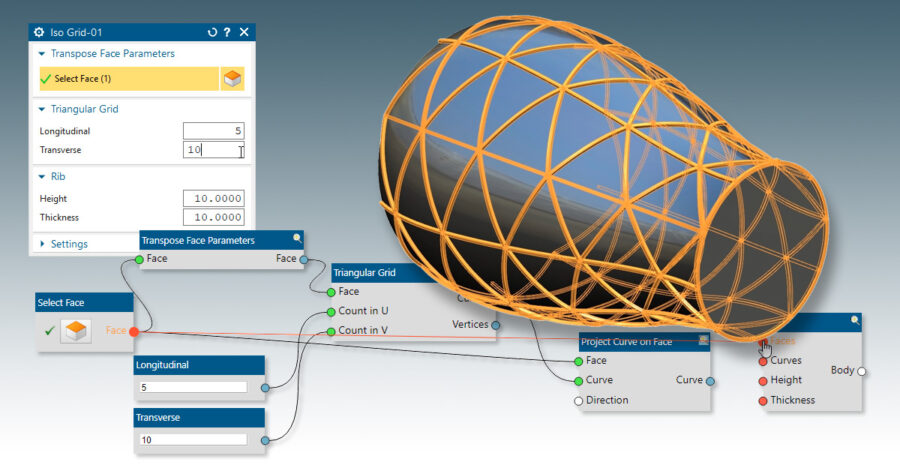 As Siemens has been introducing these tools, they've found interest among their customers and also some defections from competitive products.
Mathematically defined modeling has the advantage of enabling designers to create complex geometry that would have been tedious, difficult, or impossible using traditional means. In contrast, algorithmic modeling is by definition repeatable and transferable. The use of algorithmic modeling makes it easier to create complex shapes and save the process as templates to reuse on other models.
Implicit modeling
All this talk about mathematical design leads to the ability to design structures that accomplish lightweight design and/or flexibility. They're typified in the lattice structures we've seen used for light-weighting everything from airplane components to tennis shoes to medical implant design. The industry has come upon these solutions through various simulation tools and generative design but the structures have been difficult to design through traditional means. And even in additive manufacture, there has been a challenge of printing the same thing, the same way over and over. Lattice structures, which you'll be happy to know are an example of triply periodic minimal surface structures (TPMS), are ideal for additive manufacture.
The ability to define these structures within a CAD program, NX in this case, opens up advanced technology to more engineers in the design pipeline.
Lightwave expands MDL material definition library
Siemens acquired Lightwork Design in 2018. The small, Sheffield-based company competed mightily against Mental Images, and given its access within the leading CAD programs, it once had access to more users than any other renderer in the world.
Siemens was an anchor tenant for the Lightworks. As the emphasis in rendering shifted to photorealistic technologies, and specifically ray tracing, Lightworks was challenged on multiple fronts by upstart rendering software providers. CAD vendors began to question the wisdom of having an integrated renderer when customers had their choice of multiple options. Lightworks jumped on the ray-tracing train by adopting Nvidia's iRay, which has led to a long collaboration.
Meanwhile, Lightworks continued to work with Siemens and supplied the tech for Siemens NX integrated renderer, Ray Traced Studio. With the latest update, says Siemens, the team has considerably upped their rendering game with expanded materials. As an iRay tool, Siemens Rendering Engine supports MDL textures. In the latest version, Siemens has added more materials all of which are editable within the rendering app. Siemens says they plan to make the improved rendering module available to apps and vendors across the Siemens ecosystem.
One of the more important Siemens links for NX Render is with TeamCenter. The different materials chosen for a model are tied into TeamCenter to allow different users access themodels with the correct materials attached. Companies may want to have one model with multiple styles for their customers.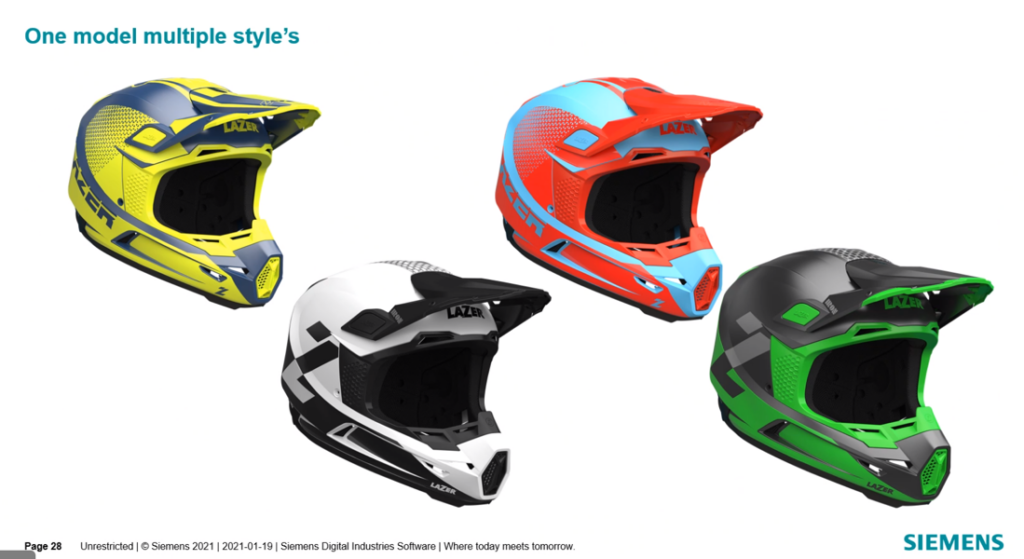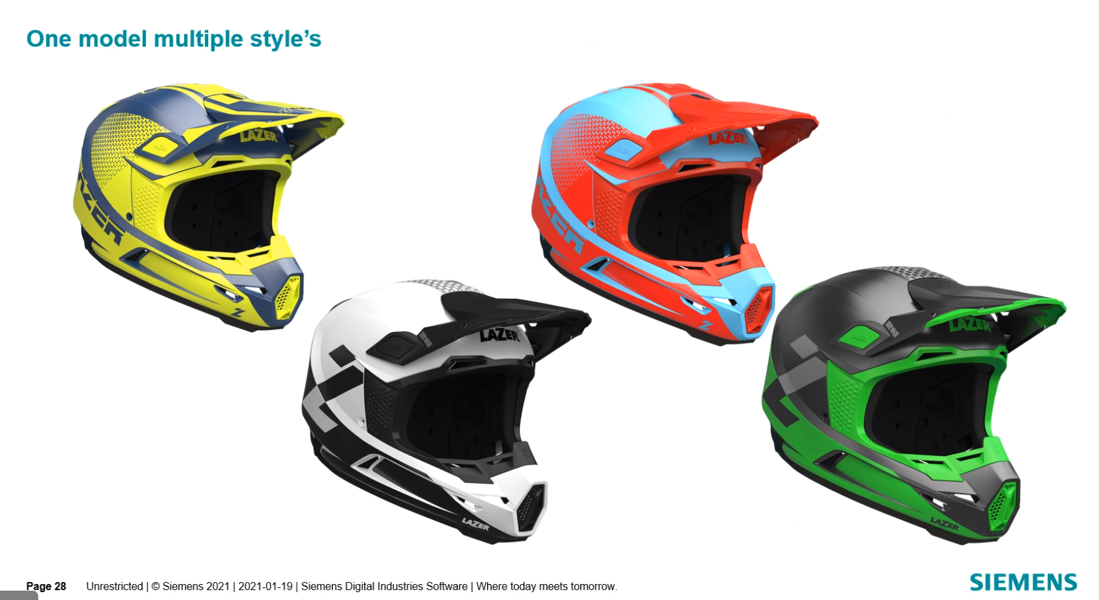 New release expands NX model-based definition
Siemens has long committed to the concept of MBD, a model-based definition, but the definition has expanded as time marches on and capabilities arrive with new technology. The idea has always been that the model is the repository for all the information about a product. Siemens says the model-based definition enables completely digital definitions of a product within the 3D model. The newest capabilities enable NX to add on to MBD through automated input of PMI data, i.e., dimensions. As a result, data is captured and associated accurately within the model. Users don't have to input the data manually, instead it is extracted from the work being done by designers and engineers. It relies on a system of rules defined upfront and AI built into the software.
The input data is checked against the company's standards and if standards change, updates can ripple through automatically.
Summary
This latest update has a great deal, more especially on the CAM and CMM front, but those new features and the features we've described are all points on a continuum that Siemens is trying to build from conceptualization to realization. However, as digitalization continues, that process is not a straight line. It's a model with moving parts.