$3.12 billion in sales, $1.1 billion profit-down 12% from last quarter.
Nvidia record revenue from all platforms—datacenter, gaming, professional visualization, automotive. Revenue of $3.12 billion, up 40% from a year ago.
The company's GPU business revenue was $2.66 billion, up 40% from a year earlier but down 4% sequentially, however, the company claimed gains across all platforms, including datacenter, gaming, and professional visualization platforms. GeForce GPU gaming results were led by strong adoption of Pascal-based GeForce GTX gaming platforms, said the company.
"Growth across every platform—AI, Gaming, Professional Visualization, self-driving cars—drove another great quarter," said Jensen Huang, founder and CEO of Nvidia.
Nvidia grew its gaming revenue by 52% from a year earlier to $1.80 billion and announced there are more than 25 Max-Q GeForce gaming notebook designs offered by all major OEMs, enabling high-end performance for thin and light notebooks. Next-generation Nvidia G-SYNC HDR displays began shipping, delivering 1,000 NIT HDR, stutter-free gaming, said the company.
The professional visualization revenue grew by 20% from a year earlier to $281 million, and the company unveiled its first Turing-based GPUs—Nvidia Quadro RTX 8000, RTX 6000 and RTX 5000—which will revolutionize the craft of some 50 million designers and artists. It also introduced the Nvidia RTX Server, a full ray-tracing global illumination rendering server that will give a giant boost for the world's render farms as Moore's law ends.
Announced broad industry support for the Nvidia RTX platform from the world's top graphics software companies.
The company introduced its newest GPU, the RTX. "We announced Turing this week," said Huang. "Turing is the world's first ray-tracing GPU and completes the Nvidia RTX platform, realizing a 40-year dream of the computer graphics industry, Turing is a giant leap forward and the greatest advance for computing since we introduced CUDA over a decade ago."
Datacenter (including Tesla, GRID, and DGX) revenue was $760 million, up 82% year on year and up 11% sequentially. The quarter marked the launch of Summit, the world's fastest supercomputer, at Oak Ridge National Laboratory, powered by more than 27,000 Nvidia Volta Tensor Core GPUs. The company also announced that five of the world's seven fastest supercomputers are powered by Nvidia GPUs, based on the new list of the worlds' 500 fastest systems. Nvidia GPUs provide 56% of the list's new computing power. And the company introduced its HGX-2, claiming it to be the first unified computing platform for both AI and high-performance computing. A number of partners around the world, including cloud service providers, server OEMs, and ODMs, are building systems incorporating HGX-2. Google Cloud-integrated into its offerings the Nvidia Tesla P4 GPU optimized for AI inference and graphics virtualization.
Nvidia's automotive revenue grew by 13% from a year earlier to $161 million, and the company announced that Daimler and Bosch have selected Nvidia's Drive platform to bring fully automated and driverless vehicles to city streets, with pilot testing to begin next year in Silicon Valley.
During the first half of fiscal 2019, Nvidia returned $837 million to shareholders through a combination of $655 million in share repurchases and $182 million in quarterly cash dividends.
Since the restart of its capital return program in the fourth quarter of fiscal 2013, the company has returned $6.10 billion to shareholders. This return represents 64% of its cumulative free cash flow for fiscal 2013 through the second quarter of fiscal 2019.
For fiscal 2019, the company intends to return $1.25 billion to shareholders through ongoing quarterly cash dividends and share repurchases.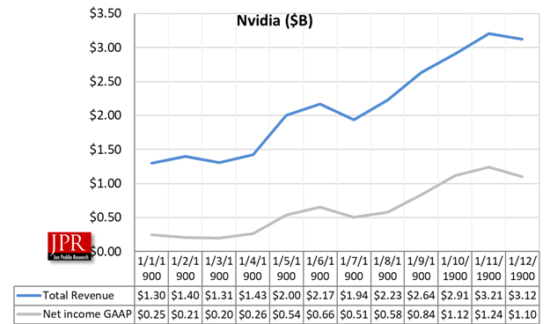 During the quarter, Nvidia announced it had established a new partnership with several automotive and OEM companies for the development and production of AI-based self-driving cars.
Outlook
Nvidia's outlook for the third quarter of fiscal 2019 is as follows:
Revenue is expected to be $3.25 billion, ±2%. The company is not including any contribution from crypto in its revenue outlook.
GAAP and non-GAAP gross margins are expected to be 62.6% and 62.8%, respectively, plus or minus 50 basis points.
GAAP and non-GAAP operating expenses are expected to be approximately $870 million and $730 million, respectively.
GAAP and non-GAAP other income and expense are both expected to be income of approximately $20 million.
GAAP and non-GAAP tax rates are both expected to be 9%, ±1% excluding any discrete items. GAAP discrete items include excess tax benefits or deficiencies related to stock-based compensation, which are expected to generate variability on a quarter by quarter basis.
Capital expenditures are expected to be approximately $125 million to $150 million.
What do we think?
Gaming is still the big money maker for Nvidia as shown in the following chart, with growth (and higher ASPs coming from the datacenter).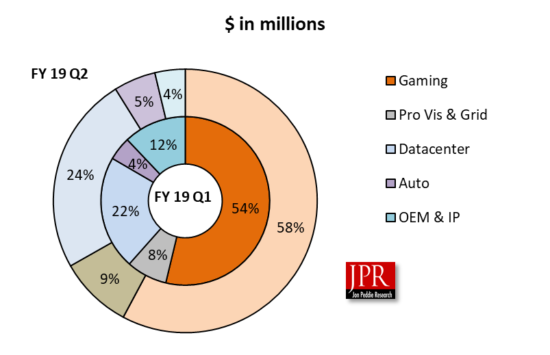 Tegra sales, due to the big influence from Nintendo's Switch, is showing seasonality and was up 5.7% from last quarter and 40% from last year, driven by automotive and Nintendo.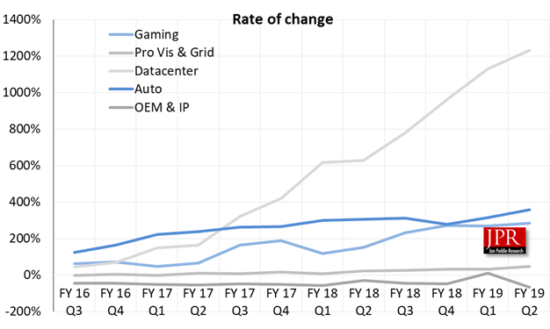 The numeric values are shown in the following table.

Nvidia includes its Nintendo (Switch) business in with its gaming revenue. GPU includes GPU revenue in GeForce, Quadro, Tesla, and OEM. Gaming includes GeForce DT/NB, Switch, Other like GeForce Now, G-SYNC.
The valuation placed on the company is getting still quite high, even though the company's gross margin dipped 1.6% from last quarter, but was up 8.4% from last year, driven by the high ASP Volta and Pascal boards sold into the data center where every cloud compute service has incorporated Nvidia's products. Demand in that sector remains high, driven by AI and machine learning, and we expect Nvidia to grow with the market, if not slightly ahead of it.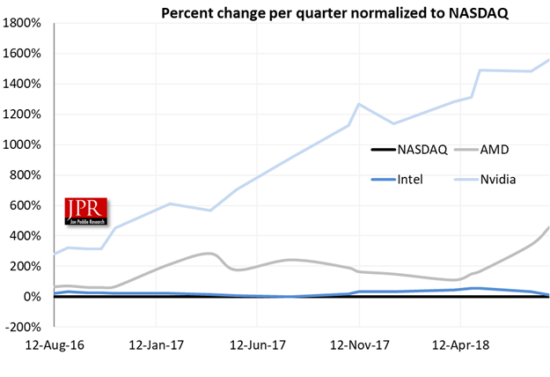 Nvidia claims to have reinvented computer graphics with the launch of its Turing GPU architecture, which the company says is its most important innovation since the invention of the single chip GPU more than a decade ago. Turing is the world's first ray-tracing GPU. The company says it features new RT Cores to accelerate ray tracing and new Tensor Cores for AI inferencing—which, together for the first time, make real-time ray tracing possible—as well as more powerful compute for simulation and enhanced rasterization. Turing completes the Nvidia RTX platform, a new hybrid rendering graphics approach that combines rasterization, ray tracing, compute and AI to enable real-time ray tracing, the holy grail of computer graphics. Turing will reset the look of video games and open up the $250 billion visual effects industry to GPUs.
Nvidia Research has introduced AI deep learning developments such as a new technique that produces high-quality slow-motion video from standard slow-motion video; a new technique that cleans up grainy or pixelated photos simply by looking at corrupted photos; and a new method to train robots to carry out actions by observing human activity. Its work received four honors at the recent Computer Vision and Pattern Recognition Conference. It also received a $23 million contract from the Defense Advanced Research Projects Agency to work with a team of university and industry researchers to develop post-Moore's law systems.