Nvidia has announced plans to acquire DeepMap, a startup dedicated to building high-definition maps for autonomous vehicles to navigate the world safely. DeepMap was founded in 2016 by former Google employees James Wu, Mark Wheeler, and Wei Luo who worked on Google Maps and Google Earth.
DeepMap builds maps for machines. In order for machines to successfully navigate using maps, they require a higher level of accuracy in comparison to maps developed for navigation systems for human drivers which provide turn-by-turn directions. Maps for autonomous vehicles much operate with centimeter-level precision for accurate localization and safety. They have to be frequently updated to communicate changing situations such as road conditions, lane closures, and work zones.
The company has been growing quickly since its founding building a huge database of maps and working with partners to develop maps for autonomous vehicles, long haul trucking, robot taxis, etc. True to the original spirit of Google Maps, DeepMap's latest product is Road Memory, which enables their customers to take advantage and deploy large-scale digital maps via data collected from their own fleets of passenger vehicles and trucks to enable faster development of geographic coverage.
The company is also making news as customers Mercedes-Benz and Bosch begin trials in San Jose for their robo-taxi project. The eventual goal for the project is to create an SAE Level 4/5 driving system for automated and driverless vehicles. In the companies' early announcements they said their plans are to develop automated driving systems that can be deployed for ride-hail services.
DeepMap and Nvidia have been working together on Nvidia's Drive project. Nvidia is developing Drive as an end-to-end platform that includes deep neural network training and validation and high-performance compute in the vehicle. It's designed to evolve and improve in use via over-the-air updates.
Like Nvidia, DeepMap has been working on several fronts to improve its ability to build systems and services for hands-off driving. It has been creating databases of maps for cities all over the world and has been developing the ability for maps to be created and updated as the vehicle's sensors encounter the surrounding environment. DeepMap's technology will be used by Nvidia to expand its own mapping and localization capabilities on Nvidia Drive.
There more history between the companies. Back in 1999, there was a company named Keyhole that worked closely with the CIA and used GPUs to accelerate its database and mapping processes. Nvidia invested in the company. In 2004 Google acquired Keyhole for an undisclosed sum. That company provided the base technology for Google Earth and Keyhole's co-founder Brian McClendon is on the technical advisory board of DeepMap.
DeepMap COO and head of product Wei Luo at CES 2020. (Source: DeepMap)
Nvidia says it intends to keep working with DeepMap's customers and partners to meet their needs and it intends to continue investing in the company's technology and services.
Ali Kani, Nvidia's VP and GM of automotive at Nvidia says, the deal is an endorsement of DeepMap's unique vision, technology, and people.
DeepMap's co-founder and CEO James Wu says, "Joining forces with Nvidia will allow our technology to scale more quickly and benefit more people sooner."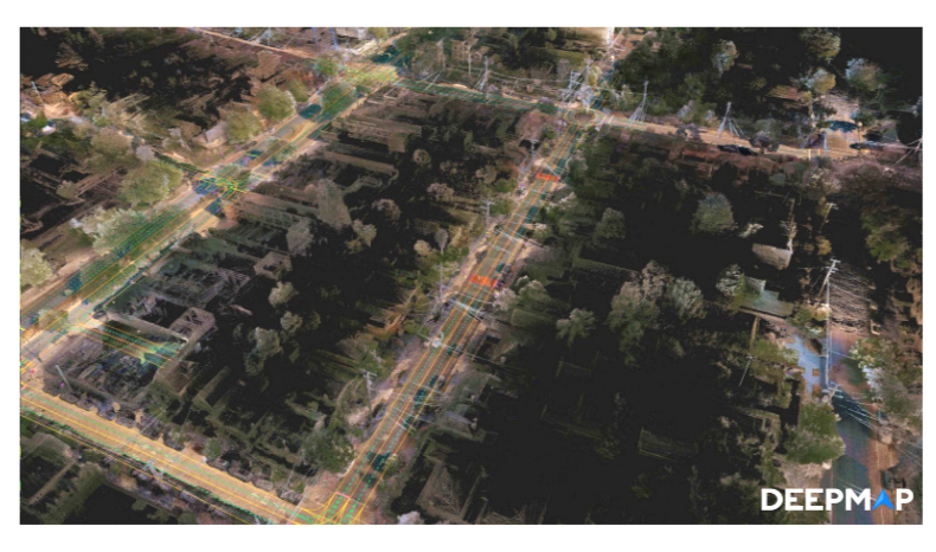 The DeepMap team is primarily located in the San Francisco Bay Area. Kani says, "We are excited to welcome the DeepMap team to Nvidia. They have a proven track record and are entrepreneurial, nimble, and engineering-focused. DeepMap meets a deep need in the industry, and together we will develop and extend these capabilities."
The acquisition is expected to close in the third calendar quarter of 2021, subject to regulatory approval and customary closing conditions. Nvidia is not revealing the details of the deal in terms of how much it will cost or how many people are involved, which means the costs are not material to Nvidia's revenues.
What do we think?
In case you haven't noticed, and of course, you have, the industry is going through a rapid expansion phase. With this acquisition, Nvidia is not only adding on skills to compete in a market that includes direct competitors like Intel and Qualcomm but also companies adding on mapping and sensor integration capabilities like Siemens, PTC, and Bentley Systems. As Siemens Digital Industry Software CEO Tony Hemmelgarn said repeatedly at the recent Siemens Realize Live conference, the value of a model increases with its comprehensiveness.
Whether they use the term or not, companies are building vast digital twin models of the world.