$17.1 billion in sales, $690 million loss, sales and profits up from last quarter.
Intel reported its calendar Q4 2017, revenues were up, but profits down due to a huge tax expense. All of its business centers except McAfee were up.
"2017 was a record year for Intel with record fourth-quarter results driven by strong growth of our data-centric businesses," said Brian Krzanich, Intel CEO. "The strategic investments we've made in areas like memory, programmable solutions, communications and autonomous driving are starting to pay off and expand Intel's growth opportunity. In 2018, our highest priorities will be executing our data-centric strategy and meeting the commitments we make to our shareholders and our customers."
Intel says its transformation continues with all-time high data-centric mix as the company moves from a PC-centric to data-centric company.
Fourth-quarter revenue was $17.1 billion. Excluding McAfee, revenue was up 8% year-over-year and datacentric businesses grew 20% year-over-year. The company said data center, Internet of Things, and memory businesses, all achieved record revenue.
However, the company's fourth-quarter results reflect an income tax expense of $5.4 billion due to the U.S. corporate tax reform enacted in December. This includes a one-time, required transition tax on previously untaxed foreign earnings, which was partially offset by the re-measurement of deferred taxes using the new U.S. statutory tax rate. That caused the company to report a loss of $69 million for the quarter.
But in spite of that, the company generated a record $22 billion cash in 2017 from operations and returned nearly $9 billion to shareholders. And in 2018, Intel expects another record year and is raising its quarterly cash dividend 10% on an annual basis. The company has raised full-year business outlook for the third consecutive quarter. Full-year revenue outlook raised by $700 million to $62 billion; full-year GAAP EPS outlook raised by $0.27 to $2.93 and non-GAAP EPS by $0.25 to $3.25.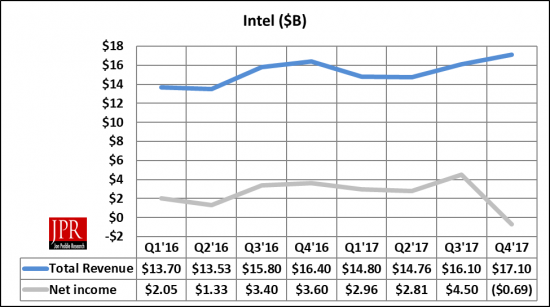 Spending for R&D was $3.27 billion, up 1.6% from last quarter, and down 0.2% from last year.
Client Computing Group
Client Computing Group includes platforms designed for notebooks and desktops (including 2-in-1, thin-and-light, high-end desktop, and all-in-one), wireless and wired connectivity products.
The Client Computing Group had revenue of $8.1 billion, was down 11% year-over-year, and down 9% from last quarter. Notebook ASPs were up 1% from last quarter, and down 5% from last year. Desktop Apps were up 2% from last quarter, and down 2% from last year.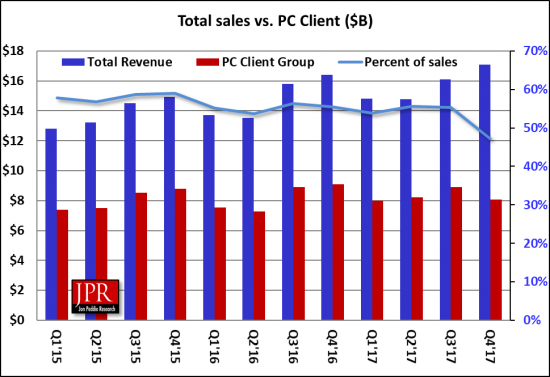 Intel says the Client Group had adjacent TAM growth with modem adjacencies up 15%. Operating margins were lower on 10 nm transition costs, and there was record Core i7 and Core i9 volume with the continued ramp of 8th Gen processors.
Other
In the fourth quarter, the company says it saw strength across all businesses except the troubled McAffe, which has been dragging the company's performance down for several quarters. The data center, Internet of Things, and memory businesses all achieved record quarterly revenue, and Intel introduced the 8th Gen Intel Core and Intel Xeon Scalable processors. Intel says its FPGA business, the Programmable Solutions Group, is experiencing strong momentum, winning designs with automotive and cloud service provider customers that advance Intel's position in artificial intelligence. The company also furthered its autonomous driving efforts with customer wins and the completion of the Mobileye tender offer, four months earlier than expected.
What do we think?
The quarter's PC shipments were down 6% from last quarter, about normal seasonality (see red line in the following chart), but lower than it has been for the past five years (see Figure 4). And, compared to last year, it was down just 0.2%, and that's following an up previous quarter.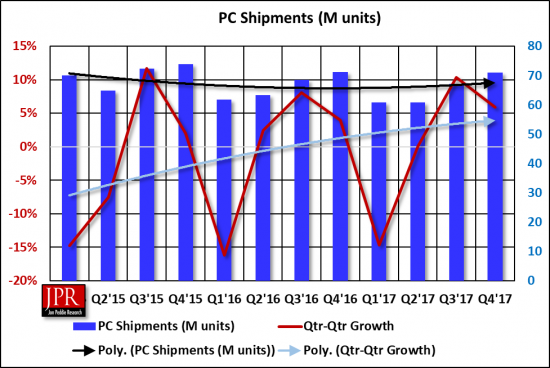 The year-to-year trend is still slightly slipping (0.2%), and the quarterly change is encouraging the bottom so many of us thought would have been reached by now seems to be at hand.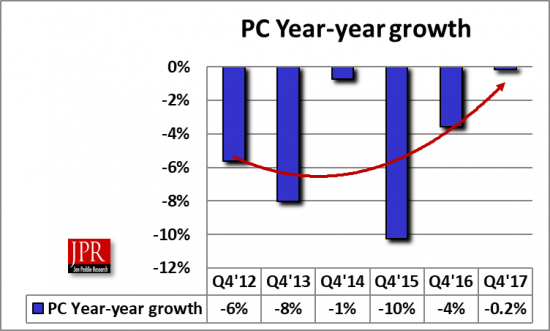 However, Intel's share price has not reflected the changes or gains the company has made.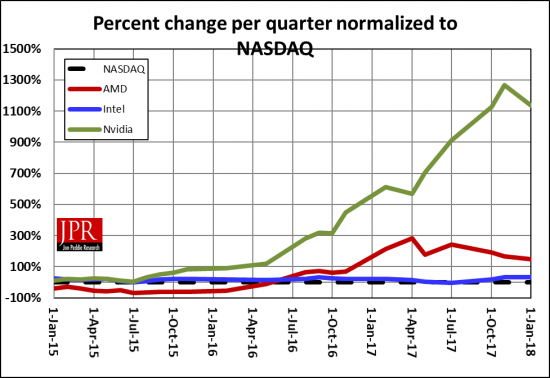 The stock market isn't showing much interest in Intel and hasn't for a while. When the company does well, investors think it can't do it again, and when it does in a mediocre manner, investors still don't seem to care, so the share price just limps along. Add to that, the recent Spectre and Meltdown vulnerabilities have dragged the company's shares down. According to Intel CEO Brian Krzanich, the company will release chips with built-in protections against the critical Meltdown and Spectre flaws later this year.