Revenue for the quarter was down -14% from last quarter to $16.1 billion, GAAP profit was $4 billion, down -23% from the last quarter.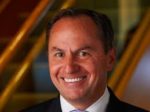 Intel reported its calendar Q1 2019; revenues were flat year-over-year and achieved 4% growth in the PC-centric business while data-centric revenue declined 5%.
"We shipped a strong mix of high-performance products and continued spending discipline while ramping 10 nm and managing a challenging NAND pricing environment. Looking ahead, we're taking a more cautious view of the year, although we expect market conditions to improve in the second half," said Bob Swan, Intel CEO.
The PC-centric business (CCG) was up 4% in the first quarter due to a strong mix of Intel's higher performance products and strength in gaming, large commercial, and modem. Intel's first high-volume 10-nm processor, code-named Ice Lake, remains on track to be in volume systems on retail shelves for the 2019 holiday selling season.
Collectively, Intel's data-centric businesses declined 5% YoY in the first quarter. In the Data Center Group (DCG), the cloud segment grew 5% while the communications service provider segment declined 4% and enterprise and government revenue declined 21%. First-quarter Internet of Things Group (IOTG) revenue grew 8% YoY (19% excluding Wind River1), and Mobileye achieved record first-quarter revenue of $209 million, up 38% YoY as customer momentum continued. Intel's memory business (NSG) was down 12% YoY in a challenging pricing environment. Intel's Programmable Solutions Group (PSG) revenue was down 2% YoY in the first quarter.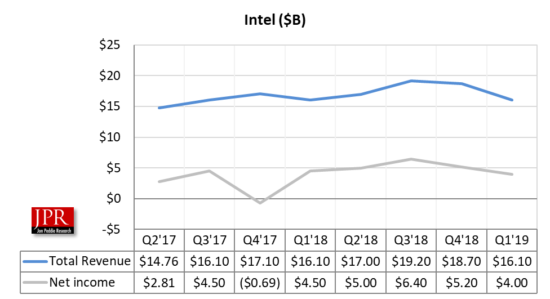 Spending for R&D was $3.3 billion, down -3% from last quarter, and up 4.4% from last year.
Client Computing Group
The Client Computing Group (CCG) said the company had year-to-year revenue growth due to richer product mix… strength in gaming, large commercial & modem Op margin up on revenue, lower spending, partially offset by 10-nm ramp.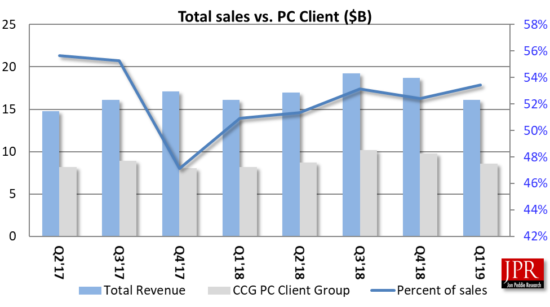 In the first quarter, Intel achieved 4% growth in the PC-centric business while data-centric revenue declined 5%.

Just over half (53.4%) of Intel's revenue comes from Client Computing, CCG includes platforms designed for end-user form factors, focusing on higher growth segments of 2-in-1, thin-and-light, commercial and gaming, and growing adjacencies such as WiFi and Thunderbolt.
Outlook
Intel said it expects $0.83 GAAP in earnings per share in the second quarter, on $15.6 billion in revenue which will be down 8% Y-Y.
What do we think?
Swan said "Results for the first quarter were slightly higher than our January expectations. Our team is focused on expanding our market opportunity, accelerating our innovation and improving execution while evolving our culture. We aim to capitalize on key technology inflections that set us up to play a larger role in our customers' success, while improving returns for our owners."
Back in June 2018 when he took over as interim CEO he said he didn't want the job. Now he's got it, and his first quarter as official CEO wasn't great, but not due to him—the market for PCs continues to slide downward and the data center has come off its crazy growth spurt.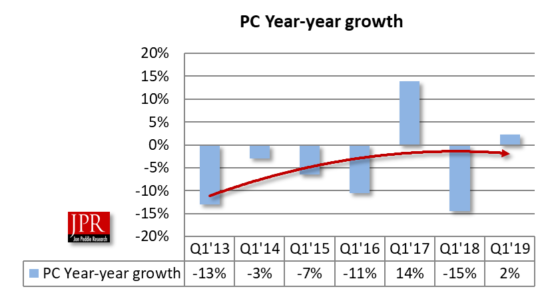 Intel's share price has shown recovery over the past year.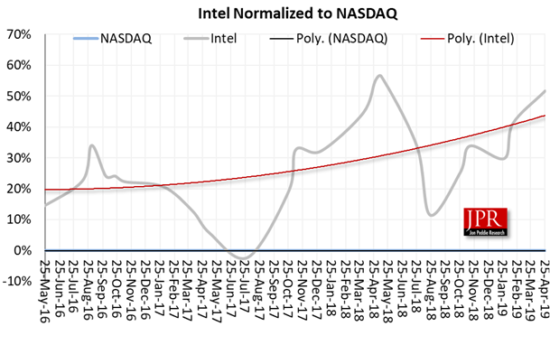 No company had a great first quarter and with the political turmoil between the U.S. and China the stock market and consumers are jittery, which make forecasting very difficult. Given that the U.S. now in full-bore presidential election mode, anything coming out of Washington is going to be about scoring points for re-election and not what's necessarily good for the economy or citizens, and the U.S.'s impact on world economics is still incredibly large, so expect turbulent waters for the rest of the year.