AMD to release an updated Radeon ProRender plug-in for Blender 2.81.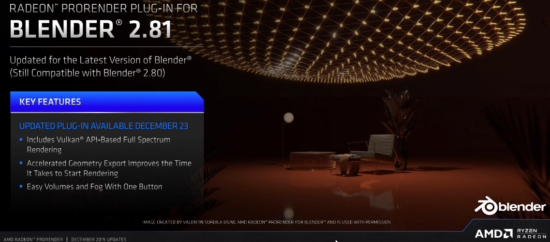 AMD's Radeon ProRender is a physically-based rendering engine that is built on Radeon Rays technology, which, AMD says, is a scalable ray tracing engine that uses open industry standards to harness GPU and CPU performance for swift, impressive results. Built on industry-standards, Radeon ProRender enables accelerated rendering on any GPU, any CPU, and any OS.
At Siggraph 2019, AMD announced the integration of Radeon ProRender into Acca Software's AIrBIM Artificial Intelligence Rendering solution. AIrBIM supports AI-accelerated denoising and includes a comprehensive PBR material library so you can bring the architectural ideas to life with photorealistic renders. Plug-in support for Blender 2.80, upcoming integration into InstaLOD Studio XL, and upcoming distributed cloud rendering services were also announced.
This year Radeon ProRender has gained even more industry support through new and updated application integrations and plug-ins. In further addition to the list of updated plug-ins, AMD has planned a 'holiday gift' to the Blender community. An updated plug-in for Blender 2.81 will be released early next week. It will have some installer updates and accelerated geometry export with significant improvements in the time it takes to start rendering after hitting "render."