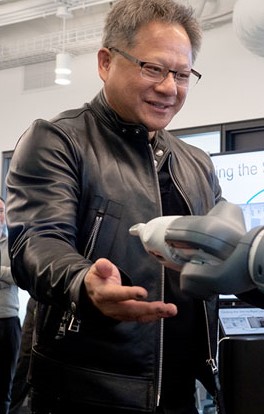 Nvidia CEO Jensen Huang has been honored with the Distinguished Lifetime Achievement Award at the 19th Asian American Engineer of the Year Award and Conference ceremony that took place virtually on July 18, 2021. The AAEOY Award is a prestigious program that pays particular tribute to the STEM professionals of Asian heritage for their technical achievements, leadership, and public services. In particular, "Distinguished Awards" are presented to honor and celebrate the achievements of Asian Americans with global statures and influences. Past Distinguished Awardees include Nobel Laureates, scholars, academia leaders, astronauts, and key corporate executives like TSMC founder Morris Chang. The event was hosted by the nonprofit Chinese Institute of Engineers, USA (CIE-USA), part of the DiscoverE Diversity Council.
Nvidia's enthusiastic and pugnacious CEO and founder, Jensen Huang always gives interesting and exciting keynote presentations. Huang's thank you speech was no different. He appeared in his signature black leather jacket for accepting the award for his contributions as "a visionary and innovator in parallel computing technology that accelerates the realization of AI computing."
Huang said, "It is strange to accept a lifetime achievement award because I feel like I'm just getting started, and Nvidia indeed is. Still, I'm grateful and deeply honored to receive this award, which I share with my colleagues at Nvidia."
Huang shared his thoughts as being a first-generation immigrant feeling a deep sense of gratitude for the opportunities America offered him.  While requesting to stop racist attacks on Asian Americans in the wake of the pandemic, he wishes that America offers future generations same opportunities he was offered.
He talked about witnessing many events that shaped the computer industry. Huang shared his views on GPU-accelerated computing and AI technology revolution. He says that fusion of GPU acceleration in AI has given us super-exponential growth in the fields like computer graphics and molecular biology.
"After nearly three decades, it is gratifying to see this computing approach demonstrate astonishing results, embraced by software developers and computer makers worldwide, become an essential instrument of scientists and the engine of modern AI," Huang said. "There has never been a more exciting time to be an engineer."